Commodity prices are ticking higher this morning after being lower for the most part yesterday. There were very few bright spots in yesterday's session and we are in fact still on the sidelines as we have stated the past few days. We are investigating adding some insurance to a couple of positions here but doubt that we would sell any shares to lower our risk profile. We would rather keep that upside potential and simply pay for the right to have protection on the downside, but as is always the case, price will be the determining factor and with the VIX rising sharply yesterday we may have missed our opportunity.
Commodity prices this morning are as follows:
Gold: $1675.50/ounce down by $0.90/ounce
Silver: $31.815/ounce up by $0.099/ounce
Oil: $96.45/barrel up by $0.28/barrel
RBOB Gas: $3.0241/gallon up by $0.0126/gallon
Natural Gas: $3.2336/MMbtu down by $0.021/MMbtu
Oil & Natural Gas
We discussed yesterday SandRidge Energy (NYSE:SD) and how the results from their trusts worried investors about the holdings in the main company and what their future cash flows would look like. Yesterday Wunderlich, a research firm, lowered their price target on the SandRidge Mississippian Trust II (NYSE:SDR) from $22/unit to $18/unit. The lowered price target is a result of the firm's updated outlook on the trust's distributions which they now estimate will be lower. Wunderlich estimates the lower distributions as a result of higher costs, lower production and a higher mix of natural gas being produced rather than oil. Some may be asking why this is a big deal, or even a point of concern for the regular SandRidge shares and the answer is simple: the assets are commingled and although SandRidge has many more wells which allows for some smoothing of the numbers, the Trusts provide valuable insights on a smaller scale of how certain areas of the company's holdings could be far less valuable than previously thought.
As bad as yesterday was for the SandRidge Mississippian Trust II, SandRidge Energy had a worse day as shares fell another 5%. This was as many investors took the weekend to do some research and figure out exactly what the numbers meant and how they applied to the overall picture and the Ladenburg Thalman downgrade which came out yesterday. Ladenburg Thalman moved the company to a 'Neutral' rating and lowered the price target on the shares to $7 from their previous target of $10/share. The decline in oil production that the company already announced may not be enough of a reduction and the firm worries that investors could see the 37% EURs moved lower in the future (as the two trusts indicate this being a good possibility).
Speaking of natural gas, Quicksilver Resources (NYSE:KWK) saw shares hit a new 52-week low yesterday and it is apparent that investors are once again beginning to rotate out of natural gas as it is obvious that many of the new shale plays are in fact rich in liquids components but still are producing tons of natural gas, more so than previously thought (see SandRidge) and the impact of this production upon markets had not been factored in. The industry needs to find a way to get their fuel into the mainstream whether that is via a fuel for vehicles or a means to transport it in a manner easily used by industries where natural gas pipelines may not be accessible. We have already learned that cutting production simply does not work, even if done by a top player in the industry, as smaller players and new wells focused on other types of targets will eventually replace that production and the replacement rate is far quicker than previously believed.
Alright, now for some good news we want to bring investors' attention to Talisman Energy (NYSE:TLM) which saw shares rise $0.05 (0.40%) to close at $12.64/share on volume of 4.1 million shares yesterday. The end result was unimpressive, that we will admit. However for those closely watching the price action yesterday the strength was evident as shares opened lower and found support around the $12.30/share level before gaining momentum to close near the highs of the day. It was impressive, and even more so when one looks at the rest of the market and the energy sector in particular. Moves like these are to be noted on days when the market is lower in order to potentially profit from them when it moves higher.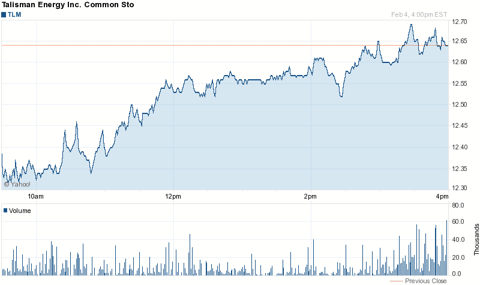 Chart courtesy of Yahoo Finance.
Precious Metals
Harmony Gold (NYSE:HMY) saw shares rise yesterday by $0.49 (7.47%) to close at $7.05/share on volume of 3.9 million shares. Citigroup upgraded the shares from their 'Sell' rating to 'Hold' and said that valuation was more compelling at these levels. The company also held their conference call yesterday and we have attached the link to that transcript for readers here (courtesy of Seeking Alpha). Regarding the entire precious metals complex and specifically gold and silver, we still expect higher pricing and that is regardless of the issues present in the short-term in Europe. Weakness is to be bought not sold into.
Disclosure: I have no positions in any stocks mentioned, and no plans to initiate any positions within the next 72 hours. I wrote this article myself, and it expresses my own opinions. I am not receiving compensation for it (other than from Seeking Alpha). I have no business relationship with any company whose stock is mentioned in this article.