The article "Why Is Statoil Undervalued" considered several reasons why Norwegian oil and gas company Statoil (NYSE:STO) is trading at a considerable discount to its industry peers. The company earned $4.47/share over the past twelve months, yields 3.4% and has a P/E=6. Despite several large discoveries in the 2010-2012 timeframe, the stock is basically flat over the past 5 years.
STO data by YCharts
The previous article considered the following reasons for Statoil's underperformance versus its peer group:
Financial Performance
Production
Reserve Replacement
Management
Norwegian Government Ownership
P/E Compression
A Once Yearly Dividend Policy
The last two, P/E compression and the dividend policy, were acknowledged to be the culprits. STO's P/E has contracted 42% over the last five years. This compares to no compression for Chevron (NYSE:CVX) and a 12.7% P/E compression at Exxon Mobil (NYSE:XOM). Clearly STO has been revalued by the market.
However, the root cause for the market compressing the P/E ratio was not properly investigated. Reserve replacement is an important metric for oil and gas companies like STO and the company has done a rather poor job of replacing reserves, let alone growing them. Some industry analysts concluded that STO's sandbox, the Norwegian Continental Shelf ("NCS") was "played out". However, my belief is recent large discoveries on the NCS by Statoil (see the earlier article for a list) has shown the NCS still contains plenty of oil. Evidence of this was the strong participation by companies like ConocoPhillips (NYSE:COP), Suncor (NYSE:SU), Lukoil, BP (NYSE:BP) and 32 other companies in the recent 22nd licensing round for Norwegian Continental Shelf leases.
It should also be noted that Statoil made several large discoveries in places other than the NCS, including offshore Tanzania and Brazil. STO also added significant reserves in the Bakken with its purchase of Brigham Exploration (BEXP) and other properties in the Marcellus and Eagle Ford shale plays.
For the sake of argument, let's assume Statoil's recent discoveries and the NCS's return to life have mitigated concerns about STO's recent lack of reserve replacement. We're then back to figuring out why the market has compressed STO's P/E. Although I still believe the once yearly dividend policy can and should be changed to a quarterly payout, it cannot be responsible for a 40% compression in the P/E. So what is?
Currencies Matters
As sometimes happens on Seeking Alpha, the comment section on my previous article was probably better than the article itself. I thank the readers for their participation. What dawned on me during the comment discussion was that I neglected to mention one of the prime motivations which led me to purchase STO in the first place: a hedge against the U.S. dollar. My defense against such an important omission was my subconscious opinion that, given the huge deficits and debt run-up over the last 12 years by the Bush and Obama Administrations (it certainly has been a bipartisan effort), surely the U.S. dollar ("USD") must have been weak against the Norwegian NOK currency. As the following graphic shows, I was wrong:
The NOK has come back to break-even against the USD, but has spent much of the past five years significantly weaker. As the chart shows, in 2008 the NOK depreciated some 20% against the USD as a (supposed ...) flight to safety ensued. I believe this is the main reason for STO's P/E compression and the stock's underperformance. The stock is currently being valued as though some future event will cause the NOK to depreciate again.
The value of Norwegian kroner compared to other currencies varies considerably from one year to another, mainly based on changes in oil prices. In 2002, the Norwegian krone grew to record high levels against the U.S. dollar and the euro. On 2 January 2002, 100 NOK were worth 11.14 USD (1 USD=8.98 NOK). In July 2002, the krone hit a high at 100 NOK = 13.7 USD (1 USD=7.36 NOK). In addition to the high level of interest, which increased further on 4 July 2002, to 7 percent, the price of oil was high. At the time Norway was the world's third largest oil exporter. Today, Norway is the world's 5th largest oil exporter, while the U.S. is still importing oil: 318 million barrels in December. Compared to the U.S., it is Norway that should see a flight to safety: in 2011 the country had a budget surplus of 12.5%.
Indeed, YTD thru last Friday, the USD was down ~4% against the NOK, and STO is up 5.47%. Last Friday, STO was up $0.47 or 1.775% while the USD index was weak. This morning (pre-market Monday Feb. 4), the USDNOK=X index is up 0.46% (meaning the NOK is weak), and STO is trading down $0.39, or 1.44%, in pre-market trading. There appears to be direct correlation between the USDNOK=X index and STO's stock price.
A recent article in the Wall Street Journal, "'Loonie' Slips on Oil Patch," blames the discount of Western Canadian Select ("WCS") for a weakening of the Canadian currency - the "Loonie". While this may be true in the short term, a strengthening U.S. economy, and plans to build pipeline transport in order to export Canadian oil to the rest of the world, should be bullish for Canadian oil companies in the long-run. I believe this is one reason STO appears to be selling at a discount to its production, reserves, and financial performance. But that is exactly why it may be a good time to buy it.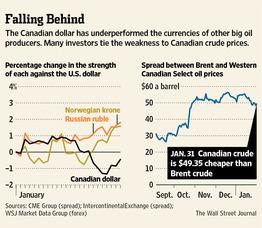 Currency translation is certainly not the only reason that STO is undervalued, but clearly it is a major contributor. That said, the U.S. Congress has proven itself (over and over again) to be incapable of solving the debt and deficit issues facing America. It matters naught which party is in the White House. Norway does not have this problem. If the U.S. dollar were not the world's reserve currency, it would have already paid the price for such fiscal irresponsibility. It is only a matter of time. I believe Statoil is a great hedge against future USD weakness. While foreign exchange markets can be prone to irrational behavior, I believe a more telling indicator is gold. And gold, priced in U.S. dollars, has been strong. This means the U.S. dollar, fundamentally, is not as strong as Forex charts imply. STO is a good bet going forward. As many of my readers are aware, I believe oil is the true "reserve currency" of the world. It is simply indispensable. STO has it.
StatOil will report Q4 2012 earnings on February 7, 2013, and the earnings conference will be available via webcast. In 2011, the company announced its reserve replacement ratio along with Q4 results. Investors should pay close attention to STO's RRR this year.
Disclosure: I am long COP, CVX, STO, SU, XOM. I wrote this article myself, and it expresses my own opinions. I am not receiving compensation for it (other than from Seeking Alpha). I have no business relationship with any company whose stock is mentioned in this article. I am an engineer, not a CFA. Please do your own research and contact your investment adviser. I am not responsible for investment decisions you make. Thanks for reading and good luck!