I've recently been thinking about buying shares in Sysco (NYSE:SYY). It's the global leader in foodservice distribution, and I believe it will remain so for years to come.
My style has always been to look for large companies paying a dividend of 3% or more, with good chances of increasing the dividend in the future. These companies form the core of my investment portfolio; the dividends allow me to invest in other, smaller-cap companies.
So, will Sysco fit in with such dividend stocks as Johnson & Johnson (NYSE:JNJ), General Mills (NYSE:GIS) and Coca-Cola (NYSE:KO)? Let's find out.
Sysco's massive size gives it a huge advantage when negotiating with suppliers. Its customers are not just restaurants, but also schools and hospitals, making it more diversified. I believe it is this diversification that will protect SYY against volatility in the restaurant service industry.
Now, let's take a look at the dividend and how this has evolved over the years.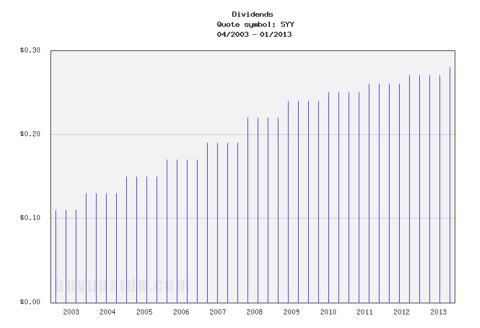 Graph from Buyupside.com
Sysco currently yields around 3.5%, which, in my opinion, is a fair dividend that can be easily sustained, as the current pay-out ratio is only 57%. Sysco paid out its first dividend in 1969, and since then, has slowly but surely increased it, thereby giving investors an ever growing source of cash.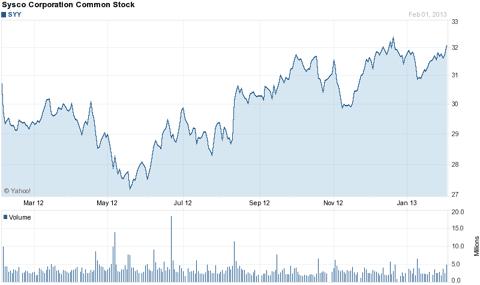 Graph from Yahoo Finance
The stock price for SYY is pretty stable, with a 52-week price change of only 7.72%. This will help me sleep at night. I like stocks I can trust, the kind where I wouldn't be concerned if the stock market would close for the next 10 years. I think SYY is one of these stocks.
So, would it be a good idea to add SYY to my portfolio? I believe so, but there are some bears on the road I really want to point out.
Spending in restaurants is under pressure at the moment, however, I believe that because 40% of SYY's revenue comes from other sources,

it will eventually come out stronger than its c

ompetitors.
High energy prices have a huge impact on SYY, specifically because they increase costs for packaging and distribution.
All in all, Sysco seems like a really good buy, as I truly believe it will be able to provide me with solid returns through its reliable, ever-increasing dividend.
What do you think? Do you own SYY ? Should I? Please comment below!! I'm a young investor and I'm really hoping to learn from others.
Note: All financial data is from Yahoo Finance
Disclosure: I have no positions in any stocks mentioned, but may initiate a long position in SYY over the next 72 hours. I wrote this article myself, and it expresses my own opinions. I am not receiving compensation for it (other than from Seeking Alpha). I have no business relationship with any company whose stock is mentioned in this article.