Do you worry about volatility when considering stocks? One idea is to keep in mind is a stock's historical correlation to volatility. Stocks that are highly correlated may have been treated as "safe havens" for uncertain times.
We started by looking for stocks in the healthcare sector for those that are highly positively correlated to volatility, as measured by the VIX index, over the last two months. This means that these stocks have historically tended to move up as volatility spikes. We found 3 companies that met the criteria.
The healthcare sector includes companies in hospital management space, health maintenance organizations (HMO's), and biotechnology. Given that many investors are still unsure about the weak economic environment, we decided to focus on a defensive sector, such as Healthcare. The demand for healthcare is inelastic, hence might be worth the attention in this environment.

We encourage investors to perform a detailed analysis on the list of companies provided below before investing.
A Closer Look

Mako Surgical Stock (NASDAQ:MAKO) trades around $11.06 versus its 52-week range of $10.35-$45.15, down 70% in the past 1-year. The consensus revenue estimate for the fourth quarter 2013 is expected to be $30.8 million, with a low estimate of $28.6 million, and a high estimate of $34 million.
All eyes are on top-line growth, and margins. Although the company pre-announced sales of RIO surgical robots in the middle of the forecasted range, the market remained disappointed. Did the company increase shipments with reduced prices? If that is the case, gross margins will be weaker that expected. Other issues that might be impacting the stock is a weak economy putting pressure on hospital budgets.
The company has a lean balance sheet with $28.4 million in cash and short-term investments, and zero public debt. Additionally, the company has a $50 million facility agreement with affiliates of Deerfield Management Company. As off September 30th, 2013, the company has not drawn down under the facility.

Overall, can we hope that America's aging population, and increasing obesity rate create demand for the company's products? The company is expected to report earnings on February 26th, 2013. We look forward to getting more answers during the conference call.
The List
Interactive Chart: Press Play to compare changes in monthly return for the stocks mentioned below. Analyst ratings sourced from Zacks Investment Research.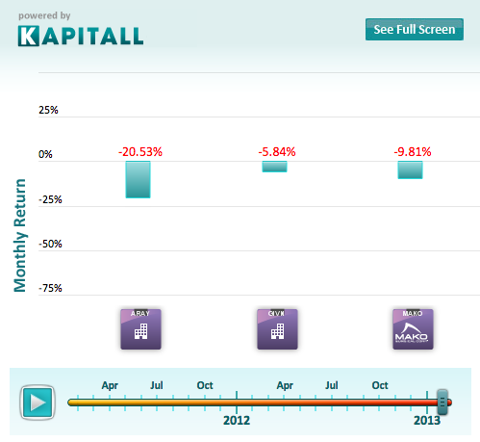 Do you think volatility is ahead for the market? Use this list as a starting point for your own analysis.
1. Accuray Incorporated (NASDAQ:ARAY): Designs, develops, and sells the CyberKnife system, an image-guided robotic radiosurgery system used for the treatment of solid tumors.
Market cap at $363.52M, most recent closing price at $5.03.
Correlation with the VIX index at 0.782 over the last 60 days.
2. Given Imaging Ltd. (GIVN): Engages in the development, manufacture, and marketing of diagnostic products for the visualization and detection of gastrointestinal tract disorders.
Market cap at $509.8M, most recent closing price at $16.44.
Correlation with the VIX index at 0.509 over the last 60 days.

3. MAKO Surgical Corp. : Markets its advanced robotic arm solution and orthopedic implants for orthopedic procedures in the United States and internationally.
Market cap at $516.37M, most recent closing price at $11.24.
Correlation with the VIX index at 0.649 over the last 60 days.
*Price data sourced from Yahoo! Finance, all other data sourced from Finviz.
Disclosure: I have no positions in any stocks mentioned, and no plans to initiate any positions within the next 72 hours.
Business relationship disclosure: Business relationship disclosure: Kapitall is a team of analysts. This article was written by Sabina Bhatia, one of our writers. We did not receive compensation for this article (other than from Seeking Alpha), and we have no business relationship with any company whose stock is mentioned in this article.