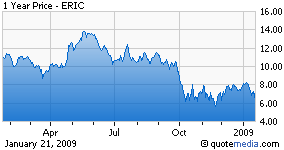 Ericsson (NASDAQ:ERIC) surprised the Street early Wednesday morning, reporting better-than-expected Q4 results. But the telecom equipment company also announced plans to reduce its staff by 5,000 in response to the slowing economy.
For the quarter, the company posted revenue of 67 billion SEK, with EPS of 1.74 SEK per share; that was way ahead of the Street, which had expected 58.4 billion and 1.30 SEK per share.
"The economic recession is spreading across the world," the company said in announcing its results. "The effects on the global mobile network market should not be that significant as most operators have healthy financial positions, there is a strong traffic growth and the networks are fairly loaded. It remains, however, difficult to more precisely predict to what extent consumer telecom spending will be affected and how operators will act. To date, our infrastructure business is hardly impacted at all, but it would be unreasonable to think that this would be the case also throughout 2009."
In a research note Wednesday morning, Nomura analyst Richard Windsor writes that "Ericsson is essentially a fixed cost company where higher revenues give higher margins and a big increase in cost reductions implies that revenues are expected to fall significantly." He says the rally Wednesday provides "an excellent opportunity to take money off the table."
ERIC Wednesday morning was up 87 cents, or 13.2%, to $7.48.