In the dynamic world of business, relationships are formed with partners, competitors and even outright rivals. However, these relationships are rarely set in stone. They change as the dynamics of the business change. In this article, I will examine the changing dynamics of Microsoft's (NASDAQ:MSFT) business relationships, which could translate into increased future profitability for the company.
Reports have surfaced regarding a leveraged buyout of Dell (DELL), the third largest PC maker in the world. This would enable Dell to reorganize and restructure its business model. Dell currently has an enterprise value of about $20.7 billion and it would need to come up with about $26 billion in equity and debts to finance the deal. Michael Dell (the founder of Dell) is putting up his 15.7% stake and about $1 billion of his own money. Silver Lake is coming up with some funds, and JPMorgan Chase (NYSE:JPM) has also been linked to the deal. Microsoft has offered $2 to $3 billion to fund the leverage buyout.
Microsoft had been known to help its partners as it did when it entered an agreement to offer support worth billions of dollars to Nokia (NYSE:NOK) in 2011 and a $600 million investment in Barnes & Noble (NYSE:BKS) in 2012.
Microsoft is primarily a software company and it seldom involves itself in hardware production except in rare cases such as the one that saw it developing the Xbox 360. However, Microsoft is at the mercy of software companies due to their ability to choose other operating systems over Windows.
In the case of Barnes & Noble, Microsoft was able to get a 17.6% stake plus an agreement that would see Barnes & Noble developing products that would run on the existing Windows and on the new Windows 8, thereby ensuring a stable market for its products in the ebook reader category. A similar case is observable in the deal signed by Microsoft and Nokia in 2011. The deal had Microsoft paying Nokia $250 million quarterly for platform support in exchange for having Windows as Nokia's main operating system in the Lumia line. According to Nokia's Q4 earnings report, the company is now paying Microsoft as much as $1 billion annually in royalties.
Microsoft has more to gain than just owning stock in Dell. First, Microsoft would be able to get a seat on Dell's new board and have a say in the way Dell is being restructured. Dell remains committed to Microsoft because it makes computers that are driven by Microsoft's Windows operating system.
In offering to assist in Dell funding the buyout, we can be reasonably sure that the restructuring of Dell's business model would not tamper with the production of Windows driven PCs, which are an important part of Microsoft's revenue. Microsoft's revenue in Q1 2013 were $16.1 billion, nearly $2 billion lower than the $18.06 billion in Q4 2012 as seen in the chart below.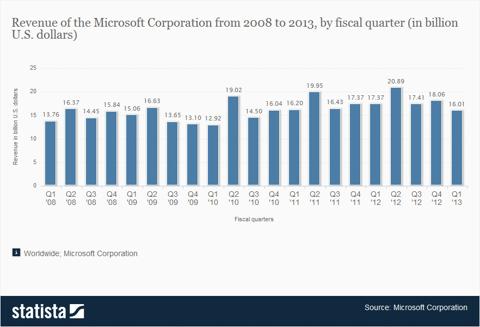 Revenue from Windows and Windows Live in Q1 2013 was $3.24 billion lower than the $4.15 billion reported last quarter. Revenue from Windows and Windows Live had been on a decline in the previous quarters as shown in the chart below.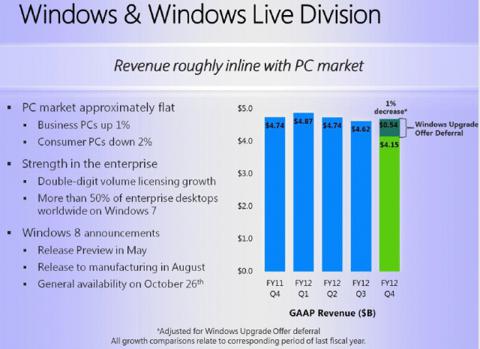 It would be smart for Microsoft to position itself strategically in order to ensure that it doesn't lose an allies due to the dynamics of changes in consumer tastes from PCs to tablets and smartphones.
Microsoft's recent acquisition of R2 Studios in order to strengthen its Xbox business division is another interesting factor to consider here. Revenues in the Xbox division fell 29% in the last quarter, a decrease of $1.1 billion.
Thankfully, Microsoft was able to negotiate the deal to take control of R2 Studios (a start-up that specializes in home automation applications) and to bring the founder, Blake Krikorian and his team to join the Interactive Entertainment Business at Microsoft. Microsoft's rivals, Apple (NASDAQ:AAPL) and Google (NASDAQ:GOOG), were also interested in buying R2 Studios. It is not known how Microsoft was able to the beat them to the acquisition.
Disclosure: I have no positions in any stocks mentioned, and no plans to initiate any positions within the next 72 hours. I wrote this article myself, and it expresses my own opinions. I am not receiving compensation for it (other than from Seeking Alpha). I have no business relationship with any company whose stock is mentioned in this article.