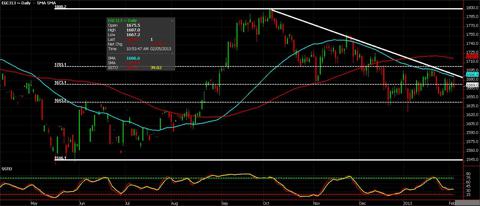 Gold is down just better than 7% from its highs in the last 4 months. Prices have been trending down, as seen on the chart above, after topping out near $1800/ounce in October. Identified by the down sloping trend line, futures have been unable to take out the trend line, and one can see that the 50 day MA has also thwarted upside on multiple attempts since late November. Short term, I think it is feasible to see a lower trade. April futures may probe the 61.8% Fibonacci levels, approximately $25 lower than current trades.
The closer prices get to $1600/ounce, the more aggressive of a buyer I would become for clients. I like vertical call spreads or selling puts once we see a trade lower, if that plays out, in the coming weeks. Looking at the big picture, the trend remains up looking out several months, but further downside is expected first. An underlying theme short term is as the dollar appreciates, I would anticipate an inverse relationship to play out. Gold is not the only metal that I think could see downward pressure, as I believe both silver and platinum could trade lower in the coming weeks. For gold to shine in 2013, we must see the market accept that the prospect of inflation is likely. Even if the CPI and PPI do not show underlying inflation, if you've fueled up your SUV or gone to Whole Foods of late, consumer goods do not appear to be getting any cheaper.
Risk Disclaimer: The opinions contained herein are for general information only and not tailored to any specific investor's needs or investment goals. Any opinions expressed in this article are as of the date indicated. Trading futures, options, and Forex involves substantial risk of loss and is not suitable for all investors. Past performance is not necessarily indicative of future results.
Disclosure: I have no positions in any stocks mentioned, and no plans to initiate any positions within the next 72 hours. I wrote this article myself, and it expresses my own opinions. I am not receiving compensation for it. I have no business relationship with any company whose stock is mentioned in this article.