We have all seen housing prices plummet since 2008 after the housing bubble collapsed upon itself. Leading to the 2008 bubble, lenders were willing to lend to anyone, allowing people with any credit history and any income level the ability to qualify for a mortgage and buy a house. This availability of money drove demand higher which took prices with it. This article will not discuss why banks were willing to lend due to their ability to sell off their risk in the derivative market, rather illustrate how people can invest in houses and real estate now, even if they cannot afford a house or qualify for a mortgage.
In many areas throughout the US we have seen housing prices begin to rebound throughout our recovery. From monthly US Housing Start Data from the US Dept. of Commerce, we have also seen a bottom has been set in 2010, and home builders have demand across the US. A variety of information from the Dept. of Commerce here.
Today, lenders have tightened their credit and income requirements for mortgages. Still recovering from losses, banks are only lending to those considered low risk applicants. Investors sensing home prices will continue to climb around them, but feel left out on these gains, there is another option, invest in the Home Builder stocks or ETF.
Warren Buffett appeared on CNBC in February of 2012 and announced to the world how he felt about the US Housing situation as an investment. He said he would be hundreds of thousands of single family homes if he could. This link contains a summary of the interview and its videos.
Luckily, for Warren Buffett he has billions of dollars to invest from his own net worth or from his company Berkshire Hathaway (NYSE:BRK.A) (NYSE:BRK.B) in purchasing houses as an investment. Buffett has organized through affiliates of his Berkshire Hathaway, HomeServices of America, Inc., a real estate development, financing, title, and sales full service company. He has already taken the steps toward his dream of buying hundreds of thousands of houses. Now is your time to take actions.
For those without his cash, he suggests taking a 30 yr. mortgage at historically low rates to pay for a home, but not everyone can afford or qualify for a mortgage today, so another option as previously mentioned is to invest in US Homebuilders. These companies do well in periods of economic growth and recovery. As people begin to be hired back to work, more homes will be purchased and more homes will be built. Investing in these companies is an option for those who cannot or do not want to buy a house right now, but still want to gain from a US recovery and housing rebound.
Companies
The following chart includes five companies and quick fundamentals for each to compare.
| | | | | | |
| --- | --- | --- | --- | --- | --- |
| Firm | Ticker | Market Cap. | P/E | EPS | Yield |
| Lennar Corp | (NYSE:LEN) | $8 Billion | 13.4 | 3.11 | 0.40% |
| Toll Brothers Inc | (NYSE:TOL) | $6.3 Billion | 12.9 | 2.86 | n/a |
| DR Horton Inc | (NYSE:DHI) | $7.6 Billion | 8.48 | 2.8 | 0.70% |
| KB Home | (NYSE:KBH) | $1.5 Billion | n/a | -0.77 | 0.50% |
| Hovnanian Enterprises Inc | (NYSE:HOV) | $755 Million | n/a | -0.52 | n/a |
All of the firms have seen recoveries since lows. As you can see from the chart above some have been doing better than others. Both KBH and HOV have had quarters of negative earnings or losses, which is why their P/E's have not been included above. The following charts show each firms' recovery since the bubble.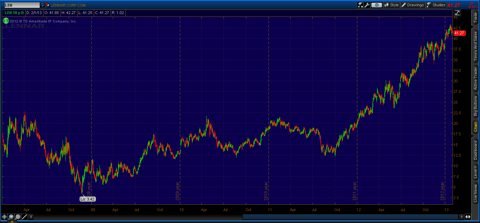 LEN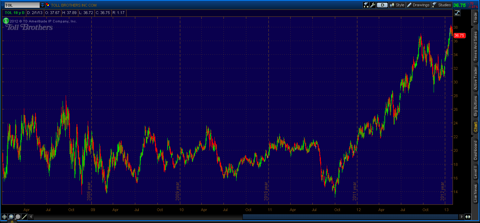 TOL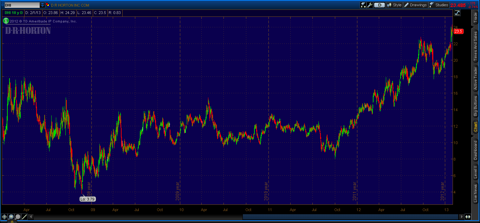 DRH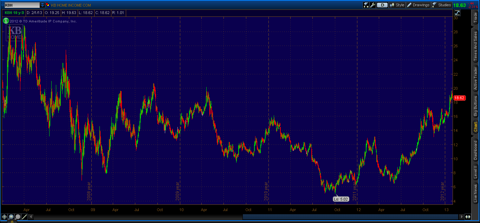 KBH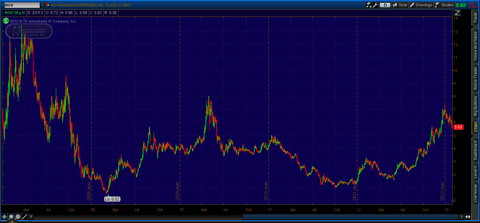 HOV
For those wishing to avoid risks associated with investing in one stock in particular can look to invest in the SPDR S&P Homebuilders (NYSEARCA:XHB). Individuals companies can have scandals, weaker than expected earnings, lawsuits, or other firm specific risks, but investing in an ETF can spread that risk out over many companies and add diversification even though you only own one underlying.
Below is the chart for XHB over the same time period as the above stocks.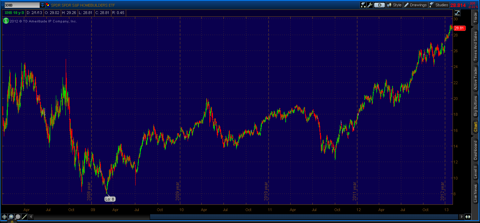 XHB
Summation
The above stocks and ETF are ways are available to invest in for investors or traders no matter what your credit score or history is and is available whether you can afford a house or not. You don't need to be a Billionaire like Warren Buffett to buy houses in order to play the US Housing Recovery, buy the homebuilders.
Disclosure: I have no positions in any stocks mentioned, and no plans to initiate any positions within the next 72 hours. I wrote this article myself, and it expresses my own opinions. I am not receiving compensation for it (other than from Seeking Alpha). I have no business relationship with any company whose stock is mentioned in this article.