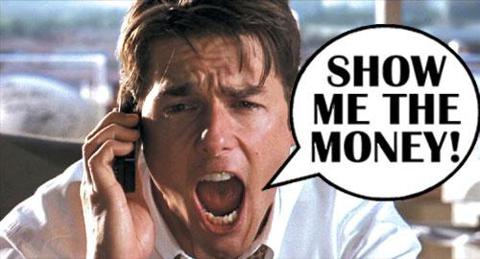 Rentech (NYSEMKT:RTK) is an alternative energy company that has a portfolio of patents and processes that utilize the Fischer-Tropsch process to turn carbon based feedstocks into synthetic fuels and other chemical products. The feedstocks range from garbage, grass clippings, lumber yard waste to traditional sources like coal and natural gas. Unfortunately, Rentech doesn't have a commercial facility utilizing any of their technologies, but they do have a functioning non-commercial scale "product demonstration unit" that demonstrates the potential of its technologies.
Rentech, as a stand alone company, is basically a "hopes and dreams" company, whose fundamental value is based upon the value of these technologies IF they ever prove to be commercially viable. Rentech has a string of failed attempts in the past to build a commercial plant, and its website highlights the current list of possible projects, but as of this writing, Rentech has not been able to put all the pieces together to get a commercial plant up and running.
How much is Rentech worth as a stand alone company? Would you believe nothing? Nada? Zip? Believe it or not, Rentech is actually worth about a negative $50 million. It trades at about a 7.5% discount to its after tax assets.
Why then does the stock trade at over $3.00? Because it owns 61% of Rentech Nitrogen (NYSE:RNF), a $1.87 billion company. However, 61% of $1.87 billion is $1.14 billion and Rentech only has a capitalization of $678 million, what gives? How can $1.14 billion be worth only $678 million? The answer is taxes. RTK has net operating losses, substantial cash (at least until the recent dividend and early payment of some debts) and pays taxes on 100% of its RNF holdings if it wanted to sell them. So if you mix all those parts together, throw in a 50% total tax rate for federal, state and local, I calculated that RTK trades at about a 7.5% discount to the after tax cash value.
Why then do I own RTK? Because:
1) They own 61% of RNF, a nitrogen fertilizer plant with solid earnings and a hefty dividend.
2) They sell at a discount to their after tax cash value.
3) Their performance lag with RNF is currently at a record.
If you run a chart of RNF compared to RTK you will see that at first RTK and RNF traded together, as one would expect, but after July 2012, a pattern developed where RNF would lead, and then RTK would play catch-up. I call this the "show me the money" pattern. RTK behaves as if the markets don't discount the RNF value until RNF has proven that the recent gains are for real and sustainable. Once it looks like the recent gains in RNF will hold, the markets then bid up RTK until the performance over time matches that of RNF.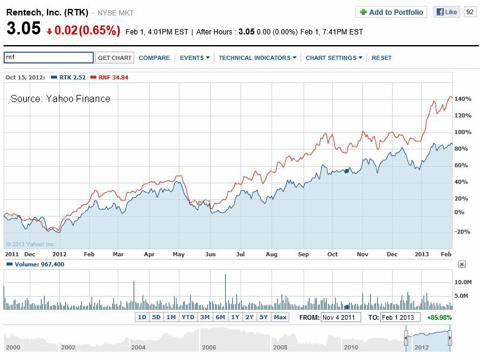 RNF went public on Nov 4, 2011, and up until July 2012, traded pretty even with RTK. RNF then outperformed RTK, until RTK caught up in about Dec 2012. Now however, and why I find RTK so attractive at these levels, is that the performance gap between RTK and RNF is at or very near a record of about 35%. Additionally, RNF has recently broken out on the upside of its consolidation pattern, whereas RTK is still in its consolidation pattern. If RNF continues higher, it is highly likely that it will drag RTK along with it, as that has been the pattern since its IPO. RTK has either traded with, or lagged RNF, but the divergence never seems to last very long. (Note: RTK has paid out $0.19 and RNF $3.83 over that time period, so the returns are slightly distorted by the dividends.)
In conclusion, RTK's alternative energy assets don't appear to be worth much, in fact they look to be a drain on the company, but RTK's holding of RNF is worth a lot, is easily quantifiable, and better yet, the stock performance of RNF has at least in the past provided a window to the future performance of RTK. If the past pattern holds true, now would be a good time to consider buying RTK before it breaks out of its consolidation pattern. RTK allows an investor to indirectly invest is RNF, with the additional benefits of having:
1) A window to the future, easily quantified and visualized by the lag between RNF and RTK. This situation is like having a real time and delayed quote system for trading. RNF is like getting a real time quote, and RTK is like a 20 minute delayed quote on RNF. If you have ever seen the movie "The Sting," this situation is very close to "the sting," only legal and a legitimate market phenomenon, not an artificial market manipulation.
2) The potential upside if any of the RTK projects ever do come to fruition. Syntroleum (NASDAQ:SYNM) may provide another window to the future of RTK. SYNM is also in the alternative energy industry, and appears on the cusp of having their plant become profitable. SYNM may provide an example of how well alternative stocks perform once they become profitable.
3) The RNF holdings act like a synthetic put on RTK, providing downside protection on its valuations. As demonstrated, RTK as a stand alone can be worthless and the stock still has value.
With RTK, an investor gets the best of both worlds, the safety of an investment in high dividend RNF which puts a soft floor on the valuation of RTK stock, and the speculative upside of the RTK alternative energy assets all wrapped into one. Being the month of February, I guess you could call this a Naughty and Nice stock pick for Valentines day, but I can't guarantee the returns will be greater than you would get from a box of chocolates, diamond earnings and a bottle of wine.
Disclaimer: Opinions expressed herein by the author are not an investment recommendation and are not meant to be relied upon in investment decisions. The author is not acting in an investment advisor capacity. This is not an investment research report. The author's opinions expressed herein address only select aspects of potential investment in securities of the companies mentioned and cannot be a substitute for comprehensive investment analysis. Any analysis presented herein is illustrative in nature, limited in scope, based on an incomplete set of information, and has limitations to its accuracy. The author recommends that potential and existing investors conduct thorough investment research of their own, including detailed review of the companies' SEC filings, and consult a qualified investment advisor. The information upon which this material is based was obtained from sources believed to be reliable, but has not been independently verified. Therefore, the author cannot guarantee its accuracy. Any opinions or estimates constitute the author's best judgment as of the date of publication, and are subject to change without notice.
Disclosure: I am long RTK. I wrote this article myself, and it expresses my own opinions. I am not receiving compensation for it (other than from Seeking Alpha). I have no business relationship with any company whose stock is mentioned in this article.