There's been a lot of talk about Ford (NYSE:F) with its recent earnings beat, great January sales numbers and -- oops! -- European headwinds. Despite all the good things Ford has done recently -- and we will go over them -- the American automaker continues to be dogged by losses in Europe. For 2013, Ford expects to lose about $2 billion from European operations. This is certainly not good, but will eventually be overcome. Many investors would wonder why you would want to buy into something before the problem is resolved rather than after. The reason is simple: future potential gains.
When a company announces something bad like this, investors, traders, and fund managers "bake" this news into the stock price. Essentially, this is saying that despite the losses expected in Europe, Ford's stock price has already factored this information into its current value.
Since reporting earnings on January 28th, Ford's stock has continued to trade down. With a recent closing price of $12.88 on Monday (and the stock is trading up around $13.15 as of this writing), Ford looks to have strong support from its 10-week simple moving average. Ford is still a favorite to outperform the broader markets this year, at least in my book. Below is the 3-year weekly chart: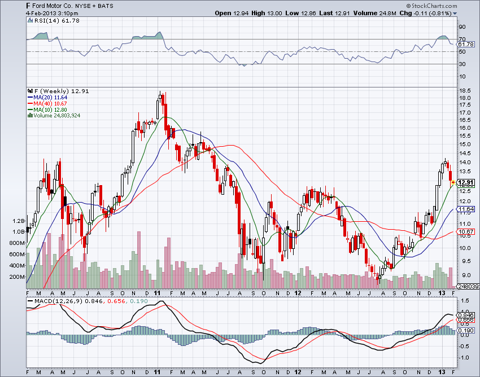 Source: Stockcharts.com
I can understand why investors would be frightened by the looming European losses. Many (and probably all) of us have never seen such a dollar tag, $2 billion. That's a lot of money, and a lot of zeros: $2,000,000,000. But despite this problematic headwind, Ford has so many positive catalysts going forward. To get an idea of these catalysts, let's construct a quick look at them:
Recently topped EPS and revenue estimates of $.26 and $33.2B by $.05 and $3.3B, respectively. This is also the fourth consecutive earnings beat by Ford
Doubled its annual dividend from $.20 to $.40, which gives Ford a current yield of 3.1%
Just posted January sales numbers, which were up 22% from the previous year, and the best since 2006
Had 5 of the top 20 selling vehicles in the U.S. for 2012, including the number 1 spot with the F-Series truck (which has been the top selling U.S. vehicle for 31 consecutive years)
The Ford Fusion Hybrid was recently named the best hybrid vehicle in its class
The new Ford C-Max Hybrid has had the best two-month start over any hybrid ever brought to the U.S. market
Alan Mulally will remain the CEO until at least 2014
Has announced shutting down three European plants, which will save over $500 million
Recently announced a $773 million expansion in Detroit, creating and maintaining over 5,500 jobs (indicates strong demand)
Multiple vehicles, including the Transit Connect Wagon, Ford Fusion and Ford Escape, had their best January sales month, ever, while the Ford F-Series recorded its 18th consecutive month of improved sales from the previous month
Record month after record month of sales in China
Received a credit upgrade in mid-2012 that allows for cheaper financing
So the bad news? Oh yeah, Ford expects to lose about $2 billion in Europe in 2013. For me, I just like to continually analyze and reconsider all my positions. It's important to remain unbiased when looking at stocks -- whether you are long, short or neutral. I still have confidence in my theory the stock will rise this year, despite the sizable losses that Ford expects to incur in Europe.
After selling a sizable portion of my holdings before earnings in late-January, I have begun to add to my position once again. I think it's important for long-term, bullish shareholders to look through the dust and the smoke and remain calm when the water gets choppy. It's easier said than done, and Ford has had a heck of a ride the past few months. But those who are investing for the long-term still have a favorable entry point available.
Ford is clearly taking some time to consolidate and cool down from its near-parabolic run that occurred from November 2012 to January 2013. It's important to rethink your strategy and make sure it still makes sense. If there's pandemonium surrounding your stock, and your strategy and investment still makes sense from a technical and fundamental perspective, then stick to your guns. The market is often times irrational, allowing smart investors to take home big checks. Ford shareholders can remind themselves of the bullishness that I stated above, and relieve some worry about downside risk.
As Clayton Rulli put it, "If Ford traded down to $10, it would still yield 4%." The balance sheet is strong and continues to improve, and demand remains high. Ford is in the beginning stages of efficiently tapping into Chinese sales, while domestic sales remain very strong. I am long Ford, and expect to see at least $16 or higher in 2013, pending the overall market performance.
Disclosure: I am long F. I wrote this article myself, and it expresses my own opinions. I am not receiving compensation for it (other than from Seeking Alpha). I have no business relationship with any company whose stock is mentioned in this article.