While investors are gearing up for final earnings reports for Q4 2012, many investors are turning sour on the notion of growth opportunities for large retailers. In fact, about half a dozen big-name retailers seem likely to cut locations during 2013 in attempts to improve margins or reverse trends of loses blamed on online-retailers and large discount outlets.
Among these are names very familiar to the American consumer. Retailers such as Best Buy (NYSE:BBY), Sears (NASDAQ:SHLD), Office Depot (NYSE:ODP), Barnes & Noble (NYSE:BKS), RadioShack (NYSE:RSH) and even Gamestop (NYSE:GME) have seen declines in sales and seek to re-think their retail strategies in 2013. Despite the expected closings, one should note that store closings can often bring needed-relief to corporate balance sheets and free-up constrained capital for investments in new business segments. For example, The Gap (NYSE:GPS) announced they will be closing 21% of their stores in 2011 and have since become more successful. In this case, downsizing has led to greater efficiency and better profit-margins.
Let's take a look at some of these on a case-by-case basis:
1. Best Buy, Inc. - Best Buy is expected to close anywhere between 200-250 of their 1,056 stores across the US after seeing a staggering 38% decline in one-year stock performance. Above this, same-store sales declined 1.4% from the 2011 holiday season. Combined holiday-season revenues dropped from $12.9b to $12.8b, leading the company to report a $0.04 loss per-share.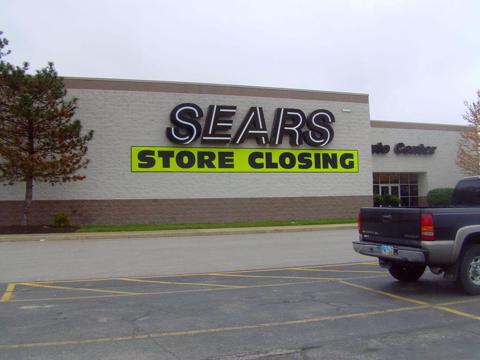 2. Sears - Both Sears and KMart brands have been losing middle and lower income customers to brands such as Target Corp (NYSE:TGT) and Wal-Mart Stores Inc. (NYSE:WMT). KMart is expected to close 175 to 225 stores with Sears expecting to close another 100-125 US locations. This would drop the total number of US stores from over 2,100 to around 1,750. Despite plans, the stock is up 8.8% from this time last year.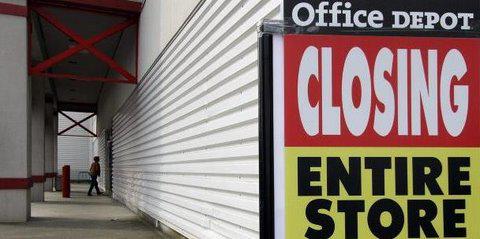 3. Office Depot - It doesn't seem like these guys can get a break. Office Depot has been coming across issues in its retail business since the days of OfficeMax Inc. (NYSE:OXM) and Staples Inc. (NASDAQ:SPLS) through its fierce targeting of the low-to-middle income demographic of consumers captured by big-box retailers like Wal-Mart. Despite the competition, the entire group has been losing customers to Amazon (NASDAQ:AMZN). The group plans to close 125 to 150 of its 1,114 U.S. locations. Plans to strategically relocate or downsize as many as 500 locations have lead to a 50%+ increase in stock value over the last one-year.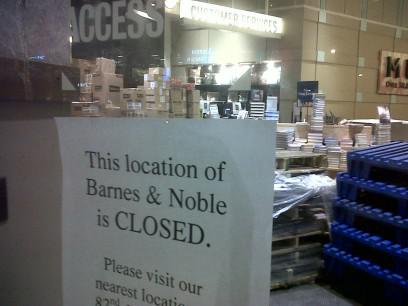 4. Barnes & Noble - Forecasts include 190-240 of its 689 stores, according to comments made by the company. Despite efforts in 2012 to increase digital-books sales through its line of Book devices, sales have fallen 13% year-over-year. The company expects to have 450 to 500 stores in 10 years.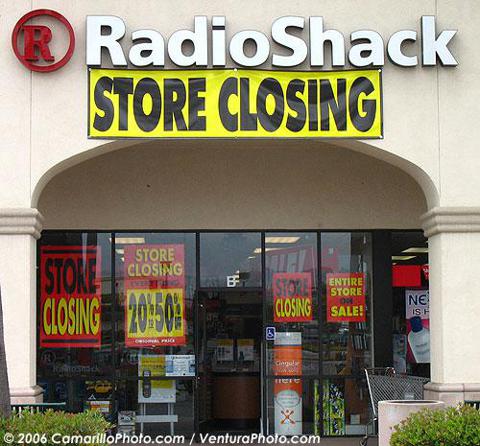 5. RadioShack - RadioShack has recently terminated its partnership with Target allowing 1500 retail mobile-phone kiosks throughout Target stores Despite their efforts, the stock has taken the largest hit of the group mentioned in this article with a 68.1% decline year-over-year. The company reports a $60 million operating loss in the 3rd quarter of 2012. Same store sales are down 1.6% year-over-year while revenue in the quarter fell 3.8%. In 2010 and 2011 the company closed more than 120 locations. With 4,412 locations across the country, RadioShack can be expected to cut up to an additional 450 to 550 stores during 2013.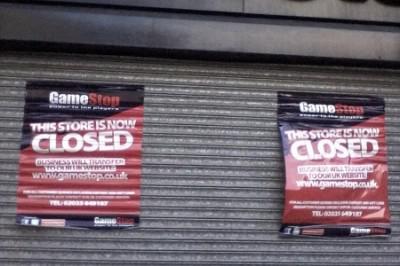 6. Gamestop - Gamestop announced it would close 200 stores in 2013. Hurt by growth in mobile gaming, the company has seen a 4.6% decline in revenue over the last year. Gross profits have fallen over all three of the company's product-segments - hardware, software and used products. The company boasts 4,471 retail outlets with some analysts expecting to see 500 or even 600 store closings this year after a 2.2% decline in stock performance year-over-year.
Deadlock in Washington over agreement on a fiscal policy balancing new revenues with additional budget cuts has left many retailers uncertain about prospects for future growth. Above this, increased cost of employing staff due to expected raises in employer-sponsored healthcare costs stemming from healthcare reform legislation take effect later this year, adding stress on growth expectations, leaving American retailers in a peculiar position in terms of taking on risk. Harsh regulatory climates for small-businesses in sectors such as Finance and Healthcare have slowed down retail purchases by small and mid-sized business alike. Growth in online sales can be attributed to part of the decline in the retail sector.
Best Buy, Sears and Office Depot may go the way of The Gap and use this as an opportunity to organize more efficient internal processes and increase their rather lacking online presence. RadioShack may even be able to pull it off if they can somehow manage to shift resources back into more-profitable segments of their business such as electronics and unique electronic equipment. On the other hand, GameStop and Barnes & Noble seem to be in a peculiar situation. Both have been losing sales to digital media. With the growth of wireless networks and electronic distribution, these companies will need a major shift in strategy and marketing if they are to compete with the likes of Amazon and Apple's online media stores.
Some of these adjustments in investor expectations seem to already be priced into the stock price as is the case with Sears and Office Depot. However, Best Buy and RadioShack still seem to be taking a beating which leads me to believe they could make a good comeback in 2013 - especially if management can refocus their strategies to incorporate more online business and return to their more profitable business segments. For that reason, I recommend buying & holding both Best Buy and RadioShack .
With fewer and fewer business-owners and investors expecting policy-decisions leading to economic growth, will 2013 lead to massive downsizing and closing of large US retailer outlets. Or is there another factor that can bring the retail business a stronger year in 2013? We'll have to wait and see.
Disclosure: I have no positions in any stocks mentioned, and no plans to initiate any positions within the next 72 hours. I wrote this article myself, and it expresses my own opinions. I am not receiving compensation for it (other than from Seeking Alpha). I have no business relationship with any company whose stock is mentioned in this article.