With the recent offshore pre-salt oil discoveries in Brazil and the ongoing Colombian oil boom, oil exploration and production in South America is firmly on investors' radars. This has seen a number of micro and small-cap exploration and production companies commence operations in the region and the boom spread to neighboring Ecuador and Peru. One of these companies is BPZ Resources (NYSE:BPZ), a small-cap oil exploration and production company operating in Peru and Ecuador and domiciled in the U.S. with its head office in Houston, Texas.
Investing in micro and small-cap oil exploration and production companies is fraught with risk for investors, typically because they lack the resources to weather a sustained fall in the oil price or production. This also includes their reliance upon the success of high cost exploration programs to build provable reserves and hence the company's value. But I believe that BPZ, on the basis of the value of its proven, probable and possible reserves, represents a high risk deep-value investment opportunity for risk tolerant investors. In this article, I will explain the opportunity, why the company is undervalued, and the risks for investors.
The Company
BPZ is an oil exploration and production company, with both onshore and offshore assets located in Ecuador and Peru. The company's focus is its Peruvian operations, where it has 2.2 million gross acres across four blocks, with three onshore blocks and one offshore block, as the chart below illustrates.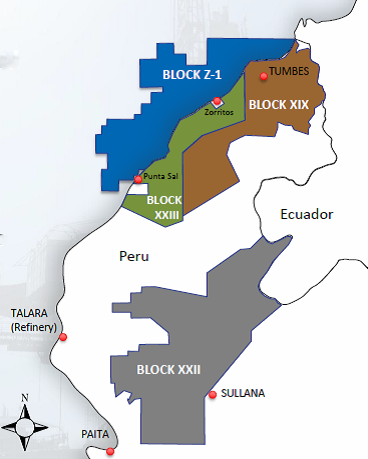 Source: BPZ Energy Upstream Oil & Gas Opportunities in Peru September 2012 Presentation.
The company is currently focused on developing its Peruvian oil and natural gas assets and bringing them to a profitable level of production. It placed the offshore Corvina field in Block Z-1, into commercial production in 2010 and during the third quarter 2012 completed the setting of the new CX-15 platform in this field. The company has also commenced exploring, appraising and developing the oil and natural gas potential of the Albacora field, which is also located in Block Z-1.
The company currently has 59 MMBOE of 2P reserves and 35 MMBOE of 1P reserves, which as the chart below illustrates, makes it on a proven reserves basis larger than many of its regional peers.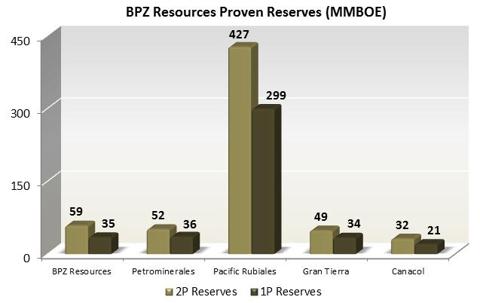 Source data: BPZ Energy Financial Filings 30 Sep 2012, Pacific Rubiales Investor Handout December 2012,Petrominerales' Exploring Beyond Corporate Presentation July 2012', Canacol Energy Investor Presentation December 2012 and Gran Tierra Energy Inc AGM Presentation June 2012.
BPZ's 1P and 2P reserves that are higher than other regional small-cap peers such as Petrominerales (OTCPK:PMGLF), Gran Tierra Energy (NYSEMKT:GTE) and Canacol Energy (CAAED.PK), but lower than mid-cap Pacific Rubiales (PEGFF.PK).
However, unlike its peers, BPZ is in the early stages of converting its proven reserves into production and for the third quarter 2012 reported total production of 285 MBOE. This equates to average daily production of around 3.2 MBOEPD and as the chart below illustrates, is well below the levels of production being achieved by many of its regional peers.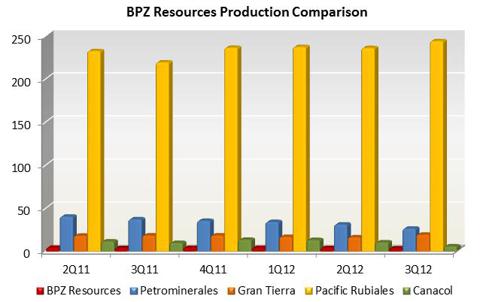 Source data: BPZ Resources, Petrominerales, Gran Tierra, Pacific Rubiales and Canacol Financial Results 2Q11 to 3Q12.
Such a low level of production, indicates that unlike many of its regional peers BPZ's production operations have yet to reach the same degree of maturity, therefore requiring further development before the company is capable of improving its profitability.
This indicates that any investment in BPZ is far riskier than making an investment in those peers, which have far more mature production operations. That degree of risk is further pronounced when the amount of capital expenditure, length of time to bring production online and the range of operational risks are taken into account. It is therefore important, for investors to have a thorough understanding of the company's development and exploration plans, along with the risks that may impact the development of these assets before investing.
Financial Snapshot
The company's financial performance over the last five quarters has been disappointing. This is primarily because, despite bringing production online in the offshore Corvina block in late 2010, production has continued to decline. This has subsequently seen revenue decline over the last three quarters and the company report a net loss over the last four quarters as the chart below illustrates.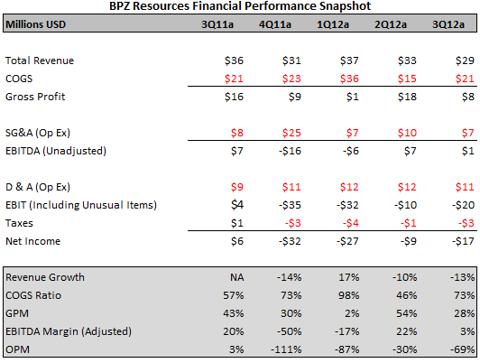 Source data: BPZ Resources Financial Results 2Q11 to 3Q12.
As the chart illustrates, revenue fell by 13% QoQ and 19% YoY to $29 million, while net income declined by 89% QoQ and 383% YoY to minus $17 million. This level of volatility in revenue and net income is something that I would normally expect to see with an oil junior involved in exploration and production, particularly as this is a capital intensive industry.
Accordingly, I believe that the company's balance sheet will provide a far better indication as to the company's health and whether it is capable of continuing to fund its exploration and production development operations. Currently, BPZ is carrying just over $400 million in short and long-term debt including asset retirement obligations and capital leases, which is an increase of 9% QoQ and 51% YoY.

The company is also heavily leveraged with a debt to equity ratio of 220%, which as the chart below illustrates is significantly higher than many of its regional peers.
Even more concerning, is that the company has a particularly poor debt to EBITDA ratio, which is far higher than many of its regional peers, further illustrating the company's high degree of leverage. It also indicates that BPZ has a higher risk of default than its peers such as Canacol or Gran Tierra with debt to EBITDA ratios of 1.16 and 0 respectively.
I am also somewhat concerned by the short-dated nature of the company's long-term debt, which as the chart below shows falls due in 2015.

Source: BPZ Resources Form 10-Q.
This early maturity of the majority of the company's long-term debt is somewhat worrying given the risk averse nature of investors and international credit markets at this time. But there is nothing at this time to suggest that the company will be unable to raise funds as and when these obligations mature. It is important for investors to be aware though that should the company experience problems raising additional capital through debt facilities there will be a significant impact on its ability to continue developing its proven reserves. This would therefore, have a significant impact on its profitability and share price.
However, despite the company's cash and cash equivalents falling by 23% QoQ, they still increased by 19% YoY to be $75.4 million at the end of the third quarter 2012. This indicates that the company has a solid cash position and in conjunction with its current ratio of 1.82 it is clear that the company is well positioned to more than adequately meet its short-term liabilities.
Overall, the company's high degree of leverage and poor debt-to-EBITDA ratio is of some concern. Both of these ratios underscore the risk associated with investing in an upstream player that is still making extensive capital investments to develop its proven resources.
Margins Continue to be Poor
As a result of the declining revenue combined with a high cost-of-goods-sold (COGS) the company's margins are not particularly strong and far lower than many of its peers operating in the region. The company has a particularly volatile EBITDA margin, which as the chart below shows is inferior to its peers operating in South America.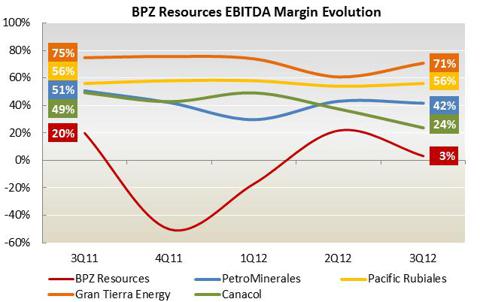 Source data: BPZ Resources, Petrominerales, Gran Tierra, Pacific Rubiales and Canacol Financial Results 2Q11 to 3Q12.
Of further concern is that BPZ's EBITDA margin has declined over the last five quarters to be 3%. But again this decline can be attributed to falling revenue and increased costs as the company focuses on developing its reserves in order to boost production.
One of the key reasons for the poor EBITDA margin is the company's high COGS, which saw the company have a COGS to revenue ratio of 73% for the third quarter 2012. This as the chart below illustrates makes BPZ one of the highest cost producers among its peers.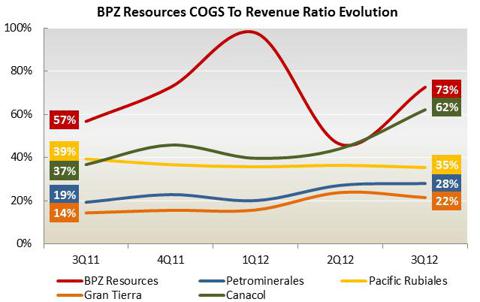 Source data: BPZ Resources, Petrominerales, Gran Tierra, Pacific Rubiales and Canacol Financial Results 2Q11 to 3Q12.
This ratio is significantly higher than even Canacol's 62%, Pacific Rubiales 35%, Petrominerales 28% and Gran Tierra's 22%. But the high COGS in proportion to revenue generated can be primarily attributed to the lack of development of the company's producing fields, which are preventing it from accessing economies of scale. I would expect as the company continues to develop the Corvina and Albacora fields and as those operations mature that its COGS to revenue ratio will fall.
Production is Declining
Another reason for the company's less than stellar margins and declining revenue has been a recent decline in production, with production in the third quarter 2012 down by almost 11% QoQ and around 25% YoY to 4 MBOEPD as the chart below illustrates.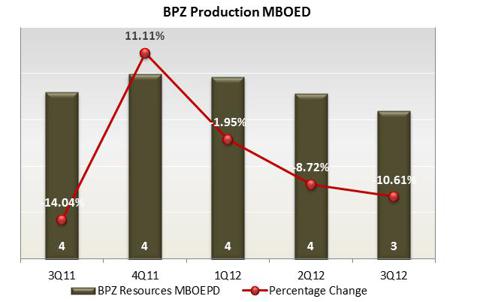 Source data: BPZ Resources Financial Results 2Q11 to 3Q12.
This decline in production particularly in the third quarter 2012 can be attributed to higher than expected decline rates in oil production along with mechanical problems in one of the two active gas reinjection wells in the Corvina field. These issues were offset though by increased production from the Albacora field, which should continue to increase as that field is developed.
However, the higher than expected decline rates are of some concern because this indicates that the operational wells are not able to produce at the expected rate. This does not bode well for increased future production and therefore profitability, indicating that the company is especially reliant upon its development and exploration programs.
The Company is Generating a Solid Netback per Barrel
Despite the ongoing production issues and declining revenue BPZ is delivering a solid netback per barrel, which for the third quarter 2012 was $62.89 per barrel. This is a 2.4% decline QoQ but an almost 3% increase YoY, as the chart below illustrates.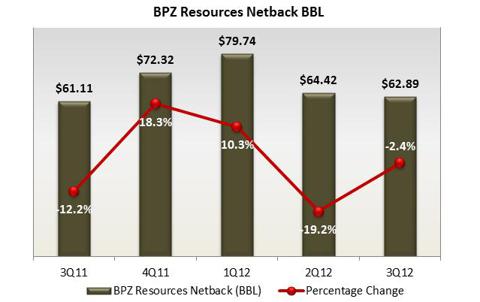 Source data: BPZ Resources Financial Results 2Q11 to 3Q12.
This netback per barrel is one of the best among oil exploration and production juniors in South America and as the chart below illustrates, is superior to almost all of its regional peers with the exception of Petrominerales.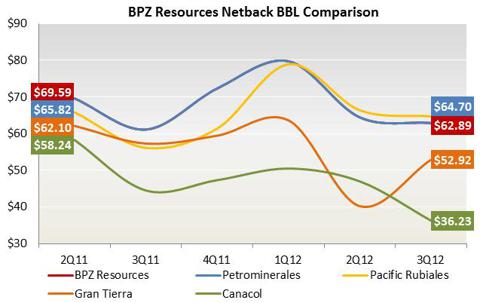 Source data: BPZ Resources, Petrominerales, Gran Tierra, Pacific Rubiales and Canacol Financial Results 2Q11 to 3Q12.
This solid netback can be attributed to the company's ability to obtain a higher average price for its oil and the lower royalty structure in Peru, which sees royalties starting at 5% as against 8% in Colombia. I also believe that the solid netback clearly illustrates BPZ's potential and bodes well for the company's future profitability.
But with the outlook for oil currently being relatively pessimistic, with Citigroup forecasting that 2013 Brent prices will average $99 per barrel and WTI prices will average $85 per barrel, it is likely that this netback will decline in 2013. Furthermore, with the price of oil expected to decline further in 2014 with Brent forecast by Citigroup to fall to an average price of $93 per barrel and WTI to $83 per barrel, this netback will continue to decline. This forecast fall in the oil price will obviously affect BPZ's ability to generate revenue, particularly because it is unlikely that the company will be able to lift production to compensate for the forecast drop in the oil price.
Unlike many of its peers BPZ does not have in place any instruments to hedge against the risk of a fall in the price of oil. However, the company has established a $40 million secured debt facility, which contains a performance based fee, which is dependent on the change in oil prices from the inception date of the debt agreement and the price of oil at each principal repayment date.
This essentially allows the company to offset any decline in the oil price against reduced repayments on the facility, but it does also increase those payments should the price of oil rise above a pre-determined level. Overall, this does leave the company particularly exposed to movements in the oil price and if there were a sustained drop in the price of oil the company may find itself in a position where it is unable to economically continue production. This obviously creates additional risk for investors, but it also reduces the company's cost base as it is not holding any derivative instruments to hedge against a decline in the price of oil.
Development Outlook is Positive
An important plank in BPZ's business strategy is the continued development of its proven resources so as to increase production, thereby boosting revenues and profitability. Currently, the company is focused on optimizing oil production in the Corvina field in Block Z-1, which includes setting a new drilling and production platform (the CX-15) in the field and implementing an offshore drilling campaign for this platform.

Source: BPZ Resources, Upstream Oil & Gas Opportunities in Peru, September 2012.
The company has also embarked on completing a three dimensional seismic survey in Block Z-1 to assess whether it is viable to conduct additional exploration and development activity within the block. This also includes the acquisition of offshore seismic data so as to better understand the characteristic and potential of its fields within Block Z-1.
Another important aspect of the development program is the commissioning of permanent production and injection facilities on the Albacora platform for gas and water injection. This should boost production from the Albacora field and in conjunction with the setting of production platform CX-15 bodes well for the company to be able to boost production over the medium-term.
BPZ has also entered into a partnership agreement with Pacific Rubiales for the exploration of Block Z-1, which commenced in April 2012 and saw Pacific Rubiales purchase a 49% participating interest for $150 million. The agreement also included Pacific Rubiales committing to fund $185 million of BPZ's exploration and capital expenditures in the block. BPZ also obtained interest free loans from Pacific Rubiales to fund the continuing exploration and development of the block and these were contingent upon the joint agreement being finalized by the Peruvian government approving Pacific Rubiales as a party of the block's license. This approval was granted by the Peruvian government on 31 December 2012, thus cementing the joint venture in place.
Given the current consolidation within the junior oil exploration and production sector in South America, this partnership and the favorable terms granted by Pacific Rubiales indicate that BPZ may be on that company's radar as a future acquisition. This becomes even more likely when Pacific Rubiales aggressive acquisition strategy is taken into account with its acquisition of Petromagdalena and C&C Energia in 2012. While there are no guarantees or clear signs of BPZ being an acquisition target it is something that I would advise investors to monitor.
BPZ has Identified an Opportunity in Electricity Generation
An interesting aspect of BPZ's business development strategy is the company's planned gas-to-power project. This entails the planned installation of a 10 mile gas pipeline from the CX-11 platform to shore and the construction of a gas processing facility along with a 135 megawatt net simple-cycle power generation facility.
The company has made the decision to embark on this project after commissioning an independent review of the Peruvian electricity market and identifying an opportunity to enter this market. The Peruvian electricity market is deregulated and the company believes it can economically generate and sell profitably quantities of electricity from this plant in both Peru and Ecuador. The company is also seeking joint-venture partners and additional finance for the project, which will hopefully ensure its success.
Typically, for a company with such a high degree of leverage, which is focused on oil exploration and production, such a diversification into electricity generation does not make sense. But with the Peruvian electricity markets lack of maturity and its deregulated nature there is an obvious opportunity, which may pay-off for the company over the medium to long-term. But my preference would be that the company focus on its core activities and bring its existing reserves to a sustainable level of production before diversifying into energy production and infrastructure.
Valuing BPZ
BPZ in some respects is a particularly difficult company to value, primarily because its production has not reached the level of maturity of its peers and the company is still focused on exploration and the development of its assets. I believe that the company has been unfairly valued by the market and this is a result of the sell down of international oil juniors by investors because of a perceived increase in political, economic and operational risk in the sector. This has seen the company fall in value by around 12% over the last year and left it with very attractive EV/1P and EV/2P reserves ratios of almost 20 and 12 respectively, as illustrated by the chart below.

However as the chart also shows, BPZ on the basis of almost every other valuation metric appears to be expensive in comparison to its peers operating in the region. This is particularly so when its price per flowing barrel of $217,967 is considered in comparison to Pacific Rubiales and Canacol with $34,216 and $42,705 respectively. This is also the case for its EV/BOPED ratio of $217,533, which is more than six times that of Pacific Rubiales, four times Petrominerales and three times that of Canacol. These expensive valuation metrics can be attributed to BPZ's production not reaching the level of maturity of these regional peers and they should continue to improve as the company develops its wells and boost production.
As a result I don't believe that these ratios provide investors with a clear picture as to the true value of BPZ and the potential investment opportunity that exists. Accordingly, I have valued the company using a net-asset-value (NAV) methodology in order to find the company's indicative fair value per share. To do this I have determined the present value of BPZ's future after-tax cash flows obtained from its reserves and then divided this value by the number of common shares outstanding. When applying this valuation methodology I have made the following assumptions:
I have taken BPZ's 2P reserves of 59 MMBOE and discounted the difference of 24 MMBOE between its 1P reserves by 50%, to represent the average accepted likelihood of those probable reserves becoming proven reserves.
I have discounted the present value of future cash-flows derived from the company's reserves by 10% in accordance with the industry standard PV10 methodology.
I have discounted the price of oil (both Brent crude and WTI) over the period of the valuation by 14% to represent the bearish outlook for oil prices.
I have conducted the valuation over a 10 year period, with no terminal value representing the finite value of the company's reserves.
I have calculated the present value of debt and asset retirement obligations using a 3% growth rate (representing the long-term GDP growth rate) over the period of the valuation. This factors in the likelihood that these liabilities will continue to grow in value as the company expands.
I have not factored in any positive increase in reserves from the company's exploration operations because of the uncertainty that surrounds oil exploration.
After taking these assumptions into account I have determined that BPZ has an indicative fair value of just over $7 per share as the chart below illustrates.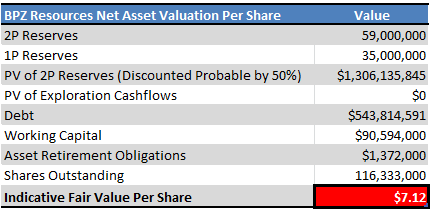 With BPZ trading at around $3 at the time of writing this represents a potential upside of 137% for investors. While this would normally indicate that BPZ is a deep value investment opportunity, it is important to note that the company is not currently generating sufficient production to generate a solid revenue stream from its proven and probable reserves. Thus making this valuation highly subjective and dependent upon the company being able sufficiently develop its wells to a point where it is able to achieve sufficient production.
Other Factors for Consideration
A key factor that weighs in favor or investing in BPZ is the relatively low degree of country risk associated with investing in Peru, with country having initiated a number of reforms to de-regulate its economy and promote foreign direct investment. This has seen country and political risk in Peru fall considerably and I believe made it a far less risky destination for investors than neighboring Bolivia, Ecuador, Argentina and Brazil. For 2012, Transparency International in its Corruption Perception Index rated Peru at 83rd on a scale of 1 to 174, where the lower the number, the lower the perceived level of corruption. This rating is superior to Colombia which was rated 94th, Argentina at 102nd and Venezuela at 165th. But it is higher than Brazil at 69th and Uruguay and Chile, which were both rated at 20th.
However, I do believe that the degree of risk has increased somewhat, with recent domestic unrest directed towards a number of mining projects in the country, including Newmont's (NYSE:NEM) Conga gold project. This increased domestic unrest also saw Barrick Gold (NYSE:ABX) temporarily suspend operations in the country in 2012, after a number of protests and the death of a protester. Furthermore, there has been a resurgence in activity by the Shining Path over the last year in Peru, with a mutated version of the what was thought to be that defunct organization emerging.
Another attractive factor relating to BPZ and its Peruvian operations is the relatively low Peruvian royalty rate imposed on oil of 5%. This compares quite favorably to Colombia where the government charges a minimum royalty rate of 8%, although this is discounted by 25% for heavy oil, giving heavy oil production in Colombia an effective royalty rate commencing at 6%. This lower royalty rate in Peru is part of the reason for BPZ being able to produce oil at a higher netback than many of its peers, which operate in Colombia.
Bottom Line
It is clear that on a net-asset-valuation basis, BPZ is significantly undervalued by the market, currently trading at a 56% discount to its indicative fair value. But the company in many respects is a far riskier investment than many of its peers operating in South America. Much of this risk can be attributed to the lack of maturity in its producing oil wells, which have yet to be adequately developed to allow a credible rate of production. This ongoing well development is an expensive and capital intensive activity, with considerable operational risks combined with considerable lag -time until scalable production is able to be achieved. All of which, considerably increases the risk associated with making an investment in BPZ, particularly in light of the higher than expected decline rates in the Corvina field are considered.
Furthermore, the company is heavily leveraged with a markedly high debt to equity ratio of 2.2 and a double digit debt to EBITDA ratio of 11.6, indicating it is significantly exposed to the vagaries of international credit markets and movements in interest rates. The high debt to EBITDA ratio is also of some concern because it indicates that BPZ has a higher potential default risk than its peers. All of these factors underscore the high degree of investment risk associated with investing in a highly leveraged company. But this high degree of risk is understandable given the company's need to further develop its reserves and increase production.
BPZ has also mitigated this risk somewhat through its joint venture agreement with Pacific Rubiales and the favorable terms on which it was able to obtain loans from that company. I also believe that the favorable terms extended by Pacific Rubiales to BPZ indicates that the company is certainly on Pacific Rubiales long-term acquisition radar particularly when the recent rash of mergers and acquisitions among oil juniors operating in South America is considered.
Overall, there are many aspects of BPZ that I believe make it a compelling deep value investment particularly when its potential upside of almost 137% is considered. But the company is also a high risk and speculative investment, which I believe is offering less potential upside than Canacol, which I reviewed earlier in 2013, with significantly more risk. If anything, BPZ is a speculative investment for the risk tolerant investor who is seeking to geographically diversify their exposure to South American oil juniors. Any investment would be bet on the company's ability to develop its reserves and whether it would eventually become the subject of a merger or takeover by a larger upstream company operating in the region.
Disclosure: I am long CAAED.PK, PEGFF.PK. I wrote this article myself, and it expresses my own opinions. I am not receiving compensation for it (other than from Seeking Alpha). I have no business relationship with any company whose stock is mentioned in this article.