Nokia's days of horror
Only two weeks ago Nokia's (NYSE:NOK) world looked brighter than it had for quite a while. The stock had rallied from its lows of $1.50 back in June 2012 to over $4.70, and the hopes for the year 2013 had grown fast.
But then, the last two weeks didn't go well for Nokia.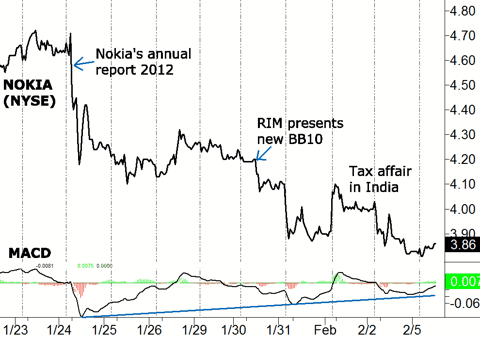 First, the stock lost about 10% from $4.70 to $4.20 on heavy trading volume when Nokia released its 2012 results. Although the reported numbers were strong in all business segments, expectations had been even higher. Furthermore, Nokia disappointed investors by cutting its dividend for the first time in the company's history. Additionally it gave a cautious outlook on the first quarter of 2013. Only one week after Nokia's year 2012 figures were released, it was the big day of its competitor RIM- now BlackBerry (BBRY). While BlackBerry was sent down about 30% within the first days after their BB10 presentation, Nokia's stock slipped further as well, down to $4.10. Not enough for Nokia's investors, at the end of last week new rumors about the Indian tax affair came up and pulled the stock down below the psychological $4 level, down to $3.80.
Is this sharp decline reasonable?
Let's have a closer look at the news and facts that affected Nokia within the last two weeks.
1) Let's start with the tax affair in India. The rumors have been spread by the Indian newspaper THE ECONOMIC TIMES. This newspaper reported that a "secret source", a senior income-tax official, who requested anonymity contacted them. According to THE ECONOMIC TIMES the "source" claimed that Nokia would have to pay about $2.3 billion before March 31st: 500 million for tax violations and the rest ($1.8 billion) for transfer pricing issues.
Although $2.3 billion is a lot, it would not bring Nokia into danger of going bankrupt. In their annual report the company disclosed gross cash of $13 billion and net cash of about $6 billion.
Some years ago the Vodafone Group (NASDAQ:VOD) has been accused for approximately the same amount as Nokia. See what happened in their case: Vodafone scored a victory in January 2012, when India's Supreme Court ruled that the company didn't have to pay tax on the transaction because it was between two foreign companies. The new tax law was intended to override the Supreme Court's ruling. It drew criticism from foreign investors who said they feared it would lead authorities to make fresh tax demands on already-concluded deals.
Of course Nokia's case is different from Vodaphone's but this example shows that the danger might be limited.
2) In my opinion Nokia's long-term strategy, the partnership with Microsoft (NASDAQ:MSFT), will finally pay off. While BlackBerry needed over one year to finish its new products ("too little too late"), Nokia's recent Lumia 920 release on Windows Phone 8 went much faster and without any large technical problems so far. According to a recent article in The Motley Fool the Lumia represented over 80% of Microsoft's smartphone sales in the third quarter, and the fourth quarter figure tops all of Windows Phone or Windows Mobile devices sold in the previous quarter. That shows just how many of Microsoft's smartphone ambitions are riding on Nokia, although the software giant is also expanding its relationships with other OEMs like HTC and Samsung to boost Windows Phone.
It seems that the Lumias are continuing their success story in this first quarter of 2013. There are indications that they are making progress in the US and in the UK and that they reaching top-seller lists in many other countries, e.g. on Expansys in Germany and Japan. And just this week there was encouraging news about Nokia's sales start in China with China Mobile.
3) Another story about Nokia's navigation business Navteq came out as well last week, mostly hidden in the shadow of the tax story. "It turns out that Nokia was able to beat Google (NASDAQ:GOOG) to become Toyota's (NYSE:TM) mapping supplier in Europe. Last year, Nokia beat Google for Ford's (NYSE:F) mapping contract and this is becoming more of a trend now."
Did you know? Four out of five cars with pre-mounted navigation are driving with HERE-technologies. All the big car makers in Germany, Korea and Japan are using it: Mercedes, BMW, Volkswagen, Hyundai and Toyota. Toyota's new vehicles which are using the HERE-technology are mainly built for Europe and the middle east, starting from the year 2014. This business is safe and it is huge.
Navteq was bought in better days from Nokia for $8.1 billion. You can see on Apple's (NASDAQ:AAPL) effort to set up a working location service that it could pay off more and more in the future.
4) Nokia has confirmed its ambitions to remain an innovating company by "looking to be ahead of the game in the graphene race. The Finnish mobile-phone maker announced that it was one of the recipients of a $1.35 billion grant from the European Union to do research and development on the supermaterial over the next 10 years."
5) Also only two weeks ago Nokia Music was offered at a cost of $4 per month. In my opinion this price is peanuts for this huge service. "It's the only smartphone music service out there offering access to millions of songs out of the box without the need to sign up, sign in, or suffer adverts in between enjoying the music. When you add in the ability to skip songs and save playlists for offline uses like the tube, you have something unique."
6) Also hidden behind other news: Nokia's new production plant in Vietnam will be finished soon and become quite big. 10,000 people are expected to be working there by the end of 2013 and producing 45 million units per quarter! Nokia is already hiring people including a production manager. This will help Nokia to stay competitive in the race with Samsung (OTC:SSNLF) and other rivals which attack Nokia's low end market share.
So although there has been a mixed picture of news within the last two weeks, the stock has fallen sharply. Let's have a look what this recent decline means in a longer term perspective.
The bigger chart picture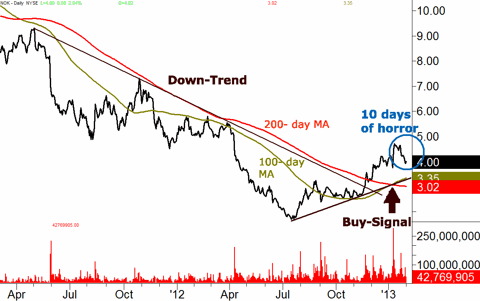 You can see that the stock had been in a long down-trend which was broken to the upside only recently, in November 2012. This trend-break was confirmed with a technical buy signal when the 100-day-moving average crossed above the 200-day moving average. In the long-term chart these last "ten days of horror" (blue encircled) do not look dramatic. Although the decline of the stock price within the last two weeks has been nearly 20%, the short term positive, up-trend picture remains.
If you believe in technical analysis and you have a closer look at the short-term chart again (top picture) then you can see an emerging MACD divergence. This might indicate that although the price is still declining, the selloff might soon be over.
In my last SeekingAlpha article only one week ago I presented a long list of positive fundamental facts on Nokia. Although the stock has been sent down sharply these fundamentals remain. I don't want to repeat all these arguments but one point is important to mention: Nokia's strong bond recovery. While Nokia's stock has fallen 20% the last days, Nokia's bonds have stayed nearly unchanged! This shows that long-term investors don't seem to be shocked.
Conclusion
In my opinion the future for Nokia is brighter than the recent decline may suggest. Some good fundamental facts are hidden behind the dark clouds of recent tax rumors. As soon as these clouds have moved away the stock will see the sun again.
For long-term investors who believe in Nokia's comeback, the current drawdown could be a good buying opportunity since the half-year uptrend remains. My price target for the next six months is $6. A stop for this speculative investment should be put at $3.30 since below this level the up-trend would be destroyed.
Disclosure: I am long NOK. I wrote this article myself, and it expresses my own opinions. I am not receiving compensation for it (other than from Seeking Alpha). I have no business relationship with any company whose stock is mentioned in this article.