By Serkan Unal
Rising profitability and swelling free cash flows have enabled many companies to boost their dividends. According to The Globe and Mail's citing of S&P Dow Jones Indices' senior index analyst Howard Silverblatt, "companies are paying out (in dividends) more than they ever have before - 2012 was a record. We are easily going to make a 2013 record." Silverblatt says that 60% of the S&P 500 index constituents are expected to raise dividends this year, and the average dividend increase is likely to come in at 4% for the year as a whole.
Still, some companies are well-positioned to raise dividends substantially. Raising dividends by double digits, some companies send signals to investors about their confidence in the companies' business prospects. Here is a glance at five dividend-paying stocks yielding above 2% that have recently raised dividends at or above the 10% rate. Among the five featured companies are the resorts-casino operator, Wynn Resorts Ltd. (NASDAQ:WYNN), which has doubled its dividend, and Time Warner Cable Inc. (TWC), which has good predispositions for continued dividend growth in the future.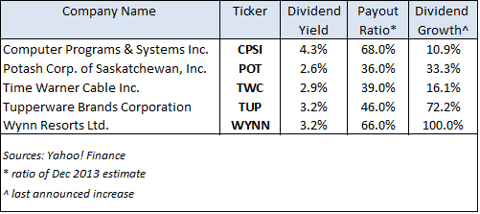 Computer Programs & Systems Inc. (NASDAQ:CPSI), a provider of computerized information technology systems to small and midsize U.S. hospitals, recently raised its quarterly dividend by 10.9% from 46 cents to 51 cents per share. The company has about 28% of total assets in cash and equivalents, but it converts slightly more than half of its net income into free cash flow. The company recently reported FY2013 revenue and EPS guidance of $194-$206 million and $2.80-$2.98 per share, respectively, below the analyst consensus revenue estimate of $209.68 million and the EPS estimate of $3.12 per share. The company is costly, based on the forward P/E of 15.3x, above the software industry average of 10.3x. Its price-to-book of 8.3 is much higher than the industry average of 3.3, but still below the company's five-year average of 9.7. Despite these weaknesses, the company has proven committed to boosting shareholder value through dividends. Last year, on December 14, 2012, CPSI paid a special cash dividend of $1.00 per share. The company's forward yield is appealing, providing a cushion for any downside in the prices until demand recovers. Jim Simons held a small stake in the stock, which he reduced in the third quarter of 2012.
Potash Corp. of Saskatchewan Inc. (POT), a producer of fertilizer potash and industrial feed products, boosted its quarterly payout by 33.3%, from 21 cents to 28 cents per share. Its quarterly dividend has risen, on average, by 30% annually over the past five years. In fact, PotashCorp's President and CEO stated that the "decision to further enhance our dividend reflects the confidence we have in our ability to generate strong cash flow in the years ahead." Indeed, the outlook for the industry is improving. A reduced destocking and increased demand will drive world potash shipments higher by 12% this year. Especially strong will be demand in India, China, and North America. The company sees 2013 EPS at between $2.75 and $3.25 per share, compared with the analyst consensus estimate of $3.14 per share. In the long run, expanding global populations, a shift to protein-rich diets demanding ever increasing grain yields, and the persistent need to achieve higher yields from an increasingly unproductive soil bode well for the company's prospects. With trailing and forward P/Es at 15.9x and 12.9x, respectively, the stock is trading at a discount to its historical metrics. In the third quarter of 2012, Adage Capital's Phill Gross scaled down his investment in the stock by 18% to $227 million, while Tetrem Capital's Dan Bubis hiked his position by 5% to $163 million.
Time Warner Cable Inc. , the second largest U.S. cable provider, hiked its payout by 16.1% from 56 cents to 65 cents per share. The company's latest quarterly dividend is 62.5% higher than that reported in 2010. The company's management called the latest dividend increase, "a signal of confidence in our business." TWC recently reported an 8.7% rise in revenues in 2012, driven by a robust 29.4% jump in business services demand and a 19.7% increase in advertising revenues. High-speed data has been the main driver of revenue growth. Operating income was up 9.2% last year. However, programming costs are increasing, which is partly a reason for the weak 2013 EPS guidance. The company now expects 2013 adjusted EPS in the $6.33-$6.61 range, below Street expectations of $6.88 per share. According to Dividend.com, disappointing 2013 EPS guidance and the lack of catalysts this year were the reasons behind Wells Fargo's recent TWC downgrade to market perform from outperform. Still, longer-term outlook looks better and the pullback in TWC share prices could represent an opportunity for long-term investors to establish positions. However, it would be prudent to wait for the resolution of a speculated exit of the company's CEO, Glenn Britt. TWC stock is priced at a below-industry multiple of 13.2x. In the third quarter of 2012, Tiger cub Phillipe Laffont (Coatue Management) initiated a new position in TWC.
Tupperware Brands Corporation (NYSE:TUP), a global direct seller of food storage, preservation, and preparation items, increased its quarterly dividend by a whopping 72.2%, from 36 cents to 62 cents per share. Along with its latest dividend increase, the company also "raised its target payout ratio from approximately one-third to 50% of trailing diluted EPS." According to the company CEO Rick Goings' interview with CNBC's "Mad Money" host Jim Cramer, Tupperware is a "cash generating machine," with "no interest in making acquisitions," which means it remains committed to both share repurchases and dividends as ways to boost shareholder value. The company is witnessing positive EPS revisions over the past 90 days, which is boosting the stock price to new multi-year highs. Its 2013 and 2014 EPS consensus estimates have been raised by 3.1% and 5.0%, respectively. In 2013, the company's management sees revenue increases of between 5% and 7%. Its 2013 EPS guidance of between $5.62 and $5.77 is above the consensus estimate of $5.56 per share. Still, given the company's price surge over the last few months, there are risks of a pullback in the near term. TUP trades on par with its industry at 13.3x forward earnings. Steven Richman (East Side Capital-check out its picks) and Cliff Asness (AQR Capital) both trimmed their TUP holdings in the third quarter of 2012.
Wynn Resorts Ltd. , a resorts-casino operator, doubled its quarterly payout from 50 cents to $1.00 per share. The latest dividend hike comes on the heels of a special dividend of $7.50 per share that the company paid on November 20, 2012. Wynn Resorts recently posted Q4 2012 adjusted EPS of $1.17, below $1.55 per share reported last year and lower than the consensus estimate of $1.25. The main culprit behind the weakness was subpar performance of the VIP market in Macau, China. Las Vegas operations were vibrant, posting 12.1% year-over-year increase last quarter. Despite the Macau weakness, the long-term prospects for growth in Macau are upbeat. The Macau market saw record gambling revenue in December 2012 - rising 19.6% year-over-year - and is expected to see gaming sales rise between 5% and 10% this year. In the long run, vibrant growth will be driven by the accelerating Chinese economy, rising middle-class incomes, and increasing propensity of the Chinese to spend on gaming and gambling. WYNN is trading at 20.9x forward earnings, slightly below archrival Las Vegas Sand's (NYSE:LVS) 21.1x. Criterion Capital initiated a new position in WYNN in the third quarter of 2012.
Disclosure: I have no positions in any stocks mentioned, and no plans to initiate any positions within the next 72 hours.
Business relationship disclosure: Dividendinvestr is a team of analysts. This article was written by Serkan Unal, one of our writers. We did not receive compensation for this article (other than from Seeking Alpha), and we have no business relationship with any company whose stock is mentioned in this article.