There is enough written about the basic Piotroski F-Score system and it is not my intention to simply add another simple stock screen to the pile. Instead, this article will be focused on how to go beyond the original F-Score to potentially improve gain and lower downside risk.
Benefits and Caveats of F-Score
Joseph Piotroski created a 9 point scoring system based on profitability, capital structure and operating efficiency to enhance a simple value strategy (low price to book ratio stocks). One benefit of such a system is that it highlights improvements in many areas that are not apparent to the casual investor who focuses on earnings and revenue only. The F-Score system may highlight some early signals of what may later turn into improved earnings and revenue.
One criticism of this system is that it only considers an improvement while not factoring in absolute numbers. For example, a company with a reduction in long-term debt-to-assets is awarded a point with no regard to how high the debt level was or by how much it was reduced. Others complain that the "annual check-ups" are too short a window to analyze a stock's changing fundamentals.
What if we could take the Piotroski system and not only screen for an improvement across the 9 factors, but also screen for how big an improvement was made? Instead of a simple yes/no binary system, can we apply a ranking system to some of the factors to get a more meaningful screen? I believe we can.
Test Set-up
Our stock universe will be on the Nasdaq...or you can follow an ETF that tracks the Nasdaq 100 if you prefer (NASDAQ:QQQ), but I will use the entire Nasdaq exchange. I like this exchange for the Piotroski system because it allows for many small stocks with potentially big upsides - which should work well with this type of system.
Before we begin our Piotroski portfolio test we need establish a couple of benchmarks.
We will run an F-Score system over the Nasdaq to compare returns before any additional modifications.
We re-examine our holdings every 4 weeks.
As well, we add 0.25% slippage to account for transaction costs.
All tests and charts are complements of Portfolio123: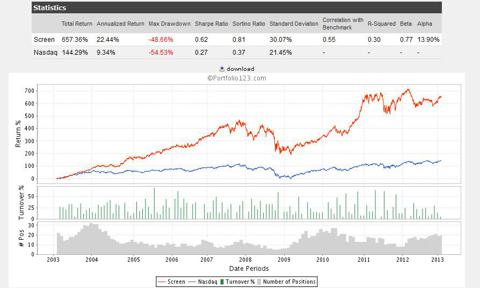 Clearly, this strategy without modification is quite compelling with an annualized return of 22.44% and a drawdown of 48.66% during the 2008/2009 crash as compared to 54.53% in the Nasdaq. The Sharpe ratio is 0.62.
Creating Absolute and Relative Ranking Rules
The next step is to determine which rules will stay as absolute with only a yes/no answer to earn a point and which rules need to be ranked with scores that range from 1 to 100.
The following rules are F-Score inspired and will remain as simple yes/no rules:
Trailing EPS greater than 0
Operating Income greater than 0
Operating Cash Flow greater than 0
Price to Book in the bott0m 20%
The rest of the rules have been rolled into a ranking system where we can determine degrees of change. Each of the remaining rules will get a score between 1 and 100 depending on how well it ranks compared to the rest of the stocks in the Nasdaq. These rules will include the following (in addition to the remaining F-Score rules):
The difference between Gross Margin trailing 12 months and the preceding 12 months
The difference between Asset Turnover trailing 12 months and the preceding 12 months
This allows us to see by how much some of these factors have changed and we focus on buying those with the greatest improvements instead of simply buying all stocks that show some improvement.
Testing the Modified Piotroski System
Before we proved a list of stocks that this system would generate, I want to test the overall portfolio performance. We begin by simply running the above set-up. The absolute rules (yes/no) will restrict the stocks we are allowed to invest in while the ranking rules will then choose the "best 10" from the list. Remember that this system accounts for price slippage or trading costs (0.25%).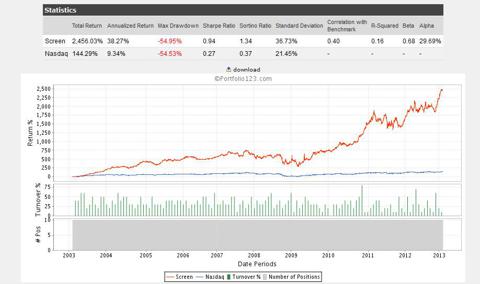 Already we have an impressive jump in performance and enhanced risk ratios ... but our maximum drawdown during 2008/2009 increases to the same as the Nasdaq exchange. Yet an annualized 38.27% return seems quite impressive. Can we improve upon this further yet again?
Increasing The Frequency of Portfolio Monitoring
Some investors prefer to only monitor their holdings at set periods of time ... perhaps annually, semi-annually, quarterly or monthly. I guess the advantage of this is that you can simply watch your stocks between re-balance or check-points and this makes life simpler.
I prefer, however, to monitor my stocks every weekend. This doesn't mean I am switching all the holdings every weekend - in fact - it may mean the same annual turnover as someone who only examines their holdings quarterly. But it does allow a more responsive system. What if one week after your quarterly "stock check-up," one of your holdings triggers all your sell criteria? Should you hold this stock for another 3 months simply because you only wish to trade 4 times a year? I suggest that your holdings should be monitored weekly and sold when your triggers set off instead of waiting.
But I want to be clear that I am not re-balancing weekly. In fact, after running numerous tests on rebalancing it seems that any benefit is inconsistent and minimal to the point that it is hardly worth doing as highlighted in this article. I may sell one stock and buy another on a weekly basis but I do not re-weight my portfolio unless some of the stocks become seriously out of balance (e.g. a 10 stock portfolio with one stock making up 15% of the weight would be worth looking at).
Thus our next test will be to increase the frequency of our portfolio checkup to a weekly basis.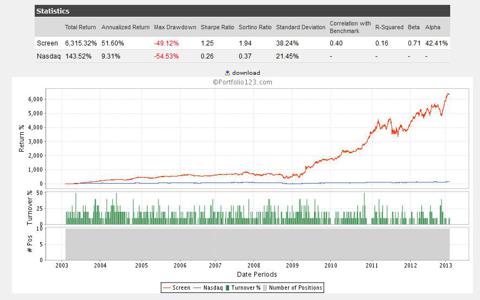 With this strategy you are weekly replacing an average of 1.5 stocks from your basket of 10 stocks. 0.25% slippage is already factored in.
Adding a Hedge
There is one other modification that I would recommend for investors who want to lower the downside risk by adding a hedge. When the S&P 500 EPS trend is turning down (a pre-defined market timing rule on P123), a 50% hedge is added that shorts the Nasdaq. This comes with a 1.5% annual carrying cost when employed and you can do this via an ETF. While hedging has a minimal effect on annualized return (53.72%) it significantly lowers the max drawdown (-31.45%) and increases the Sharpe and Sortino ratios.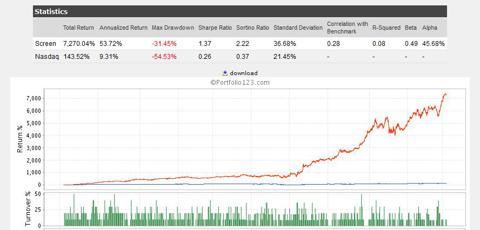 Current Buy List
Now let's look at the current list of stocks to see how investable they really are:
| | | | | | | | |
| --- | --- | --- | --- | --- | --- | --- | --- |
| Ticker | Name | Last | Piotroski Relative Rank | MktCap | Industry | Sector | Yield |
| (NASDAQ:ASCA) | Ameristar Casinos Inc | 26.38 | 98.85 | 865.23 | Hotels, Restaurants & Leisure | Consumer Discretionary | 1.9 |
| (SPMD) | SuperMedia Inc | 3.73 | 98.77 | 58.44 | Media | Consumer Discretionary | 0 |
| (NASDAQ:NETC) | Net Servicos De Comunicacao Sa | 13.86 | 97.94 | 3167.07 | Media | Consumer Discretionary | 0 |
| (NASDAQ:GASS) | StealthGas Inc | 8.5 | 96.26 | 174.7 | Oil, Gas & Consumable Fuels | Energy | 0 |
| (NASDAQ:BKEP) | Blueknight Energy Partners LP | 8.03 | 99.75 | 182.04 | Oil, Gas & Consumable Fuels | Energy | 5.73 |
| (NASDAQ:UFCS) | United Fire Group Inc | 23.91 | 97.33 | 607.72 | Insurance | Financials | 2.51 |
| (NASDAQ:PDLI) | PDL BioPharma Inc | 6.88 | 99.71 | 960.6 | Biotechnology | Health Care | 8.73 |
| (NASDAQ:SKYW) | SkyWest Inc | 12.81 | 97.7 | 656.59 | Airlines | Industrials | 1.25 |
| (NASDAQ:SGMA) | SigmaTron International Inc | 5.39 | 95.1 | 21.18 | Electronic Equipment, Instruments & Components | Information Technology | 0 |
| (NASDAQ:VRSN) | Verisign Inc | 44.34 | 99.51 | 6801.4 | Internet Software & Services | Information Technology | 0 |
A Few Fundamental Considerations
First you should note the dividend stocks which are ASCA, BKEP, PDLI, SKYW and UFCS. I ran the identical Piotroski set-up above including only dividend stocks and these proved to be the worst performing stocks during the market crash with a maximum draw-down of 72%. This resulted in annual returns being below 20%. There is nothing wrong with including some top-performing dividend picks in with the mix but I would highly recommend making this into a dividend-only system.
The second aspect that I would consider is Market Capitalization. The smaller the market cap the higher the return ... but the greater the slippage you can expect. By limiting market cap to the bottom 20% of the Nasdaq, the hedged return of this system rises dramatically (70% CAGR). But because liquidity is generally lower on these stocks, the returns will be identical (50 - 52%) once you raise slippage to a more realistic 1%. Why am I pointing this out? If you are dealing with small amounts of capital and you have direct market access, you may want to isolate the lower market capitalization stocks such as SPMD, GASS and SGMA or re-create this system and restrict it to the bottom 20% market cap of the Nasdaq.
Another consideration is the higher range PE ratio stocks. These also have proved to be lower-performing stocks on average. This would cast a shadow on stocks like NETC and SKYW. However, due to the few higher range PE stocks, I would recommend leaving them in so as not to over-optimize the system.
Lastly, you have stocks with high short interest that could create rocket fuel if an upside catalyst presents itself. Stocks with high short interest are PDLI (16% of float), SPMD (30% of float) and VRSN (9.48% of float). These are definitely worth keeping your eye on.
Summary
There are many variations of the Piotroski F-Score system that can be explored that take the system far beyond a simple yes/no point scoring on the 9 basic rules. This system seems to work best on smaller stocks with less volume but it can also be adjusted to work with slightly higher liquidity. You can lower the "scare factor" of such a system by employing a market-timing hedge and doing so seems to add much benefit. Finally, I find that by automating the process it becomes a simple task to re-evaluate the portfolio every week so that you can replace lackluster stocks at your earliest convenience instead of waiting many months for some arbitrary re-balance date. Your total turnover need not increase although your frequency of making trades will (i.e. In a portfolio of 10 stocks, you may have to replace one stock every week instead of replacing all 10 stocks every 10 weeks).
If you would like to see a variation of this scan, please let your wishes be known in the comments section below and I will do my best to run the test for you.
Disclosure: I have no positions in any stocks mentioned, and no plans to initiate any positions within the next 72 hours. I wrote this article myself, and it expresses my own opinions. I am not receiving compensation for it (other than from Seeking Alpha). I have no business relationship with any company whose stock is mentioned in this article.