VIX - Market Sentiment:
Tuesday, S&P futures were moving higher as the market was digesting the LBO of Dell Inc. (DELL). DELL agreed to be purchased in a deal valuing the company at 13.65 per share, or 24.4 billion. Other names such as Estee Lauder (NYSE:EL) were also in the news, jumping more than 6% after a better-than-expected forecast. BlackBerry (BBRY) was also surging after a report that the Z10 Smartphone sales were "encouraging" as BBRY added another 8%. Economic news was rather slow today, but should pick up later this week when the unemployment claims and productivity numbers are released on Thursday. The NYMO weakened significantly after yesterday's sell-off, dropping to a reading of -21.69, a 35.82 point decrease. I would expect this number to rebound today, but it continues to show the consolidation as we continue to be nowhere near overbought or oversold.
The spot CBOE Volatility Index (VIX) and futures dropped heavily today after posting the largest gain of the year from yesterday's sell-off. Today, the volatility sellers came right back in, selling down futures across the board. Volatility ETF (NYSEARCA:VXX), 2x ETF (NASDAQ:TVIX), and alternative 2x ETF (NYSEARCA:UVXY), which all saw gains yesterday, saw losses across the board, following futures lower. No clear cut trades went off in terms of the VIX today, other than a few VIX put buyers, who took profits selling positions across the board. Most notably, the April 14 and Feb 13 strike puts were sold in larger blocks, and the March 19 and 24 strike calls were bought towards the end of the day.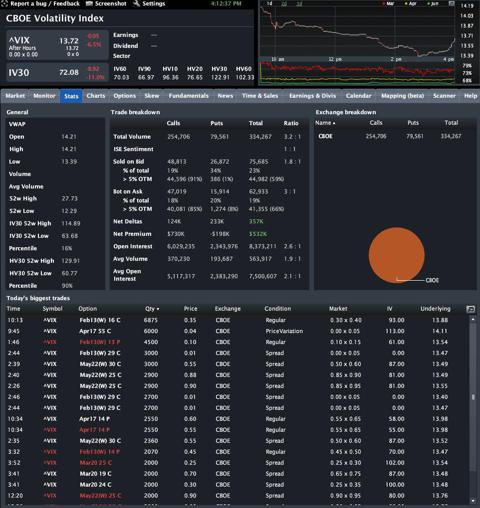 Statistics and Screenshot Provided By LiveVol
VIX futures are below.
Yesterday
· February VIX futures 15.13
· March VIX futures 16.05
· April VIX futures 16. 90
Today
· February VIX futures 14.50
· March VIX futures 15.53
· April VIX futures 16. 48
Options Paper:
The options paper continued to be slow at best as the market ripped 18 handles higher on the day. S&P ETF (NYSEARCA:SPY) call buyers were active in today's session, but it was done on light volume of just 1.3M with 60 minutes of trading to go. Of the top traded names, none of them were over average option volume, with the exception of Baidu (NASDAQ:BIDU), which traded more than 4x average daily volume. I mentioned in the Sonar report yesterday (here) heavy call selling and put buying in BIDU, which was confirmed with the 10% sell-off in today's trading. For those who follow me and my trades on Twitter, I did initiate a trade due to similar activity in Chipotle (NYSE:CMG), where I went short with a put fly. Calls in this name continue to be overall sold, and puts were bought more than 500K worth on the trading day.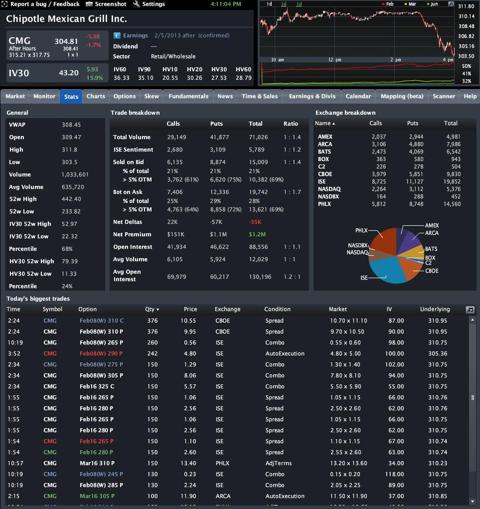 Statistics and Screenshot Provided By LiveVol
Lowe's (NYSE:LOW) is also a name common to the sonar report and today, bulls and bears were battling it out in a very interesting trading session. Early on, bears were in control, as puts were being bought in blocks across the board, with the April 38 and 37 strike puts getting attention. Then bulls stepped in on the re-test of the lows, and bought the July 40 calls in good volume, along with some good-size covered calls, also showing bullish activity. LOW saw this activity go back and forth all day long, as options volume was more than 50% average daily volume, with puts just outnumbering calls. Overall, puts and calls were both net bought on the day, possibly with some preparing for the earnings release later this month on February 25th. I currently have no position in LOW, but will look to Home Depot (NYSE:HD) as a proxy if volatility continues to climb in this name.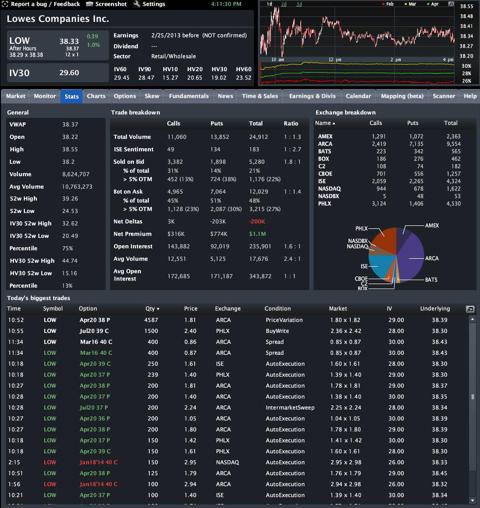 Statistics and Screenshot Provided By LiveVol
Also in yesterday's Sonar (linked above), I reported unusual activity in Centene (NYSE:CNC), which saw a large risk reversal betting on good earnings results. This name typically only trades 843 contracts a day, so to see a large put sale combined with a large call buy piqued my interest. Although I did not follow this trade, it is a perfect example of just why investors should pay attention to the options market. This single trade sold 3,119 of the 37.5 March puts, and bought 3,119 of the March 47.5 calls. The puts were sold for .45, and the calls were bought for .90 as the trader laid out just .45 on the trade, or just under 150K in premium. The trade does, however, require quite a bit of buying power, as the naked March puts would hold 11.7M in buying power. No problem, because since the time of the trade, CNC is up 7% after the earnings release, and now the trader is loving life, as it can be sold for .70 on the bid today with crazy high spreads. Since the trader now has time working on his side, I would expect him to let this ride and really let the profits roll.
Popular ETFs and equity names with bullish/bearish paper:
Bullish Option Flows - ISE & % OTM calls bought on offer
Cablevision (NYSE:CVC) 88% - of the 3.9K OTM calls bought
Annaly Capital (NYSE:NLY) 85% - April 17 strike calls traded very heavy
The New York Times (NYSE:NYT) 74% - Upside calls buyers have been coming back to the well
LeapFrog (NYSE:LF) 53% - 4K OTM calls bought
Flotek (NYSE:FTK) 46% - almost 5K OTM calls rolled
Bearish Option Flows - ISE & % OTM puts bought on offer
Synta Pharmaceuticals (SNTA) 97% - June 10 strike puts bought 2.5K times
SM Energy (NYSE:SM) 96% - More than 2.8K OTM puts bought
Molson Coors (NYSE:TAP) 92% - More beer fallout?
Alcatel-Lucent (ALU) 77% - Big buyer of Feb 1.5 strike puts
Applied Materials (NASDAQ:AMAT) 64% - OTM puts bought on offer
Disclosure: I am long AGNC, BA, CBB, CONE, F, INTC, KERX, KOS, MTGE, NRG, PG, TUMI, VHC, VOD, and I am short CMG, DDD, EDU, SPY.
Trades Today: Short CMG, sold BA calls against long position, trimmed F long.
I wrote this article myself, and it expresses my own opinions. I am not receiving compensation for it (other than from Seeking Alpha). I have no business relationship with any company whose stock is mentioned in this article.
Disclaimer: The opinions in this document are for informational and educational purposes only and should not be construed as a recommendation to buy or sell the stocks mentioned or to solicit transactions or clients. Past performance of the companies discussed may not continue and the companies may not achieve the earnings growth as predicted. The information in this document is believed to be accurate, but under no circumstances should a person act upon the information contained within. I do not recommend that anyone act upon any investment information without first consulting an investment professional as to the suitability of such investments for his or her specific situation.