Berkshire Hathaway's (NYSE:BRK.B) (NYSE:BRK.A) sale of 2M of its Lee Enterprises (NYSE:LEE) shares overshadowed Lee's Q4 2012 results, and pushed the company's share price down by 26% on November 15th before it rebounded by nearly 10% over the next two months. We were disappointed to see that Berkshire had sold about 65% of its equity position in the company, and we were even more disappointed to see the violent reaction that took place in the market. Fortunately, Berkshire still holds over 2% of Lee's shares, and is still the 6th largest equity holder in Lee's shares. We think that Berkshire probably would have acquired more of Lee's 2nd lien debt, or even its equity shares outright, if it had been able to win approval to keep it off the 13-F filings back in June. Another piece of fortunate news for Lee Enterprises is that three investment management boutiques have positions in Lee ranging from 1% of Lee's outstanding stock to 6.6% of Lee's stock. Lee's largest shareholder is Cedar Rock Capital Ltd. Cedar Rock is a 10-year-old British firm that is closed to new investors and owns 6.6% of Lee's outstanding shares, according to Morningstar.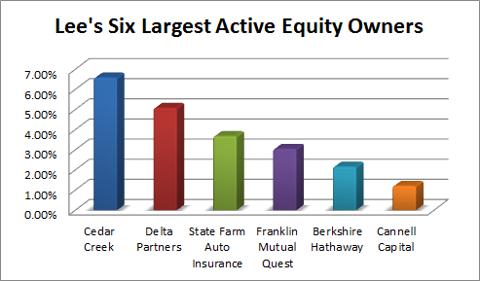 Source: Morningstar Direct
Lee's largest mutual fund shareholder is the Franklin Mutual Quest fund (MUTF:MQIFX). This fund owns 1.6M shares of Lee, and this represents a 3.05% stake in Lee. Franklin Mutual Quest has earned a Silver, Five Star Rating by Morningstar, and Lipper has also rated it with its highest ratings for Total Return, Capital Preservation and Expense Ratio Management. The fund has been managed by its lead manager, Shawn Tumulty, for nine years this December, and it has outperformed its benchmark (MSCI EAFE NR USD) and its Morningstar Performance Category over the three, five, ten and fifteen year performance periods.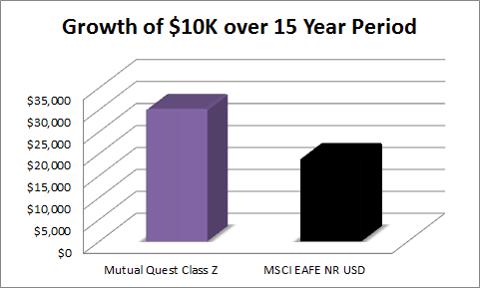 Source: Morningstar Direct
The two newest firms to take a position in Lee Enterprises include RBF Capital LLC and Delta Partners. RBF Capital is headquartered in Marin County, CA, and manages over $302M in equity assets as of its Q3 2012 13-F filing. RBF initiated a 153K share position in Lee during the most recent quarter, and it owns 29bp of Lee's outstanding stock. Delta Partners initiated a 1.1M share position in Lee in Q2 2012, and increased it to 2.25M in Q3 2012 and 2.66M as of November 15th. As Delta is now a 5% shareholder of Lee Enterprises, it had to file a Schedule 13G as of that date, and it filed it on November 21st. Delta has $73.1M in equity assets as of Q3 2012, and we believe that it sees itself as an acolyte of Buffett and value investing. We came to that conclusion based on Delta's concentrated portfolio, the fact that it has 9.25% of its portfolio in Berkshire, another 22% in companies that Berkshire holds (Gannett (NYSE:GCI) and DirecTV (DTV)) and 10% in Microsoft (NASDAQ:MSFT), which was founded by Buffett's best friend, Bill Gates. Bill Gates' Foundation will be receiving the bulk of Buffett's wealth when he passes on.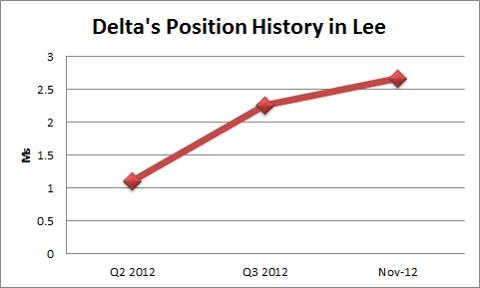 Source: Delta's Last Three SEC Filings
Carlo Cannell and Cannell Capital LLC also took a position in Lee. According to the 13-F filed by Carlo Cannell for Q2 2012, he had 99K shares of Lee Enterprises. According to the 13-F filed by Cannell Capital LLC, Cannell Capital LLC had 632K shares of Lee as of Q3 2012. D.E. Shaw and affiliates have been a long-time holder of Lee Enterprises, and it has 146K as of Q3 2012. D.E. Shaw's position represents 28bp of Lee's outstanding shares, and it added 111K shares to its position in Q3 2012.
In conclusion, we think the market has overreacted to Berkshire's recent sale of Lee shares. While the world's most recognized investor may have reduced his position in Lee Enterprises in the Q3 2012 period, other firms have stepped up to pick up the slack. We were most intrigued with Delta Partners' position in Lee, considering it is a local firm here in Boston, and it has positions in a number of companies that we have considered investing in for our proprietary book.
To reiterate from our previous report on Lee Enterprises, we believe that the sharp decline in Lee's shares presents investors with a potential buying opportunity. Lee generated $73M in free cash flows in FY 2012, and won't have the burden of $32M in non-recurring financing costs in FY 2013. Even assuming $12M in increased estimated interest expenses, we believe that the company should be about to generate about $75M in FY 2013 FCFs due to the absence of the non-recurring financing costs, and legislative relief that allows Lee to temporarily reduce its pension funding costs. When we consider that the company's market cap is now at $69M, we see that Lee's estimated free cash flow yield is over 105%. Also, Lee has the potential for refinancing its 2nd Lien Term Loan to reduce its interest expenses. We believe that Lee's revenue will narrow its decline in 2013 and stabilize in 2014 due to strength in its digital media monetization efforts, especially in its mobile advertising revenue and page view volumes. Lee's mobile advertising revenue in FY 2012 increased by 150%, and reached $2.7M thanks to a 146% increase in its mobile page views, and its quarterly mobile advertising revenue increased by 147% to $1.3M in Q1 2013 versus Q1 2012.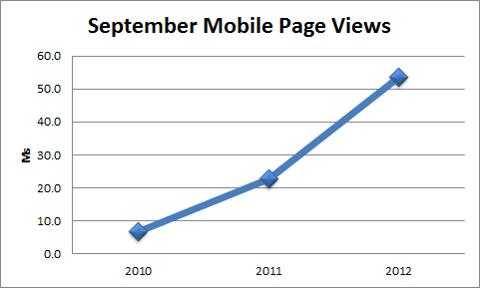 Source: Lee's Q4 2011 and Q4 2012 Reports
Disclosure: I am long LEE, BRK.B. I wrote this article myself, and it expresses my own opinions. I am not receiving compensation for it (other than from Seeking Alpha). I have no business relationship with any company whose stock is mentioned in this article.
Additional disclosure: This article was written by an analyst at Saibus Research. Saibus Research has not received compensation directly or indirectly for expressing the recommendation in this article. We have no business relationship with any company whose stock is mentioned in this article. Under no circumstances must this report be considered an offer to buy, sell, subscribe for or trade securities or other instruments.