Utility stocks are one of the sectors that offer shelter during severe economic downturns. Utilities offer many advantages that make them attractive. Some of the notable points about utility companies are:
They are highly regulated and have fixed prices. However they usually apply for price increases and most instances get approval.
They are monopolistic in the territory they operate. For example, in many towns and cities there is only one electricity provider since they are licensed by regulators and hence there are no competitors.
Utilities such as gas, electricity are necessities of life. Hard to imagine a world without them.
They have consistent revenues and in most cases their customers pay the bills on time. For example, most people will pay their electricity bills when due and this offers the companies a steady, predictable revenue stream.
Many utilities pay a large portion of their profit as dividends to investors. This is especially helpful to investors who require decent dividend yields.
Utility companies are stable and offer slow but steady growth.
A 5-year chart (2004-2008) of Dow Jones Utility Average (DJI) is shown below: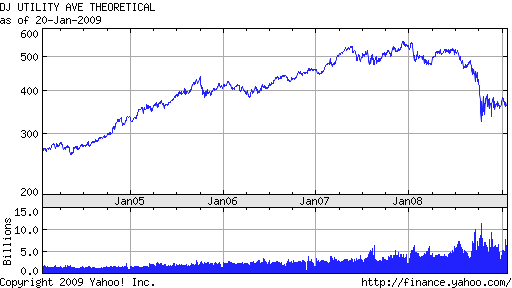 One of the easy ways to invest in this sector is via an ETF. The iShares Dow Jones U.S. Utilities Sector Index Fund (IDU) is an option. IDU has a yield of 3.83% and an asset base of a $533M. The portfolio is comprised of 76.70% electricity and 26.06% gas and multi-utilities.
The Top 10 Holdings in IDU are listed below with their current yields:
For exposure to global utilities, one can look at S&P Global Utilities Sector Index Fund (JXI) which currently offers a 2.75% yield.
Disclosure: Long DUK, FPL