Sirius XM (NASDAQ:SIRI) announced its Q4 2012 earnings Tuesday, and while the call went well there were a few hits and misses for investors to consider. Overall, the company met expectations on all guidance metrics, but the devil is in the details. Before moving on to the call proper I wanted to cover the hits and misses of my own. Doing this will require a little additional reading, but there will be information that is valuable to investors.
I was anticipating that the company could announce 4 cents and had an outside shot at hitting 5 cents. The actual announcement was 2 cents. Now before you have me dragged off, drawn and quartered, and hung, remember what led me to believe that 4 cents was possible.
Last year Sirius XM began booking massive amounts of positive value to the Income Tax Benefit line. What the company was doing was booking the useful Net Operating Loss Values (NOLs). The impact in Q2 had the company report earnings of an impressive 48 cents. At that time Sirius XM indicated that in the subsequent two quarters (Q3 and Q4) there would be additional NOLs booked in a similar fashion. After Q3 it appeared that there was another $92 million that could be booked. That would have equated to 1.4 cents and it was that 1.4 cents that I felt would get Sirius XM into the 4 cent range.
So where was I right and where was I wrong?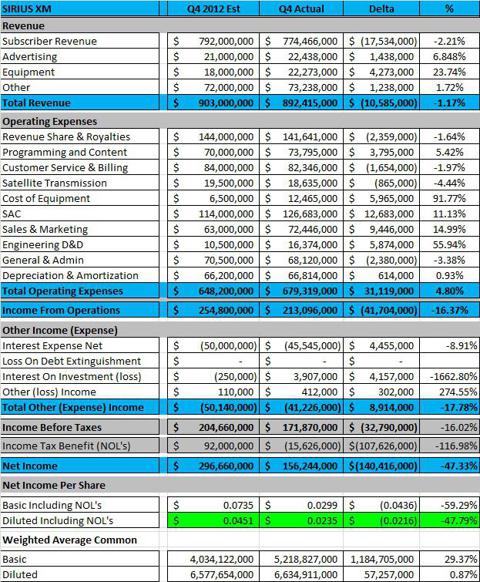 As you can see I was slightly aggressive on revenue, projecting $903 million when the actual came in at $892 million. The revenue side of the equation is relatively easy to project, so getting within a couple of percentage points is fine. Even though the company missed my projection, they were very close and in my mind there is no cause for concern here.
On the cost side I was not as accurate, overestimating costs by just under 5%. I estimated $648 million and the company spent $679 million. There is no huge concern here, but there are a few things to note. The cost side of the business is a huge driver of the bottom line. My biggest concern here (and not an overly big one at this point) was in the subscriber acquisition cost line item, and the sales and marketing line item. Both were higher than I had anticipated, and while the company does do some marketing, I did not expect that size of a jump. The costs of Sirius XM will be a major factor in how this company performs. Interim CEO James Meyer seems to keep a keen focus on this, so to fret about the slightly higher than expected costs is really not worth too much worry. It is simply something to monitor.
Thus far my biggest miss was being too aggressive on revenue and not capturing all of the costs increases to the degree that the company actually spent. Combine these and my Income from operations was off by 16%, or $41 million. In the grand scheme this was worth about $0.006 cents.
Where my projections derailed was in the NOLs. Instead of seeing the positive $92 million we saw a negative 15 million. The delta here was about $0.017 cents. Combine that with the $0.006 above and you get 2.3 cents. Subtract the 2.3 cents from the 4.5 cents I was looking at (including the NOL issue) and you would arrive at 2.2 cents. The company reported 2.3 cents.
Lesson learned. The NOLs, it would appear, are done being booked. Now this is the important issue. We saw the benefit of NOL booking last year. From this point forward the EPS will actually take a hit on the tax line just as we saw this quarter. The company will not actually be paying that amount, but they need to book it. It is the booking of it that will impact the EPS. This past quarter it was $15 million.
Now to outline my thoughts on some of the numbers in the call. We all got to hear the positives, so I am going to point out my concerns. Bear in mind that this does not mean that I am negative on the company. I am simply outlining what I see as exposure.
Subscriber Number
We all know that Sirius XM announced 2 million subscribers for 2012. It was a great milestone and well above guidance by the company. Overall it was a successful year in adding subscribers. Did you know that Q4 of 2012 actually had less subscribers than Q4 of 2011? That's right. Q4 of 2011 delivered 543,000 subscribers while this past quarter delivered 535.000.
Despite higher new car sales, a deeper use of the used car market, and better churn (1.8% vs 1.9%), the company actually came in with fewer net subscriber additions. This is a dynamic that I have written about several times. It takes more and more gross subscriber additions to offset a higher absolute churn number. The gross subscriber additions went from 2.326 million in Q4 of 2011 to 2.553 million in Q4 of 2012. Meanwhile, deactivated subscribers went from 1.783 million to 2.018 million. It actually took an improvement in churn by .1 points to deliver the same result. I have stated several times that getting churn to 1.8% will be an important goal this year if Sirius XM want to deliver similar results. The main concern here is that auto sales growth on a percentage basis is slowing.
Seeking Alpha contributor Stephen Faulkner tackles this issue from a slightly different vantage point. He sees the lower churn as a reflection of customer satisfaction. While I like Stephen, I have to disagree. I see the lower churn as a sign that the company is getting more aggressive on customer retention through retention programs. Certainly customers are satisfied, but the big question is at what price point. That brings me to my next concern.
Average Revenue Per User - ARPU
When Sirius XM raised its price by $1.49 at the beginning of 2012 investors were quite happy. It would make a material difference to the bottom line. While no one expected the full $1.49 to reach ARPU, a decent chunk of it would.
Were you aware that in Q3 of 2012 APRPU was at $12.14? For Q4 of 2012 ARPU actually dropped. It went down to $12.12. This is a concern for me because I was anticipating that ARPU could reach $12.25 on the price increase. It appears now that it wont. This changes revenue models and many analysts certainly have some number crunching to do now.
While the 2 cent drop may seem insignificant, it is the expectations that were important. If you, like me, were looking for ARPU to climb to about $12.25, your projections will be off by 13 cents. Bear in mind that ARPU will increase again this year due to the $0.40 price increase tied to the music royalty fee. Thus there is some recovery, but it still makes model revisions important.
Guidance
There has been a long standing mantra that Sirius XM low-balls guidance. It is the theory that it is better to under-promise and over-deliver than to miss. I see merit in that. However, let's go back to some previous financial guidance and reflect.
When 2012 guidance was issued by Sirius XM it started out as:
Revenue growth of 10% to approximately $3.3 billion,
Adjusted EBITDA growth of 20% to approximately $860 million, and
Free cash flow growth of 75% to approximately $700 million.
What the company delivered was:
Revenue of $3.4 billion - A beat of $100 million from guidance, or 3%
Adjusted EBITDA of $920 million - a beat of $60 million, or 7%
Free cash flow of $709 million - a beat of 1.3%
Certainly the company under-promised a bit, but when it comes to financial numbers the company does sandbag as much as many think.
My concern here is this. There are some that are looking for 2013 EBITDA to come in at $1.2 or $1.3 billion when the company has guided to $1.1 billion. It is not that I am concerned with the 2013 guidance, it is that I am concerned that expectations are being set high, and those high expectations may not be met even though the company hits the guidance.
Summary
Overall the call went well and the numbers are good. 2013 should do fine and the stock can appreciate. I feel that there are a few concerns but they are not huge.
Going forward there are a few points investors need to think about.
The tax line will impact EPS but not cost cash.
The recent tender offer for the 7% notes will carry a cost impact in Q1 of 2013. That cost could be in the neighborhood of $80 to $90 million.
The 7% note issue will potentially bring 320 million into the market that were not there prior.
There is a satellite launch that will happen at some point soon and that has costs.
The music royalty fee will add to the revenue line and help bump ARPU slightly, but it appears that $12.25 in the ARPU line will not happen as a result of the subscription price increase alone.
Maintaining churn at 1.8% is very important.
The given 2013 guidance may be closer than you think to what is delivered.
The GM deal will impact the subscriber additions in Q4, as all GM cars sold that quarter will not be counted as subscribers.
Disclosure: I am long SIRI. I wrote this article myself, and it expresses my own opinions. I am not receiving compensation for it (other than from Seeking Alpha). I have no business relationship with any company whose stock is mentioned in this article.