Now that EMC's (EMC) subsidiary VMware (NYSE:VMW) has entered networking with the acquisition of Nicira, thus positioning itself as a Cisco (NASDAQ:CSCO) rival, both NetApp (NASDAQ:NTAP) & Cisco are left with no choice but to embrace each other more closely and move towards an expanded partnership.
Converged Infrastructure
IT teams need servers, storage and networking to function collectively so data can be acquired, stored, processed and delivered as rapidly, conveniently and affordably as possible. Converged infrastructure packages these multiple IT components into a single, optimized computing solution.
Over the past few years, virtualization has taken hold. IT organizations now run multiple applications per physical server, improving the utilization rates of server hardware and further lowering spending requirements for new server hardware. Because of virtualization, the growth in physical infrastructure has flattened out, but the growth in the number of virtual machines has exploded.
Virtualization Management Gap: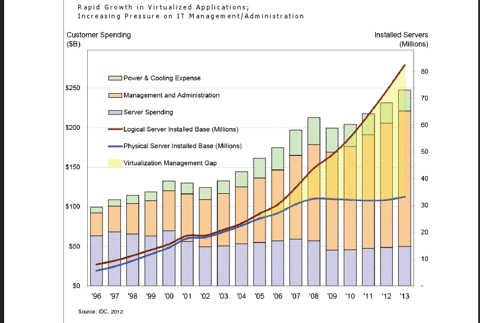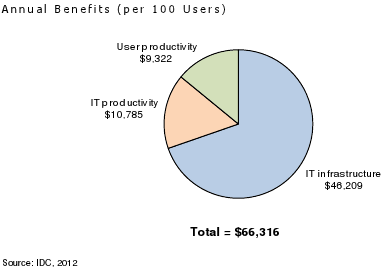 EMC/Cisco VCE Vblocks
EMC and Cisco started the business of converged data center infrastructure, with a joint venture named VCE which delivers complete built Vblocks. It bundles EMC storage, Cisco servers & networking, and VMware virtualization. VCE helps IT simplify operations while delivering more value to the business.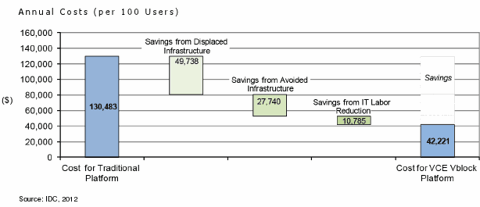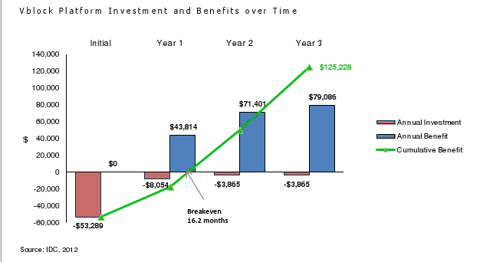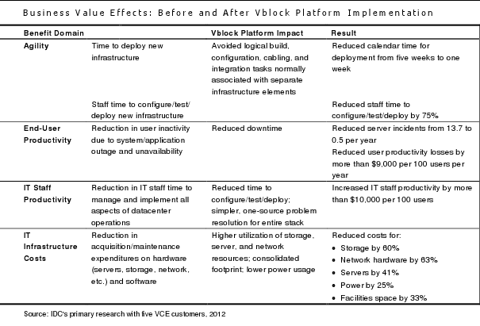 NetApp/Cisco FlexPod
After Vblock's success, NetApp got together with Cisco and the two designed converged stack FlexPod. It bundles NetApp storage, Cisco servers & networking, and VMware virtualization. The FlexPod architecture can scale up or out, and can be optimized for a variety of mixed workloads in both virtualized and non-virtualized environments.
These FlexPods were instant hits; today there are more than 2,000 FlexPod customers across more than 36 countries and over 725 channel partners. This is an increase from 1,500 customers in November 2012, ~1,300 in July 2012 and ~400 in November 2011.
Source: Stifel Nicolaus Research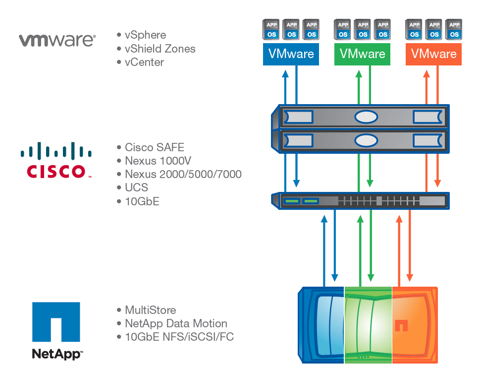 EMC/Cisco VCE VSPEX
EMC saw NetApp's success and came up with VSPEX reference designs, a FlexPod-like approach. It provides a simple, but fully integrated and validated infrastructure. This helps IT teams deploy virtual machines in various sizes to meet application needs.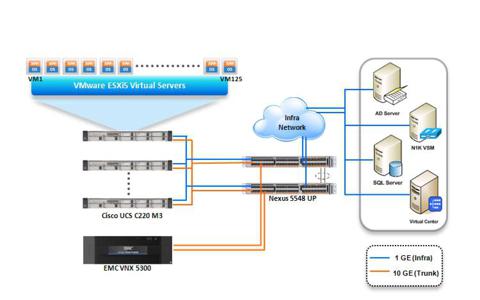 In other words, Cisco has servers & networking, which is not enough, and EMC & NetApp has storage, which is not enough either. Combine them, and you'll still need virtualization that VMware provides. All together; they're like a sweet love rectangle.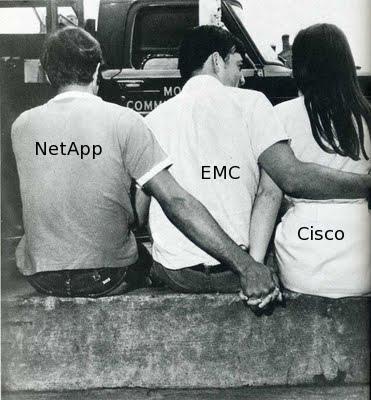 In case if you're wondering where VMware is: It's sitting on EMC's lap. EMC is the major shareholder of VMware.
Post-Nicira
Nicosia is widely considered as a successor to traditional networking engineering. It has the capability to create a software defined environment that can essentially be programmed to change through adjustments in the software. Nicira's technology is already used by the likes of AT&T (NYSE:T), eBay (NASDAQ:EBAY), Rackspace (NYSE:RAX), Japanese Telecom NTT, financial giant Fidelity, and even Google (NASDAQ:GOOG).
VMware acquired Nicira as an alternative in the future of the networking market. Cloud computing has disrupted VMware as much as any legacy technology company; Nicira helps alleviate that pressure. The technologies developed by VMware and Nicira complement & accentuate each other quite nicely.
Now that VMware has acquired Nicira, questions about the future of VCE efforts have increased substantially. The industry is now observing how the move to software based networking will impact Cisco. Nicira makes software that helps networks operate more efficiently, an area where Cisco is dominant with hardware sales. By helping businesses run their networks more efficiently, such software reduces the need for the devices that make up most of Cisco's revenue. To put it succinctly, Nicira wants to make Cisco irrelevant by taking the brains out of network hardware and moving them into software.
Will VMware & EMC now get much more competitive with Cisco? Will EMC move to the next level with Cisco on VSPEX OR could this be the last nail in VCE's coffin? I believe both Cisco and EMC really want, is their own individual proprietary solution as they compete against IBM (NYSE:IBM), HP (NYSE:HPQ) and Oracle (NYSE:ORCL) all in one solution. Though, they still might want to continue to support VCE when the customer truly wants a converged infrastructure solution.
Cisco always knew this day would come. After years of experience, it knows that clients want choices. It also needed a hedge against VCE. Cisco figured this out, and partnered with NetApp to offer FlexPod reference architecture. Post Nicira/VMware deal, it's drawing even more closer together with NetApp to grab data center, branch office and public cloud infrastructure business.
I believe, it's clear that EMC with VMware and now Nicira is on a collision course with Cisco & NetApp that leaves their sweet love rectangle, vulnerable.
Disclosure: I have no positions in any stocks mentioned, and no plans to initiate any positions within the next 72 hours. I wrote this article myself, and it expresses my own opinions. I am not receiving compensation for it (other than from Seeking Alpha). I have no business relationship with any company whose stock is mentioned in this article.