Market Recap:
The market reversed its losses from Monday, rallying on the back of a rebound in European shares and some solid housing data. A report out from CoreLogic showed that home prices rose over 8% in 2012, which was its largest jump since 2006. Prices rose another 0.4% in December, and that news was enough to give traders / investors the green light. Just one day after the market dropped triple digits, bulls saw Tuesday as an opportunity to get involved again with stocks. European markets were the culprit on Monday, and those stocks bounced back on Tuesday on the back of some solid data about EuroZone PMI. The PMI came in at 48.6 vs. 48.2 expectations. The reading shows some potential bottoming in Europe's economy, and that also helped the market. ISM Services, though, did come in weaker than expected, but that was ignored. The Dow Jones (NYSEARCA:DIA) improved 99 points, and the S&P (NYSEARCA:SPY) improved 16 points.
Stocks To Trade:
Today, we are looking at longs in eBay (NASDAQ:EBAY) and Ford (NYSE:F), and shorts in Akamai (NASDAQ:AKAM).
We like the looks of EBAY as a play off of earnings into its next report due out mid-April for Q1FY13. The company is benefiting from a strong earnings report right now for Q4FY12, which focused on strong growth in the PayPal business that it acquired in 2002. The company grew earnings 15% year/year and met expectations. The company grew revenue by 18% year/year, and data was strong for online holiday sales.
ComScore reported that online sales grew 14% in the holiday season, and PayPal saw 24% growth in Q4 2012. That business now represents just fewer than 40% of EBAY's business. We believe the PayPal side of the business is the area of the future for EBAY as online shopping continues to grow. While the online store itself should grow, PayPal can easily be in every business online to be a source of payment for goods. Moving into Q1 of 2013, the company is expected to see another 13% growth in earnings and 15% growth in revenue. The stock has been strong since earnings, and we expect that to stay. The National Retail Federation believes that online sales will grow 9-12% this year. With a 17.5 future PE, EBAY is not a value play but is a cheap growth play. We like adding a bull put spread through April 2013 at 50/48. It's a safe area below the 50-day MA and offers 14% potential moving forward.
Trade: EBAY, Apr20, 50/48 Bull Put Spread
Max Gain: 14%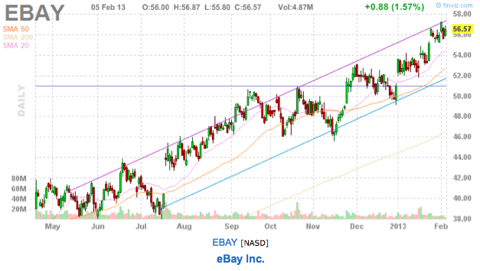 Another long that looks very interesting right now is Ford. We recently updated our 2013 price target for the company and came up with a $21 price target, which puts Ford in the Buy category for us. We plan to have a detailed report up on Ford by the end of the week. With that said, we like the looks of F because it offers great value, good potential growth past 2013, and has some interesting developments that we think can catalyze the stock.
First off, Ford is very undervalued right now as a stock. It has a future PE at 7.7, even if earnings are supposed to decrease in 2013. Price/sales are sitting at 0.4-- anything under 2 for P/S is usually a good value. Yet, if a stock is not going to grow, its value can stay cheap for quite some time. Is Ford going to offer growth soon? Earnings are expected to grow by 20% in 2014 along with a 6% growth in sales. 2013 is widely expected to be a cyclically weak year for automobiles after such a strong run over the past couple years. That weakness is a buying opportunity, and 2013 may not even be as bad as many think.
January sales were just released on February 1 and showed January sales up 22% year/year. That level is much higher than expected. What's holding Ford back is the company's announcement that it would lose $2B in Europe this year. We believe that the Europe issue is now fully priced into the stock-- if not overpriced, and with growth in the USA and Asia, Ford should see a very solid rebound this year. We like adding the stock long on a break of the 20-day EMA with targets of $14.50, $16, and $20 for the year.
Equity Investment: F, Long
Buy Point: Break of 20-day EMA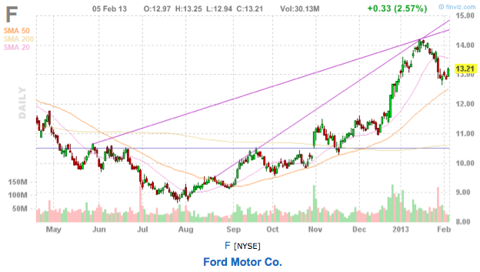 One stock that we like for a bearish position is Akamai. We just released a new article on AKAM where we suggest the stock is a Sell due to overvaluation and high competition. The issue for AKAM is that we believe the company lacks a solid economic moat at this time. While it has shown some solid growth levels, the market is pricing in pretty strong valuations currently. AKAM has a future PE at nearly 21 and P/S nearing 6. The company, though, has a small economic moat in switching costs and client relationships it's built. Digital River (NASDAQ:DRIV) easily rivals its technology as a mobile developer for stores. Its cloud offerings can be rivaled by most other cloud companies most of note are Rackspace (NYSE:RAX) and IBM (NYSE:IBM). We do not believe AKAM is lagging its competition, rather AKAM deals with a strong amount of competition for its pie.
We believe that long-term upside is limited at these levels. While we do see long term promise from mobile growth and continued use of online shopping, the company has already priced in a lot of future success. AKAM is the type of stock that will suffer greatly from any miss whatsoever in earnings or reduction of expectations due to current overvaluation. Rather, we believe the best way to play AKAM is through a bear call spread. Earnings are tomorrow night, so that does bring a lot of volatility into the stock, but we believe that even with a good report, the stock will have to report well over 12% growth in earnings to call the quarter a win, along with most of that growth coming from its cloud offering. We like the 48/50 bear call spread for March, which gives us 20% of cushion but is offering over 11% gain.
Position: AKAM, Mar16, 48/50 Bear Call Spread
Max Gain: 11% on spread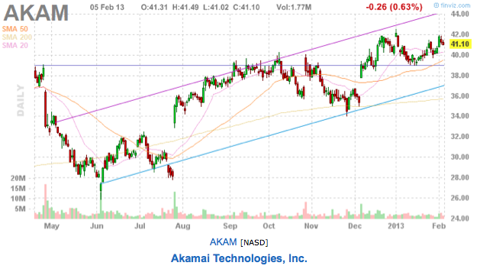 Today's Outlook:
After a rough Monday, we got a great Tuesday. So what will it be for Wednesday-- up or down 100? The market's bounce back Tuesday showed signs that bulls and traders want to be involved in the market. There is a lot of cash on the sidelines, and it may be that we are in for a longer secular rally than we originally thought. The market will need continued good news to continue higher.
So, what will the market be moving on today? Look for the DIA and SPY to mostly move off of key earnings, as well as some interesting economic data points. Earnings to watch for Tuesday evening / Wednesday morning are Disney (NYSE:DIS), Panera (NASDAQ:PNRA), Chipotle (NYSE:CMG), Marathon (NYSE:MRO), CVS (NYSE:CVS), and Cummins (NYSE:CMI). At first glance, DIS/PNRA/CMG looked positive in Tuesday AH. DIS reported a beat on EPS at 0.79 vs. 0.77 along with a 5.2% rise in revenue. PNRA reported an EPS at 1.75 vs 1.74 along with a 15.3% rise in sales. FInally, CMG missed EPS expectations reporting 1.95 EPS vs. 1.96 expectations along with a 17.2% rise in revenue. There is no major U.S. data for Wednesday, but we should see some reaction to German Factory Orders and Australia Retail Sales. Look for some follow through for the market to the upside today if earnings are solid across the board.
Chart courtesy of finviz.com.
Disclosure: I have no positions in any stocks mentioned, and no plans to initiate any positions within the next 72 hours.
Business relationship disclosure: The Oxen Group is a team of analysts. This article was written by David Ristau, one of our writers. We did not receive compensation for this article (other than from Seeking Alpha), and we have no business relationship with any company whose stock is mentioned in this article.