Investors are enraptured with the stock market once again. According to the American Association of Individual Investors (AAII), bullish sentiment has reached 48.0%, which is well above the historical average and marks the highest levels since March 2012. Moreover, AAII member portfolio allocations to stocks are now averaging 61.4%, which is the highest reading since July 2011.
Of course, stocks have proven quite tempestuous in recent years, as the most enthusiastic moments from these past stock trysts have coincided with market peaks. This raises an important question for investors from a broader perspective. Is this on again, off again affair with the stock market a case of unrequited love? Or could investors have found even greater happiness for their portfolios with much less drama over the last few years?
The answer is yes. And a look at the markets over the past two years reveals why.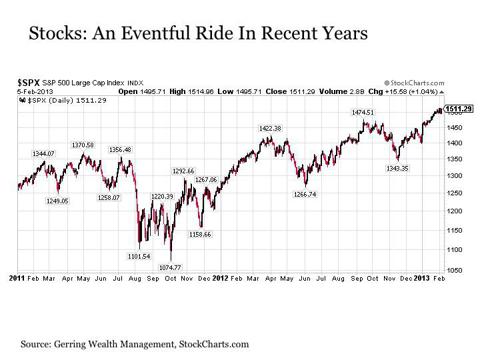 Peaks are when investors typically love an asset class the most. And the stock market as measured by the S&P 500 Index (NYSEARCA:SPY) reached its QE2 peak back in May 2011. Since that time, it has generated a positive price return of +10.53%. Add in dividends and the rate of return climbs to +15.23%. These are certainly solid returns over the past two years, so having an allocation to stocks has proven worthwhile for those that followed the euphoria at the time and held their positions continuously in place over the entire time period since.
Of course, such unyielding devotion would have been much easier said than done over this time period. For stocks endured some prolonged stretches of heightened volatility and sharp declines of as much as -20% along the way. So while the returns have been nice, many dedicated stock investors likely suffered more than a few sleepless nights along the way. And some might have even decided to take a break from stocks altogether during these most trying periods suggesting that they may not have realized the full potential benefit along the way.
Fortunately, for those that prefer a more placid relationship with their investments, a variety of other asset classes provided investors with a far more relaxing experience along the way. And some even offered greater rewards.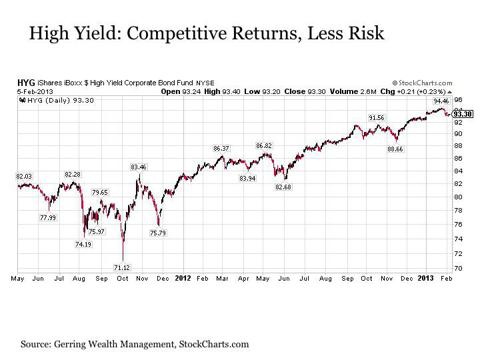 First among these are high yield bonds (NYSEARCA:HYG). Since May 2011, this "stocks light" investment alternative generated a return of +13.73%, which is very competitive with the return from stocks over this same time period. But what is perhaps just as important if not more so, high yield bonds generated these returns with price volatility that was nearly half that of stocks. Thus, high yield bonds performed vastly better than stocks over this time period on a risk-adjusted return basis.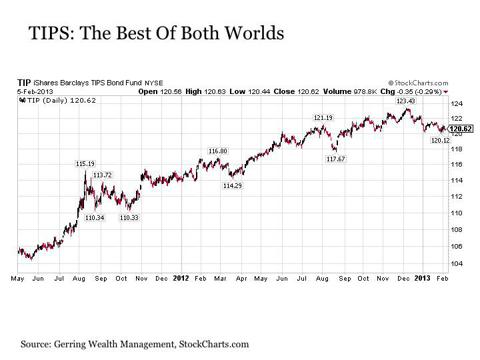 Another notable asset class is U.S. Treasury Inflation Protected Securities, or TIPS (NYSEARCA:TIP). Although the category has endured some extended periods of consolidation and sideways price movement along the way, TIPS have provided a remarkably steady ride higher since May 2011. Overall, the asset class returned +14.29% during this time period, which is also highly competitive with stock returns over this time period. Once again, what has been more notable is the considerably lower level of risk associated with owning TIPS, with price volatility at less than one-third that of stocks and a maximum price decline of just -4% versus over -20% for stocks. The fact that TIPS provide both inflation protection as well as the safe haven protection of a Treasury instrument backed by the U.S. government has enabled TIPS to have appeal in widely divergent market environments.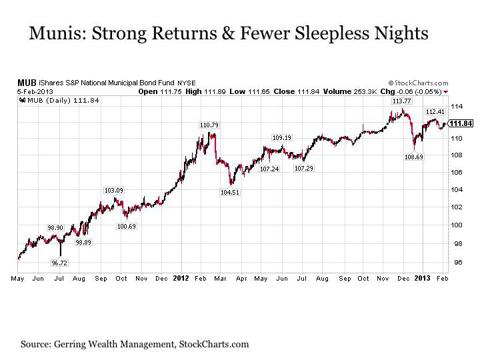 Municipal bonds (NYSEARCA:MUB) have been even more remarkable in this regard since May 2011. The category has generated a positive rate of return of +15.72%, which outperformed the return of the stock market by nearly 50 basis points over this time period. And these returns were accomplished with price volatility that was nearly one-quarter that of the stock market, making municipal bonds a most attractive alternative to stocks on a risk adjusted basis during this stretch.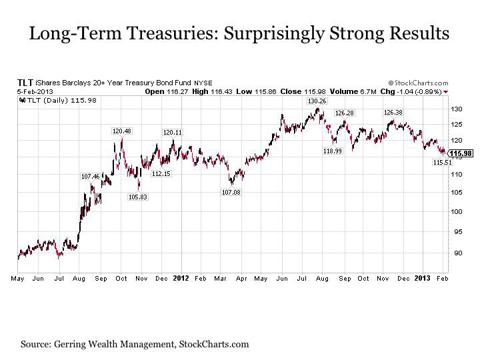 The last category highlighted here is perhaps the most notorious. The asset class is long-term U.S. Treasuries (NYSEARCA:TLT), which many prognosticators have declared to be in a bubble on the brink of bursting dating all the way back to 2008. Yet long-term Treasuries have soared by over +30% since May 2011, which is roughly twice the total return of stocks over this same time period. And these returns were accomplished with an incrementally lower level of price volatility. Of course, this same category was up as much as 48% as recently as June 2012, and a bulk of the gains were achieved during the summer of 2011, but if we are assuming that investors have the mettle to hold their ground through the price swings in stocks, the same must be assumed for other asset classes, particularly when the total returns experience was considerably better.
Past performance is certainly no indication of future returns. And none of this is to suggest that the categories mentioned above will necessarily provide a rate of return in the future that is more or less competitive to stocks from what we have seen in the recent past, although it is most likely that these returns will continue to come at a considerably lower level of price volatility relative to stocks.
But the past performance of these asset classes highlights a very important point for investors to consider going forward - that a variety of asset classes warrant consideration for an investment portfolio at all points in time, as many have the potential to provide a competitive rate of return over time with considerably less risk than stocks. Other categories have the potential to provide a far greater rate of return at a comparable rate of risk. And many of these categories are uncorrelated or negatively correlated with stocks, which provides an added diversification benefit from an overall portfolio construction standpoint.
Often the best time to consider increasing allocations to any given asset class is when it is out of favor. Such a time existed for stocks back in November, but perhaps less so today following their recent advance. Instead, now may be the time to evaluate the opportunity set that currently exists beyond the stock market.
Looking ahead, the category that may warrant particularly close consideration is the precious metals including gold (NYSEARCA:GLD) and silver (NYSEARCA:SLV). Both of these metals have undergone an extended period of consolidation over the past two years following previously strong gains. As a result, they have underperformed stocks by a considerable margin since May 2011 and are overdue to close this performance gap. Moreover, the fundamental support behind these metals remains strong. Not only should both metals continue to directly benefit from the persistently rampant money printing and currency debasement by global central banks including the U.S. Federal Reserve, but they also provide portfolio protection during periods of crisis.
It is also worth noting that while stocks have tended to perform best during the early stages of past QE programs, precious metals have tended to outperform considerably during the middle to later stages of these programs. In other words, while stocks may have already registered a good portion of their QE gains, gold and silver may only be getting started in moving to the upside. For those interested in owning a precious metals position in an investment portfolio, the Central GoldTrust (NYSEMKT:GTU), the Central Fund of Canada (NYSEMKT:CEF) and the Sprott Physical Silver Trust (NYSEARCA:PSLV) are all ideal selections in establishing this exposure.
Disclosure: I am long CEF, GTU, HYG, MUB, TIP, PSLV. I wrote this article myself, and it expresses my own opinions. I am not receiving compensation for it (other than from Seeking Alpha). I have no business relationship with any company whose stock is mentioned in this article.
Additional disclosure: I am long stocks via the MDY, SPLV, EEM, FXI, EWZ, XLU and a number of individual stocks. I am long the long-term bond market via the BAB.
Disclaimer: This post is for information purposes only. There are risks involved with investing including loss of principal. Gerring Wealth Management (GWM) makes no explicit or implicit guarantee with respect to performance or the outcome of any investment or projections made by GWM. There is no guarantee that the goals of the strategies discussed by GWM will be met.