On June 27 of last year, we wrote an article suggesting you buy two stocks, InvenSense (NYSE:INVN) and ChipMos (NASDAQ:IMOS). Do we think you should still buy them, and how did they fare? The first article will be about InvenSense.
InvenSense
InvenSense sells micro electro mechanical systems (MEMS) like gyroscopes and accelerometers, and related software. This is the stuff that enables your smartphones and tablets doing all kinds of funny stuff, like motion tracking. But this stuff also has other applications, like optical image stabilization, gaming and even mobile payments. InvenSense's competitive advantage lies mostly in the gyroscope, the most complex of these small instruments.
InvenSense is the 'easier' of the two stocks for quite a few reasons:
It basically has only one major competitor, STMicroelectronics (NYSE:STM).
It's highly leveraged to the advance of smartphones and tablets.
It already produced Q4 2012 results, and these were, well, more than good.
As we've done on several occasions, you could almost simplify the InvenSense growth story as one of piggybacking on the growth of Samsung smartphones (and, to a lesser extent, tablets), especially the Galaxy S III smartphone, which has been a runaway success. Because of that, we're really not surprised the results were as good as they were, they were always going to be good.
In fact, this was confirmed during CEO Abdi Q3CC when Tristan Gerra from Robert W Baird & Company asked whether the company's expectation that the smartphone sector is going to skip the seasonal weak trend during the present (March) quarter (post holiday) is due to the 'largest customer' or whether it's broad based. The answer (from CFO Alan Krock) is that it's based on "our largest customer, which is Samsung."
Before one starts celebrating, the gaming sector (which is about 1/3 of sales) still is seasonal, but this will be more than offset by mobile (smartphones and tablets).
How did we do? Well, when we advised to buy, the stock was at $10.18 while last Friday, it closed at $14.34, a return of some 40%. It has to be said that these shares lingered for most of this period, they only really took off when the Q4 results were announced. These results were indeed very good:
Revenue of $58.9 (guidance was $56-59), a 43% y/y growth.
Net income was $16.8M or $0.19 per share, up from $10.6M y/y.
Gross margin (GAAP) 53%.
The company has $192.6M in cash and cash equivalents, and no debt, that's almost 20% of their market cap, and they have been adding to the cash, although to a considerable amount because of falling receivables, which is probably a one-time issue.
Where do we go from here?
There are few who doubt that the end markets that InvenSense is supplying to will not continue to grow for the foreseeable future. The company is well positioned to take advantage of this growth as they keep in the forefront of the technology curve, for instance with their new product, the MPU-9250, slated for mass production by Q2 this year:
The MPU-9250, in a 3x3x1mm QFN package, is 33% smaller than the nearest competitor. With only 9.2mW, it is the lowest power 9-axis motion sensing device on the market, and offers the best available gyroscope noise and compass full scale range. This fully-integrated 9-axis device includes a gyroscope, accelerometer and electronic compass, with an onboard Digital Motion Processor", and comes factory tested and calibrated. by Yole Développement]
The market for this technology is estimated (by Yole Développement) to grow to $1.5B by 2017. That's the high end of the market, simpler devices are used in mass market, but as these technologies are getting more traction, they'll be introduced in simpler devices as well, that's already happening.
It isn't unreasonable to assume revenue and profit growth will continue at 25-30% per year as a kind of baseline scenario. Unless they really have a breakthrough with new clients (Apple is invariably rumored), we can't see much upside for that.

That almost sound like a complaint, but 25-30% growth a year is of course fantastic. But at $14 and change, much of it is already priced in. The current fiscal year (which ends in March 2013), analyst expect 58 cents of earnings per share, rising to 75 cents next fiscal year (March 2014). That means the shares almost trade on a 20 multiple for next fiscal year already, which isn't overly expensive, but it certainly isn't overly cheap either. There is another break-through, however:
We also announced that our motion sensing solutions for Windows 8 and Windows RT are now in high volume production with multiple Tier I Ultrabook and Tablet manufacturers. Our field-proven motion app software is available for both Intel and ARM architectures within the new Windows 8 Operating System, providing OEMs with a one-stop sensor subsystem solution. [CEO Abdi Q3CC]
That does open up another nice part of the market, as Windows 8 is currently experimenting with forms that include hybrid laptops with detachable screens that serve as tablets (a style originally invented by Lenovo but made famous by the Asus Transformer). That form factor could take off really well and seriously eat into the notebook market, which could be considered a market expansion.
We did argue that tablets would cannibalize notebooks some time ago, and were much criticized for that. But it is already happening, and for the likes of InvenSense, this means that market opportunities are expanding. And Windows 8 isn't the only new game in town, here is Behrooz Abdi, the CEO, during the last CC:
There's a lot more platforms that are migrating to us now. We see huge traction in terms of the share changes from other chips, from competing chips to our chips, to our platform, to our Motion 6-axis. And especially we've been working with both processors within that ecosystem. [CEO Abdi Q3CC]
The second half of the year seems especially promising, as new products, product cycles, platforms and clients come online in earnest in the June quarter and the September and December quarters are seasonally the best. Until that time, after digesting the recent rally a bit (the stock rose above $15), there is upside, but not a whole lot.
You'll also have to realize this is a technology market, where stuff like the following happens:
Generally in our SEC filings we've talked to 20% to 25% year-over-year rates of decline in pricing in our markets. [CEO Abdi Q3CC]
Before you freak-out, much of this is due to cost reductions, margins stay relatively constant, like gross margins:

Profit margins are actually on an upward trend, some scale and scope economies are at work there.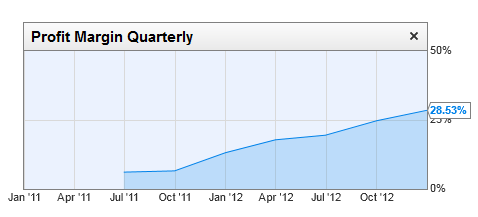 Conclusion
What is needed for the stock to really take it higher is a bit of an acceleration in earnings growth. Why? Because at present valuation, the stock will rise with earnings, which should still make it very attractive, but this would bring it at $18 by the end of the year.
It's surprising to know that the stock already has been at these levels and even beyond (at $22+). On the other hand, we don't see much immediate downside, so these are shares with an attractive risk/reward proposition still.
Disclosure: I have no positions in any stocks mentioned, but may initiate a long position in INVN over the next 72 hours. I wrote this article myself, and it expresses my own opinions. I am not receiving compensation for it (other than from Seeking Alpha). I have no business relationship with any company whose stock is mentioned in this article.