We see strength in both Asian and European markets this morning and once again Japan is moving strongly higher. It is nice to see an Asian tiger returning to form and the animal spirits there have certainly been reinvigorated with the new government. Talk is cheap however, and if the newly formed government cannot deliver on their promises then the market will take action. It is that "walk" which will certainly speak volumes to the politicians and could cause all of this to end just as quickly as it started. This is what worries us about Japan but in the next few months with real action taken and work getting done we will have a better idea of whether this is real or simply a smoke and mirrors routine.
Chart of the Day
Japan's Nikkei continues to move higher. Volatility is up, but the move is best described by extremely strong moves higher with mild pullbacks.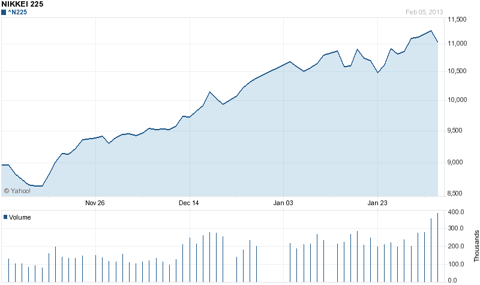 Chart courtesy of Yahoo Finance.
We have economic news due out today, and it is as follows (these are the consensus estimates):
MBA Mortgage Index (7:00 AM EST): N/A
Crude Inventories (10:00 AM EST): N/A
Asian markets finished higher today:
All Ordinaries - up 0.77%
Shanghai Composite - up 0.06%
Nikkei 225 - up 3.77%
NZSE 50 - CLOSED
Seoul Composite - down 0.10%
In Europe markets are higher this morning:
CAC 40 - down 0.22%
DAX - up 0.12%
FTSE 100 - up 0.44%
OSE - up 0.37%
Technology
ARM Holdings (NASDAQ:ARMH) continues to march towards its all-time high and in yesterday's session hit another 52-week high while closing at $43.69/share after rising $1.74 (4.15%). The stock currently trades at its highest level since early 2000 and although many have worried about its valuation at these levels it continues to move higher in spite of the cautiousness of analysts. We have been proponents of the buying on dips theory here and thus far it has worked, our guess is that it shall continue to work as the stock works its way towards taking out the all-time high. The company has a lot going for it right now and as stated here before, it is hard to see customers demanding large discounts when the company's technology is so far ahead of the competition and its biggest potential customer continues to stumble in the mobile arena. It certainly seems that the field is set in a manner to allow ARM to take out that high in the future, and needless to say we remain fans here.
Finance
Another name we follow in the column that hit another 52-week high is Regions Financial (NYSE:RF) which saw shares finish at $7.93/share after rising $0.12 (1.54%) on volume of 15.3 million shares. The new 52-week high was $7.97/share which was a penny higher than the old high. That coupled with the low volume may seem to be insignificant, however one has to remember our comments regarding the $8/share resistance level and the difficulty we saw ahead for the stock. We still think that the stock has to work its way through this level and when it does the volume should rise significantly, regardless of whether there is a news release or some other event that moves the stock or if the move is based solely on fundamentals, due to the fact that it will be a breakout. We continue to think that this is a name to watch although we believe in the banking sector that there are better names out there for long-term investors and others for traders.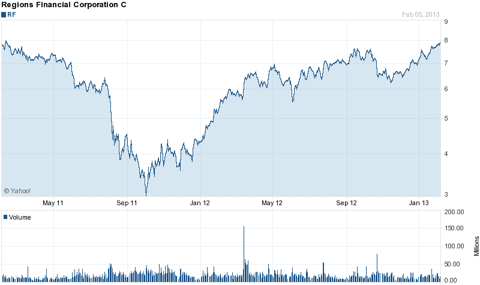 Chart courtesy of Yahoo Finance.
In what has been a pretty cushy and gentlemanly industry for the past 70 years or so, the tide seems to be turning for the ratings agencies. Right now the S&P unit of McGraw-Hill (MHP) is facing charges from the government and once again it appears that internal emails are going to be used to show that there were some among the firm who believed that the ratings issued on certain securities were as worthless as the paper they were written on. McGraw-Hill saw shares fall for the second day in a row as investors pushed the shares down $5.38 (10.70%) to close at $44.92/share on volume of 33.6 million.
The bleeding did not stop there for the industry as Moody's (NYSE:MCO), the ratings agency which Berkshire Hathaway owns a 12.8% stake in, saw shares tumble $4.36 (8.82%) to close at $45.09/share in yesterday's session. It is becoming apparent that everyone in the industry faces some sort of litigation risk moving forward and any loss would certainly open up the floodgates to further legal issues. The Justice Department and a few states are going after S&P right now, but the New York Attorney General is looking into others, according to a MarketWatch article (see here). At some point these will become buys, but right now they are not as there is far too much headline risk out there right now.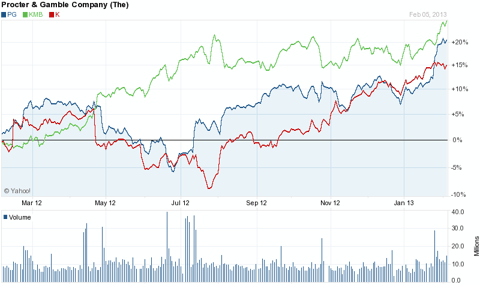 Chart courtesy of Yahoo Finance.
Consumer Goods
Procter & Gamble (NYSE:PG) is another name we have discussed recently and yesterday it too set a new all-time high of $76.69/share before settling down at $75.70 after rising $0.45 for the day. Yes, there was a bit of a sell-off, but the stock continues to trend higher and what is more is that it is not just P&G moving higher but the entire industry. It seems that the majority of the industry is either at or near either a 52-week high or an all-time high. Other names setting new all-time highs yesterday include Kimberly-Clark (NYSE:KMB) and Kellogg (NYSE:K). There is a trend here and so long as the market continues to remain strong, the economy continues its path to higher growth and investors continue to seek yield then these names should do just fine.
Disclosure: I have no positions in any stocks mentioned, and no plans to initiate any positions within the next 72 hours. I wrote this article myself, and it expresses my own opinions. I am not receiving compensation for it (other than from Seeking Alpha). I have no business relationship with any company whose stock is mentioned in this article.