In case you didn't notice the extreme bullish activity in Opexa Therapeutics (NASDAQ: OPXA) yesterday, here is a daily chart from the ever-helpful StockCharts.com
As you can see, OPXA made a sudden leap that went as high as $5.00/share at the start of yesterday's trading. Surprised shareholders seemed to be keen on profit-taking on this rally, which explains why the stock dropped back to $3.15/share by the closing bell. I also imagine that it was hard for new buyers to step into a stock that was suddenly 400% higher.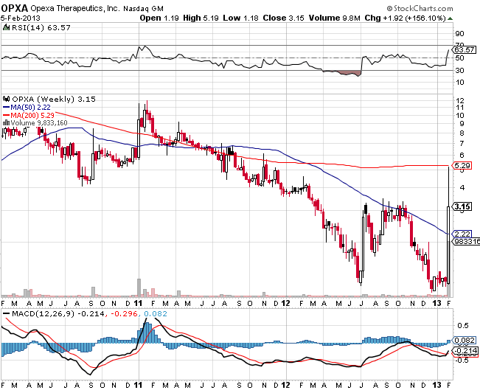 As you can see, this rally takes the stock back to its approximate level in the Autumn months of 2012 (about $3/share). To gauge this rally and to see whether or not there is trading potential, we should see what all the fuss is about.
Checking the news, you can see that Opexa has entered into an agreement with Merck Serono for the development and commercialization of Tcelna, which I would consider to be their flagship drug.
Tcelna is an immunotherapy being developed for the treatment of Multiple Sclerosis. MS is a huge market with a lot of different "classes" of drugs targeting this progressive disease which destroys the myelin sheaths of a person's neurons - leading to a gradual destruction of the nervous system and ultimately death. One of the reasons that progress on this disease has been so difficult is because it is the patient's own immune system which is destroying the myelin. Autoimmune diseases are notoriously difficult due to complexity and uniqueness of patients' immune systems.
While many drugs aim to regenerate the neurons into their healthy state through a mechanism, Opexa's Tcelna actually transplants specifically tailored T-cells in an attempt to reduce the intensity of the body's hostile T-cells which are destroying the myelin in the first place.
Wait, this sounds familiar...
Anyone who has been following Dendreon (NASDAQ: DNDN) may have noticed that the mechanism of action between Provenge and Tcelna sounds quite similar. They certainly are - not everyone is developing autologous immune cell therapies, but there are some differences that should be pondered.
Provenge targets prostate cancer, and wants to provoke a hostile bodily reaction to prostate cancer cells. Tcelna is basically attempting to do the opposite. Provenge's mechanism is more direct, while Tcelna's mechanism is based on the notion that Opexa's cells can regulate only the pathogenic T-cell population responsible for MS. I'm interested, but I'm skeptical enough to keep my distance.
OPXA, the stock
Opexa has now moved to a market capitalization of about $18 million. Considering that Tcelna has already reached phase IIb trials, I'm actually surprised to see such a cheap market capitalization although I'd imagine that its current valuation (and its former valuation) were suppressed drastically by skepticism over Tcelna's claims.
It's obvious that Merck Serono's decision to partner with Opexa for the development of Tcelna has removed a lot of this doubt though. I also think that the partnership revenue and the extremely low valuation of the stock removes much of the long-term risk of OPXA, although I do worry about the tendency for stocks like this to experience extended periods of profit-taking due to lack of news or fresh interest from the market.
Since we're going to have to be very patient for OPXA's phase III results for Tcelna, so I'd imagine that investors will eventually have a chance to get into OPXA at a cheaper price down the road. It's a basically a matter of waiting for a time when OPXA becomes boring and obscure, which will probably happen.
Disclosure: I have no positions in any stocks mentioned, and no plans to initiate any positions within the next 72 hours. I wrote this article myself, and it expresses my own opinions. I am not receiving compensation for it (other than from Seeking Alpha). I have no business relationship with any company whose stock is mentioned in this article.