For the US auto industry, 2008 proved to be about as dismal a year as possible. Total industry sales fell to a 16-year low 13.2M units as most OEMs faced declining sales in a struggling economy. And December, the month of those familiar year-end clearance sales and deals, proved to be the final humbug in an already Scrooge-worthy year. US auto sales in December fell 36% from the same period in 2007, the fourth consecutive month industry sales were below one million units.
To identify the driver of December's off pace sales, Compete assessed the two key variables that drive sales – in-market consumer demand (or shoppers) and conversion of those shoppers into buyers. In a normal December, weakness for one is offset by strength for the other—but not in 2008.
The first punch was fewer prospects shopping for new cars and trucks, continuing the trend that was seen for most of 2008. In-market demand has hovered at all-time low levels since August as the worst economy in decades and its ancillary effects like low consumer confidence kept shoppers on the sidelines. Demand is normally soft in December compared to other months and in 2008 demand actually ticked up slightly. But even then, demand at historically low levels does not set the stage for strong sales.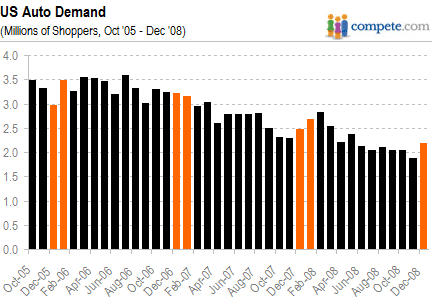 The second punch was weak conversion of shoppers into buyers, which was very unusual. Conversion was flat in December month-over-month and the lowest in at least four years. Normally conversion spikes up in December on rich year-end deals, aggressive dealers, etc. Conversion may have been held back in 2008 by the inability of deals to overcome consumer fears, or simply from less money available by many automakers to fund deals. The combination of flat conversion and low shopper counts eliminated the possibility of strong December sales.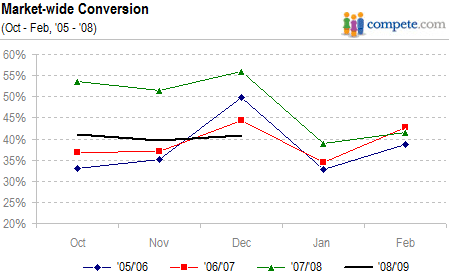 In most years, the conversion spike means some would-be January buyers get pulled into December. This sales pull-ahead creates a conversion hangover in January. But is there a possible upside to this story? No buyer pull-ahead in December could set the stage for better than normal conversion in January. That, coupled with the typical January demand rebound, sets the stage for stronger January sales. Of course, "stronger" is a relative term and in this case most likely means sales down less year-over-year than in December.
Even with the potential for improvements in January, 2009 looks to be just as challenging for automakers as 2008 and even flat sales in 2009 would be desirable. But recession or not, understanding consumer demand (and its drivers) as well as conversion (and its drivers) is key to understanding sales and sales potential.