While I'm currently skeptical on the equity markets, it's always helpful to evaluate potentially undervalued long positions in any market climate. Right now, I like some of the broad commodity ETFs that have behaved in a relatively boring fashion over the past couple of years. As the equity markets continued to climb last year, commodities pretty much treaded water. Since the downturn in 2008, it has been almost impossible to bet against anything publicly traded and gold and silver haven't moved much in about a year, badly underperforming the stock market in 2012 and so far in 2013.
Despite a lackluster trading environment for gold and silver over the past year, palladium and platinum have both perked up a bit in recent months and a new bull market for the more dull, obscure metals and raw materials has emerged just as the "dull" Joe Flacco triumphed in this year's Super bowl.
I've been a bull on raw materials for years, but I have also been bullish on stocks until fairly recently. Today, I recognize that the investment climate for stocks could be less positive than it was in the 1980s and 1990s for many companies because of CEO compensation issues and fraud taking place in the small-cap space in particular. The SEC admits that it is understaffed, and this has hurt investors during the downturn. Because of the recession, the FED has embarked on an unprecedented monetary policy Blitzkrieg and the long-term ramifications of these measures are still unknowable.
Fraud and deception in the stock markets are a great reason to invest in the "stuff market." Golden parachutes, fraud, and short-term managements simply aren't present in commodity markets, at least not to the same degree. Sure, you can argue that commodity markets are manipulated by speculators or that commodities are overpriced for whatever reason, but in the end commodities never go to zero and the books can never be cooked. Commodity investments also provide an uncorrelated return structure and hedge against equity and bond portfolios as well as being one of the best tools investors have for combating the specter of high inflation.
Here are the six ways I would play the commodity markets right now (keep in mind that in the short run the stock market should sell off a bit and commodities may follow suit):
Physical Platinum Shares (NYSEARCA:PPLT) -- Platinum is the "sleeper" metal right now compared to gold and silver and could be the investment of choice in the metals markets because of high demand from technology and automobile applications. Platinum has basically drifted sideways for the past couple of years while silver and palladium have rallied substantially.
Palladium and silver prices, for example, have tripled since 2005 while platinum is actually lower than it was a few years ago. If you are like me and prefer to buy things that are out of favor, platinum seems to be a decent hedge against inflation and money printing. PPLT makes a great choice for investors and investment managers looking for platinum exposure without having to risk delivery or getting involved with CFTC regulation.
Rogers Raw Materials Fund (NYSEARCA:RJI) -- Even though this is an exchange traded note, which I am not a big fan of, the Rogers Raw Materials exchange traded fund is a decent way to gain bullish exposure to raw materials prices. Unlike the private fund, which we've been fortunate to own since 2004, the RJI index features daily liquid, is easy to buy and sell, and carries a lower fee structure than the limited liability (hedge fund) version. Either way, these funds make money for investors when the price of oil, soybeans, wheat, gold, copper, etc... rise with inflation. It's a good investment if the global currency wars continue, but keep an eye on fund structures and expense ratios.
Sprott Physical Silver Fund (NYSEARCA:PSLV) -- Unlike the paper alternatives, this fund is the "real deal" with actual bars of silver held in segregated accounts for each individual investor. PSLV investors can in fact redeem their investment in silver bars or simply sell the fund in their brokerage accounts. I like this option for investors because it provides a degree of transparency, convenience, and safety that is not offered by the I Shares (NYSEARCA:SLV) or other silver ETF investment options.
Plum Creek Timber (NYSE:PCL) -- Plum Creek is trading at a cheap valuation relative to the value of the land the company owns, but cash flow is an issue for investors in the stock. Longer-term value investors may be rewarded by PCL as an asset play but from a dividend or price-to-earnings ratio perspective, Plum Creek could offer a bit more in the way of investment dividend and earnings yield. Plum Creek is trading for a $1,100 per acre valuation and I think a $1,800 or so per acre valuation is reasonable. Cash flow and dividend yields are the big issue here, however, so make sure to proceed with care here. I still have bad memories of St. Joe's (NYSE:JOE) near-collapse.
Conoco Phillips (COP) -- Conoco is the best bet in the energy sector right now for several reasons, not the least of which is the fact that Warren Buffett owns a good deal of Conoco stock. In my experience, it never hurts to be on the same side of the tape as Mr. Buffett. Conoco is an oil company, which does well when oil prices rise. It has pricing power, and with the world's supply of oil gradually running out, the company is poised to outperform. Conoco is dirt cheap at 8.46X earnings with a robust 4.5% dividend yield. We think investors should jump in with both feet here.
Teucrium Corn Fund (NYSEARCA:CORN) -- This option makes a lot of sense to me, especially because they buy futures that are longer dated, which makes sense for a long-term investment thesis in, well, corn prices. With ethanol becoming more mainstream and with drought plaguing much of the country, owning some corn exposure makes sense.
Take a look at the one-year chart of these names -- it's been a long and boring consolidation period: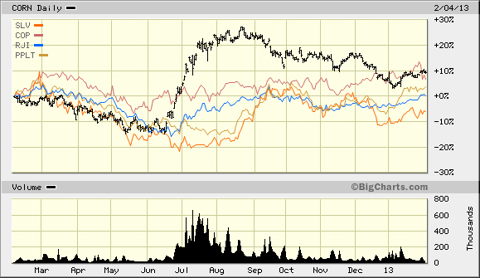 And check out the longer-term five-year chart of the stealth "stuff" bull market: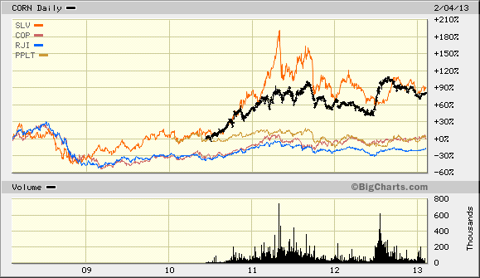 Disclosure: I have no positions in any stocks mentioned, and no plans to initiate any positions within the next 72 hours. I wrote this article myself, and it expresses my own opinions. I am not receiving compensation for it (other than from Seeking Alpha). I have no business relationship with any company whose stock is mentioned in this article.
Additional disclosure: Long Rogers Int'l Raw Materials Fund, physical metals