When it comes to investing, some folks will look at the ethics and morals of the company before they buy the stock. Much like those who are so anti-smoking that they would never touch the tobacco stocks. Obviously those stocks have rewarded shareholders year after year. In fact, there are many pension funds that are solidly linked with those investments and many of the recipients do not even know it.
A similar situation exists with some financial institutions that had some involvement in the mortgage and banking crisis back in 2007 and 2008. Some investors have such a disdain for those institutions, that they are more than reluctant to invest in the company stocks even today. Are we, as investors, the judge and jury on the ethics and morality of any of these companies?
The point I am trying to convey, is that even though the country went through a terrible financial crises that almost brought our nation to its knees, there are companies out there that have taken advantage of that very crisis to profit handsomely.
Let me perfectly clear: The companies that are in this business are completely legal and legitimate, and have passed the scrutiny of the government and the SEC to become public companies, and the business's each are in, are profitable for the companies, as well as for many investors.
Take PennyMac Mortgage Investment Trust (NYSE:PMT) for example. The company has been buying the very loans and mortgages that have gone bad, and has made it into a very profitable business. The company is an mREIT and pays a dividend that is mandated by the IRS to maintain the tax exempt status it enjoys.
What Is PMT?
From the company itself:
"PennyMac Mortgage Investment Trust is a mortgage real estate investment trust that invests primarily in residential mortgage loans and mortgage-related assets. The Company trades on the New York Stock Exchange under the symbol "PMT" and is externally managed by PNMAC Capital Management, LLC, a wholly owned subsidiary of Private National Mortgage Acceptance Company, LLC. Additional information about the Company is available at www.PennyMac-REIT.com."
The way it works is the company buys distressed mortgages at greatly reduced prices. It in turn either re-sells the mortgages to other companies, OR it attempts to work out terms with the mortgage holder, and begins getting payments.
The mortgages are non-agency backed, and do not qualify for the government programs such as HARP or HAMP, and the banks or lenders have little desire to even attempt to "service" these mortgages with the delinquent homeowners.
In turn, a company like PMT takes the risk from the bank, and because of the lower cost to own the loans, it can theoretically adjust payments for the homeowners, so that the mortgages can begin getting repaid again.
On a positive note, homeowners will find a more accessible loan servicer which could help design a repayment program to actually enable them to stay in their homes. If the homeowner defaults, then obviously they will lose the home to this new mortgage holder, who in turn has a more streamlined business model to actually sell the distressed properties. That might make money for the company as well.
Since these are non agency backed mortgages, the company, PMT, has more borrowing flexibility and might use more leverage as a means of "borrowing low and lending high", and in this format the shareholder benefits from the REIT structure in the form of healthy dividends, in return for elevated risks.
From a New York Times report, written in this article:
PennyMac - officially the Private National Mortgage Acceptance Corporation LLC - is prospering by purchasing from the government delinquent mortgages once held by failed banks, The New York Times reports.
Having paid fire-sale prices for the mortgages, PennyMac reissues them at substantially lower rates.

In a sense, it's a win-win situation. Homeowners can keep their homes because their interest rates have been lowered, and PennyMac makes money in the bargain.
So What Makes This Company "Unusual"?
As investors, we are not having a morality discussion, but it is very interesting to note that the CEO of PMT was the former President of Countrywide Financial. He left in 2006 (pretty good timing I would say) and started PennyMac in 2008 (also pretty good timing).
I found this "family tree" to be really interesting: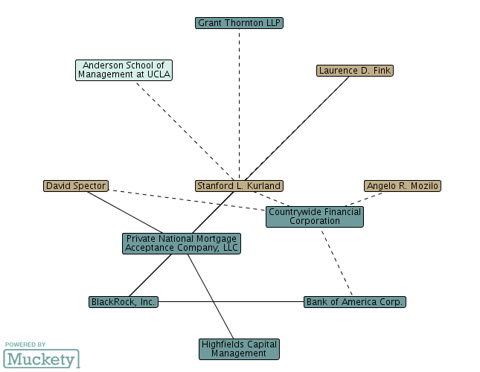 Many executives of Countrywide are now profiting from the very crisis that so many people blamed Countrywide for perpetuating. A typical transaction by PennyMac was noted in the article as well:
In January of this year (2009), PennyMac paid $43.2 million for $558 million in residential mortgage loans once held by the First National Bank of Nevada.

Under the terms of the deal, the government receives 80 percent of the cash generated by the loans and PennyMac gets 20 percent until a threshold is reached. After that, the government gets 60 percent and PennyMac 40 percent.
Not a bad deal for PennyMac I would say.
Another deal took place just a few months ago, as noted in this article:
PennyMac Mortgage Investment Trust recently agreed to acquire a nonperforming whole loan pool totaling $452 million in unpaid principal balance.

The deal is expected to close by the end of the month. The sellers were not revealed.
In this deal, 53% of the homes involved in these mortgages were in foreclosure, and 47% of the mortgages were at least 90 days delinquent.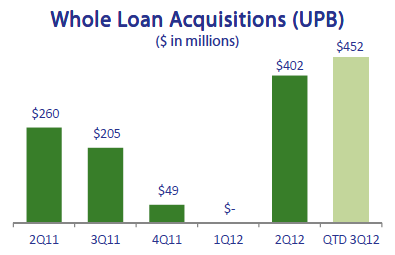 The acquisition of nonperforming loans is increasingly becoming a key aspect of many firms' investment strategy as lenders and other note holders begin the process of clearing their books.
To encapsulate; the original lenders are dumping mortgages that are in default at about $.10 on the dollar, and PennyMac is servicing the debt or foreclosing on the homes. That is how the company has been making money.
The Basic Fundamentals of PMT
The fundamentals of the company are impressive to say the least.
Enterprise value of $2.6 billion.
A trailing P/E of only 8.82.
Net income of about $107 million on revenues of about $228 million, with an operating margin of nearly 70%. (As of last quarters earnings report)
A current dividend yield of 8.50%
A payout ratio of only 73%, which is low for an mREIT.
An ESS rating of bullish.
YOY revenue growth of 147%, and YOY earnings growth of 96%.
While these key fundamentals are very compelling, the company does sell for a premium to book value of about 31%, which is not terrible but usually these REITs sell at a discount to book value.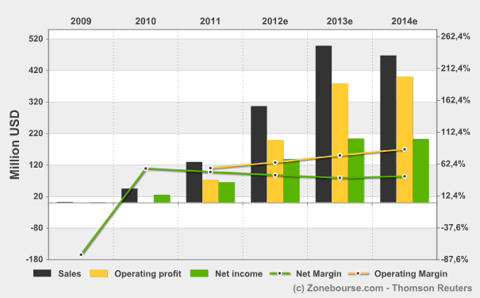 This chart shows the income statement evolution, and as you can see, margins and income are estimated to continue to rise in 2013. In 2014, sales (or revenues) taper off, but income and margins stay quite strong.
This tells me that as the inventory of distressed mortgages goes down, the "inventory" of PMT could be impacted. That in turn, could impact future earnings and dividends.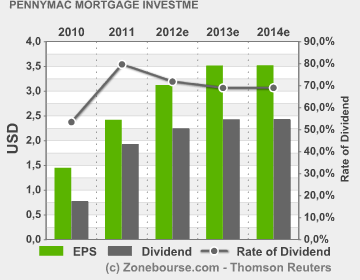 In this chart, it is estimated that PMT's earnings and dividends could remain stable through 2014, which gives me a hint that this stock might be a "dividend opportunity" for higher yield income seeking investors. My personal opinion is that this stock could see reduced dividends and income as the economy heals. At least in terms of the company's ability to expand is concerned.
Prior to the market opening on 2/7/2013, PMT will report 4th quarter and year end earnings, and growth is expected to continue both on the revenue side and earnings side. I see no reason why PMT should not perform well, and in the near term I believe the share price will continue to move up.
That being said, even with the really wonderful dividend yield of 8.50%, I would wait for the share price to pullback before I would add this stock. My own price target would be in the vicinity of $21-$22.00/share.
I state this because I do not like paying a premium to book value for an investment of this nature. For those that own the stock already, I believe that it should be monitored closely, and to understand that this stock is currently a dividend opportunity, not a dividend winner.
The Bottom Line
I like the stock for current shareholders and I would not sell the stock here. For investors contemplating adding this stock to their portfolio, I would first consider the premium to book value as well as the actual business they are in.
There will always be a solid business for mortgage servicing companies as well as for actual ownership of distressed mortgages and loans, and for regular mortgage lenders. I just wonder if this stock will maintain the rapid growth it has already enjoyed.
Be careful out there!
Disclaimer: This article is by no means a recommendation to either buy or sell the security mentioned, or any other security. The opinions are my own and are strictly opinions. Please do your own research and due diligence prior to making any investment decisions.
Disclosure: I have no positions in any stocks mentioned, and no plans to initiate any positions within the next 72 hours. I wrote this article myself, and it expresses my own opinions. I am not receiving compensation for it (other than from Seeking Alpha). I have no business relationship with any company whose stock is mentioned in this article.