Magellan Petroleum (MPET) had a volatile 2012. With an attempted acquisition by Stratex Petroleum (OTCPK:STTX) in August that was declined by Magellan and a proxy fight to oust a director, last year was a roller coaster for the company and its share price. Fluctuating between a 52 week low of 0.74 and a high of 1.63, there is no doubt that this stock has provided large gains as well as large losses.
Last year, the energy sector was especially rocky, with the Energy Select Sector SPDR ETF (NYSEARCA:XLE) underperforming the SPDR S&P 500 Trust ETF (NYSEARCA:SPY) by 2.9% to 14.0%. Given the sector's underperformance relative to the general market, the 2012 relative underperformance of MPET, at -4.1%, can be partially explained. The further underperformance of the exploration and production sub-sector within energy sector adds additional cause: the SPDR S&P Oil & Gas Exploration & Prod ETF (NYSEARCA:XOP) only had a 2012 return of 1.1%.
In addition, Magellan's share price was still recovering from the effects of the failed acquisition attempt by Stratex.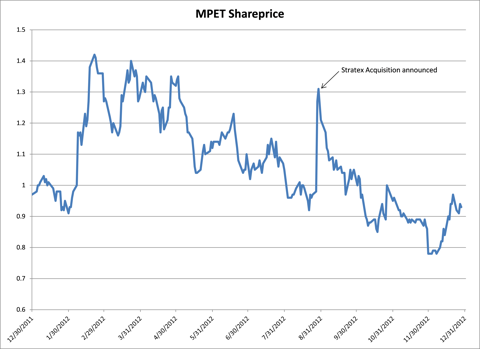 The share price had only just begun rebounding from its 52 week low.
Since the beginning of 2013, Magellan has experienced a dramatic rebound. On January 17, Magellan announced the repurchase of 17% of its common stock. This caused a dramatic boost the company's share price, indicating the commitment of management to increasing shareholder value. Furthermore, Magellan announced positive results from its Australian operations, including remarketing natural gas and conducting exploration surveys of its NT/P82 Gas permit $500 thousand under budget.
These positive events show the upside that Magellan has for 2013. Already, the YTD return for MPET is 31.5%, drastically outperforming the 8.8% for XOP, 9.0% for XLE, and 6.0% for SPY.
At the end of 2012, MPET appeared to be undervalued. Since the beginning of the year, the stock has shown brilliance in the already bullish market. With positions in some of the most exciting North American plays, as well as in Australia and the new onshore UK plays, Magellan could prove to be a bright star in the energy sector for the rest of 2013 and beyond.
Disclosure: I am long MPET. I wrote this article myself, and it expresses my own opinions. I am not receiving compensation for it (other than from Seeking Alpha). I have no business relationship with any company whose stock is mentioned in this article.