There has been a rather massive sell-off going on in the shares of Ellie Mae (NYSEMKT:ELLI), what's going on?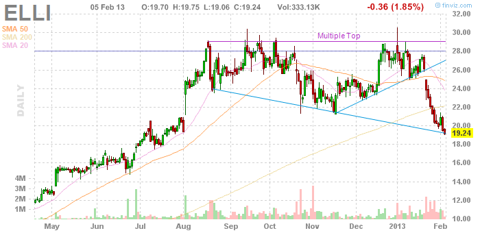 First, the sell-off was sharp, and on high volume, and the shares broke through the 200-day moving average like it wasn't even there. When something like that happens, one has to take notice.
The immediate catalyst seems to have been a downgrade from William Blair (from buy to neutral), on the following grounds:
The decline in refinancing existing mortgages will outweigh the increase in new mortgages for 2013
The conversion of on-site customers to Ellie's SaaS business is slowing.
The curious thing is, nothing of this is actually new. If you read last quarter's conference call transcript (Q3 CC), you would have known that Ellie Mae itself has based 2013 guidance on a 20% headwind in the market. The company also argued that more than half (53% to be exact) of its on site license holders (who host the software package on their own servers) have now converted to their SaaS service.
So by the law of large numbers, growth will have to slow down pretty soon, we can't fathom why this has apparently been such a shock to investors to generate a 30%+ sell-off in less than two weeks.
One might also want to keep in mind that they have a backlog of users who are not yet active and have to be activated. In Q3 they booked about 6,800 new SaaS seat licenses, including about 1,100 new users and 5,700 existing users who converted from license versions of Encompass and DataTrac (a company that Ellie Mae took over in 2011) or existing customers who added more users. Very few of these users were activated during the quarter.
Even before the William Blair downgrade, analysts were expecting a 10% decline in earnings in 2013 versus 2012, but this is due to taxation and a share sale (3.6M shares in July, but the cash proceeds of $56M are still on the balance sheet, which records $93.9M in cash and cash equivalents and the company generates positive free cash flow and has no debt) , these are issues that have been known for some time.

So we see little new info that could have caused a sell-off of this proportion. It could be that investors suddenly realized en-masse that the shares were rather expensive in the high 20s (we actually argued exactly that quite some time ago already). But such a sudden realization seems a bit farfetched to us.
It's also debatable how expensive these shares are, or still are, as at $19, we struggle to call them expensive still, especially for a SaaS business which has tremendous leverage. In addition to our earlier, extensive explanation of their business model, let us provide you with some metrics on the latter (all from the Q3 CC):
Revenue per active Encompass user increased 45% y/y to $419
Two of the country's largest mortgage investors, Wells Fargo and CitiMortgage, are participating in their Total Quality Loan initiative
Cost of revenues for the third quarter was 22% of revenue or $6 million compared to 28% of revenue or $4 million in the prior year period.
Gross margin for the quarter was 78% compared to 72% in the third quarter of last year.
Sales and marketing expenses for Q3, 2012 totaled 16% of revenue or $4.3 million, compared to 21% of revenue or $3 million in the prior year period.
R&D expenses for the third quarter were 17% of revenue or $4.8 million compared to 24% of revenue or $3.5 million in the prior year period.
General and administrative expenses for the third quarter were 22% of revenue or $6 million, compared to 23% of revenue or $3.4 million in the prior year period.
It's clear from these metrics that revenues grow faster than costs, which is exactly the leverage that a software based business model, especially a SaaS model provides.
Despite headwinds of some 20% in the market, the company expects revenues to increase by 25% in 2013, largely based on conversion to SaaS and increasing revenue per user. If they're able to pull that off in a bad market, we hate to think what they're able to do in a good market. Oh wait, we only have to look at what they've done in 2012 for that.
Well, they expected 2012 revenues to be $100M and EPS to be $1. The latter is four times the 2011 EPS and revenues grew from $55M (81%). And it might not all be so bad in 2013, CEO Anderman has just given an interview in which he noticed:
We have three and a half thousand customers around the country, and they're telling us that business is picking up.
If it turns out there is less of the expected 20% decline in mortgages in 2013, Ellie Mae could have quite a ball, and the recent sellers will scramble to get back in. The shares are now oversold, and certainly no longer expensive, and there is room for a positive surprise. In fact, the company has a history of positive surprises.
Conclusion
We're rather surprised at the sudden large sell-off in the shares of Ellie Mae. We can't see much, if any, new information which would warrant such a sell-off. One could argue (as we in fact have done) that the shares were expensive in the high 20s, but they're not expensive anymore at $19. Even based on an expected 20% decline in mortgages in 2013, the company expects revenues to increase by 25%.
With their highly leveraged business model, there is room for a positive surprise here. There is an increased share count and taxes will kick in this year, which holds EPS back, but these things have long been known. We think the selling is overdone.
Disclosure: I have no positions in any stocks mentioned, but may initiate a long position in ELLI over the next 72 hours. I wrote this article myself, and it expresses my own opinions. I am not receiving compensation for it (other than from Seeking Alpha). I have no business relationship with any company whose stock is mentioned in this article.