China (NYSEARCA:FXI) is on the verge of a demographic shift that will have profound consequences on its economic and social landscape. According to IMF, China would hit Lewis Turning Point (when low-cost manufacturing industries become less competitive) in the near future. The country could probably cross the threshold between 2020 and 2025 when the supply of low-cost workers runs out, necessitating a shift in the nation's growth model. A "precipitous" drop in the working-age population will push China toward the turning point, and the nation can delay or accelerate its onset through changes such as relaxing the one- child policy or allowing deposit rates to rise.
In my previous article, "The Rise of Robot: Is Industrial Automation The Next Big Secular Growth Driver?" I had written about the global growth potential for Industrial Automation. In this we will discuss the China factor and start with some demographic numbers.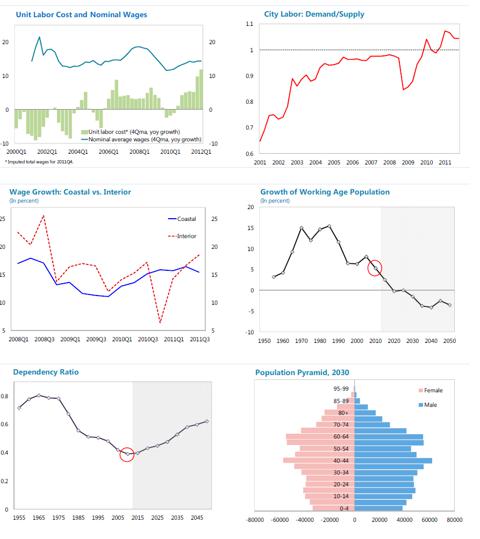 Source: IMF
Thus overall, labour market developments paint a mixed picture about excess labour: wage developments do not suggest exhaustion of surplus labour, while employment, industrial relocation and some policies signal tightening conditions. Demographics, on the other hand, more forcefully suggest an imminent transition to a labour-shortage economy. China is poised to undergo a profound demographic shift within the next decade, driven by the mutually reinforcing phenomena of declining fertility and aging.
Wage Inflation leads to demand for Robot in China: Wage inflation is a major factor lowering profit outlook and companies like Nike (NYSE:NKE) and Schneider (OTCPK:SBGSF) have reiterated this in their recent earning meet. Though there is no clear cut-off point, at which industrial automation spending becomes compelling, corporate commentary from automation vendors underlines the strong demand in China.
Michel Demare,

ABB (NYSE:ABB)

Salary inflation is the driving force behind robot demand in China

Till Reuter,

Kuka AG (OTCPK:KUKAF) CEO

The German company will boost assembly capacity in China to 5,000 units this year, from less than 1,000 two years ago. China will become a centre for procurement, production of components and assembly for the entire Asian region, while research, development, and most production will remain in Germany. China alone bought 15,000 robots last year, and we expect that number to rise to about 20,000 this year

Emerson (NYSE:EMR)

Plans to double sales in China from $3bn today to over $6bn over the next 5 years, but reduce headcount from 30,000 to 20,000, through investment in automation

Yaskawa

Plans to double robot output, anticipating a faster-than-expected expansion in local demand for factory automation amid rising wages. The company initially planned a combined annual production capacity of 6,000 units at these plants, but it has decided to boost it to 12,000 by the time they become fully operational in 2015.
Source: Credit Suisse and Bloomberg
Over the past five years, China has increased its investment in automation and now accounts for a larger share of the global robot shipments.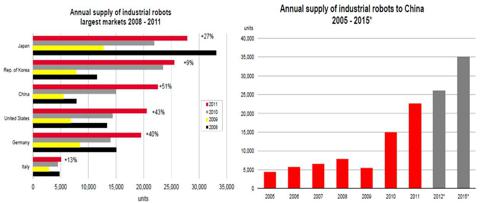 Source: IFR Statistical Department
Lower density of Robots in China: At Current levels, the industrial robots per employee deployed in manufacturing and production activities is just a fraction of developed countries like Japan (NYSEARCA:EWJ), Korea (NYSEARCA:EWY) and Germany (NYSEARCA:EWG).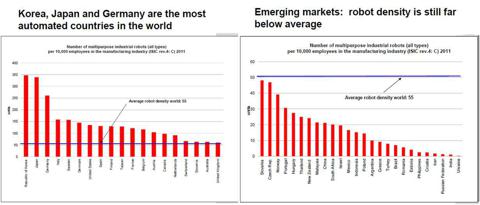 Source: IFR Statistical Department
China, which accounts for ~20%of the world's manufacturing output, has an average robot density of ~20 robots (Vs. 250+ for Germany, Korea and Japan) and more room to grow.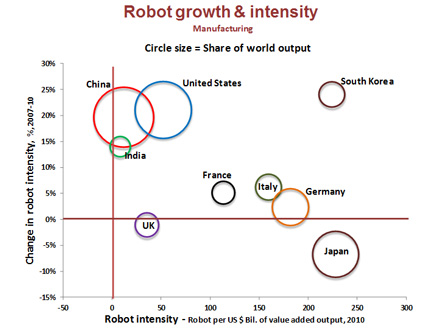 Source: Accenture
According to Credit Suisse, Automation is clearly a cyclical play, but it is slightly more defensive than capital goods. It has identified the following companies to play the industrial automation theme.
| | | |
| --- | --- | --- |
| Company | Ticker | % exposure to automation |
| Rockwell Automation | (NYSE:ROK) | 100% |
| Keyence Corporation | | 95% |
| Smc Corporation | | 90% |
| Abb Limited | | 52% |
| Emerson Electric | | 50% |
| Yaskawa Electric | | 50% |
| Thk Co., | | 40% |
| Fanuc Corporation | | 40% |
| Nabtesco | | 30% |
| Schneider | | 25% |
| Mitsubishi Electric | | 22% |
Other Companies with exposure to industrial automation include the following:
Disclosure: I have no positions in any stocks mentioned, and no plans to initiate any positions within the next 72 hours. I wrote this article myself, and it expresses my own opinions. I am not receiving compensation for it (other than from Seeking Alpha). I have no business relationship with any company whose stock is mentioned in this article.