Sprint (NYSE:S) recently announced its intention to host Blackberry smartphones on its LTE network. Users will enjoy unlimited data and texts without having to worry about overages. Below, I will look at the impacts of data failure on Sprint's revenues in relation to rivals such as Verizon (NYSE:VZ) and AT&T (NYSE:T).
Halfway through 2012, RootMetrics, a wireless coverage analyst, tested coverage across about 100,000 miles and carried out about 500,000 tests to show what users experience. The result of its research below on the state of the carriers' data networks shows Sprint is behind its rivals.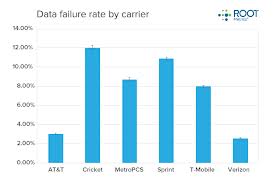 Strategy Analytics, a research firm, carried out research in the third quarter of 2012 on major U.S. wireless carriers, including major metrics such as churn, ARPU, and revenue of each carrier. The subscriber figures included both retail and wholesale customers. The subscriber base of Sprint Nextel is shown in the chart below.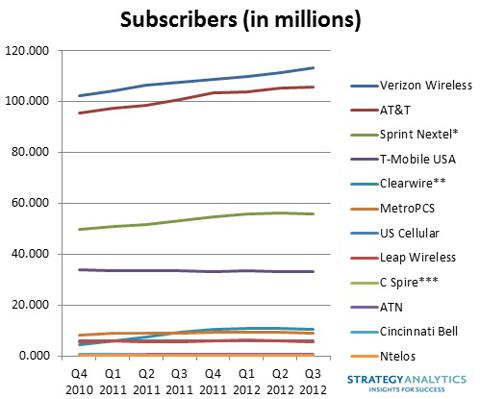 Why will Sprint's data failure rate not improve its growth with the new Blackberry smartphone on its LTE network? If you look closely at the chart for data failure, it will become clear why the company will find it difficult making profit. Revenues of companies with low data failure are bigger than carriers with a large amount of network problems. Sprint is likely providing inferior network compared to AT&T, T-Mobile, and Verizon, producing speeds that people get with 3G. Unless the quality of service of its LTE network improves through a proper upgrade, its growth potential will be limited.
Financials
Though Sprint's 4G LTE network hosted many smartphone last year, it reported operating loss of $1.11 billion for 2012 third quarter year-to-date, compared to $546 million for same period in 2011. Its net loss was $3.0 billion, compared with net loss of $1.58 for the year prior. Cost of service increased to $8.27 billion from $8.17 billion in the prior year. Basic and diluted net loss per common share for 2012 was $1.0, compared with 0.53 in the year prior.
Sprint reported a net loss of $767 million and a diluted net loss of $.26 per share for the third quarter of 2012. Sprint's third quarter 2012 results included accelerated depreciation of $397 million, or negative $.13 per share (pre-tax), primarily related to Network Vision, including the expected shutdown of the Nextel platform.
In the second quarter of 2012, it reported a net loss of $1.4 billion and a diluted net loss of $.46 per share. Its operating loss income was 629 million, compared to operating net loss of 79 million for the same quarter in the year prior. Its free cash flow was $209 million, compared with $267 million for the same period in the year prior, a 22% decrease.
LTE Rollout
In 2012, Sprint tried numerous times to host the blackberry Smartphone on its network. It installed the BlackBerry Handheld Software version, as well as the BlackBerry Desktop Manager. In addition, it launched Motorola on its 4G LTE, as well as Samsung Galaxy in the third quarter. Sprint announced the availability of Optimus and Samsung's Galaxy Note and Tab.
Coming to Sprint on the intention to host the Blackberry smartphone on its 4G LTE network. The smartphone will be the first BlackBerry smartphone with a QWERTY keyboard and touch screen, delivering performance that meets the customer's needs. David Owens, vice president-Product Development, Sprint. said:
Sprint and RIM have been strong partners for more than a dozen years, and we have an extremely loyal base of BlackBerry customers who will appreciate the features of the new BlackBerry 10 platform. We also look forward to adding BlackBerry Enterprise Service 10 to our portfolio and bringing the enterprise mobility solution to our customers.
It is noticeable that the new Sprint initiative is one of its first in the new year. Now it is understandable that gaining a head start is wise for Sprint. However, if we relate its previous LTE hosting to its past financial statements, it is clear with them Sprint has not been improved in comparison to the previous year, so it can be said the new deal will not make the company to break even in the next few quarters
Let's check how it is performing with the rest of the companies. With gross margin of 41.88% compared with 62.11% for Verizon and 46.12% for AT&T; dividend yield of 0.00%, compared with 5.13% for AT&T and 4.60% for Verizon; and earnings per share of -1.44, compared with 0.31 for Verizon, 1.25 for AT&T, 1.05 for CenturyLink (NYSE:CTL), and 0.24 for Windstream (NASDAQ:WIN), Sprint does not seem to be ahead of others. Besides, AT&T recently turned on its 4G LTE network in small cities like Hartford, Boise, Boulder, Lexington, and others. Unfortunately, Sprint's LTE market is available only in smaller cities and towns. The increased competition in this niche could hurt Sprint. Apart from this, Verizon recently launched prepaid plans that provide unlimited talk and unlimited texts for prepaid customers.
Conclusion
Looking at the successive hosting to its LTE network and the flat margins, I can safely say that Sprint is not good buy at the moment.
Disclosure: I have no positions in any stocks mentioned, and no plans to initiate any positions within the next 72 hours. I wrote this article myself, and it expresses my own opinions. I am not receiving compensation for it (other than from Seeking Alpha). I have no business relationship with any company whose stock is mentioned in this article.