In Part 1 of this article I talked about four stocks. They included D. H. Horton (NYSE:DHI) and Toll Brothers (NYSE:TOL) to play the continuing housing rebound, and Kodiac Oil & Gas (NYSE:KOG) and C & J Energy Services (CJES) to play the continuing move towards U.S. energy independence. In Part 2 I covered four stocks and one volatility index: Silver Wheaton (SLW) and Harmony Gold (NYSE:HMY) to play off a renewed price increase in gold; Cementos Pacasmayo (NYSE:CPAC) to play off of continued South American growth; HCA Holdings (NYSE:HCA) to play the continued aging population and implementation of Obamacare; and the CBOE volatility index (VIX) to play potential exhaustion and Fed uncertainty in the latter half of this year. In all of these stocks I looked for additional factors, such as solid fundamentals and undervaluation.
As noted in the first article, I attempt to use catalysts to propel my short-term and intermediate-term trades. Specifically, for intermediate-term trades I tend to look for a theme that is likely to play out over the next six to twelve months. That's how I'd like to approach this article about my final favorite choices over the next eleven months. I expect pullbacks to be bought because as noted in my article last week, breadth has been very strong, which is a good technical barometer for the overall health of the market.
Theme: U.S. Consumer Gains Confidence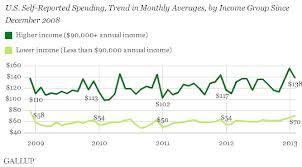 I believe the economy will continue to increase its rate of growth and put more people to work, resulting in increased consumer spending, especially in the middle class. As shown in the graph above, lower and middle class spending has lagged higher earner spending, but has finally moved up above the $58 level.
This strength will reflect itself in retailer stock price appreciation. My general thesis on why these next two stocks will do well is based on upgrades. Not stock upgrades; but consumer purchasing upgrades.
Starbucks (NASDAQ:SBUX) is the morning "pit stop" for millions of Americans. While it may seem fully valued at a forward P/E of 21 and a price-to-book ratio of 8.2, there are compelling reasons to believe that the stock will continue to outperform.
The company is expected to grow earnings over 18.5% each of the next 5 years, providing a reasonable PEG ratio of 1.62. Its purchase of La Boulange increases menu food options and its purchase of Teavana lets it tap into the growing tea market. It also has a large share repurchase program running, which helps put support under the stock price. Starbucks has big plans to expand in China, and while I don't know how much coffee they drink there, the market is so huge that even a small percentage of Chinese consumers drinking coffee could add up to huge profits for Starbucks.
Finally, I think the $1 reusable cups will be a profit contributor that is being underestimated by many investors. As noted by this Forbes writer, Starbucks will save on trash hauling, drive more repeat business, and make a profit on the cup (produced in China for less than $1) instead of a loss in making the paper cups!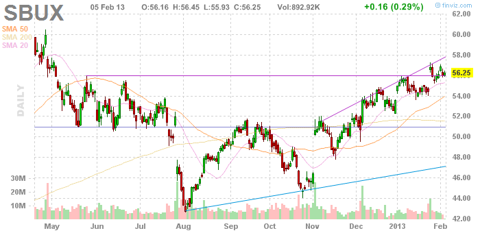 I really wanted to go with Limited Brands (LTD) here based on the theory that middle class women are likely to spend more on luxury underwear and bath products, but the sales and earnings trends in the company are troubling Q/Q. Instead I will go with company that has been very strong and which I believe will continue to be strong. That company is DSW Inc.
DSW Inc. (NYSE:DSW) operates brick-and-mortar and online shoe stores. Just as middle class upgrade morning coffee purchases, they will throw away that old pair of shoes they have been wearing for 3 years and buy new pairs.
The company has a forward P/E of 17.33, but is expected to grow earnings 15% per year over the next 5 years, giving it very reasonable a PEG of 1.41. Additionally, analysts have been raising estimates lately, so growth rate estimates are likely to go up and PEG to come down, meaning this is attractively priced based on future expectations. The company has no debt and expects to continue opening stores at a solid pace, which will also increase revenues. It has solid operating margins of 10.61%, but there is room to become more profitable as they expand their footprint and utilize economies of scale. Finally, it has a 1% dividend for those of you interested in a little yield. I believe this stock has room to run in 2013.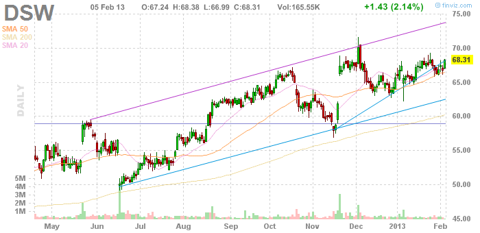 Theme: Ag Spending Increases
I think some people misinterpret the effects that drought conditions have on farmers. Some people assume that droughts just mean across-the-board losses for farmers, and decreased spending on inputs like fertilizer and equipment. It does not take huge swaths of drought to drive up the prices. Drought conditions are frequently patchy. What this can means is that many farmers are only marginally affected in terms of crop yield and more than make up for it with increased sale prices. Add to this the fact that many farmers receive crop insurance payouts if they are affected by the drought. So the crop price can go up, benefiting unaffected farmers, and non-farmers can be compensated too. This is net positive for agricultural equipment and fertilizer stocks during droughts.
With a pretty dry Winter, I expect some drought conditions to provide high crop prices again in 2013, and many farmers will continue to reap the benefits. Farmers, at least all of the ones I know, love to put their profits back into their operations through purchases of fertilizer and equipment. That provides me with my next pick.
John Deere (NYSE:DE) is a dominant farm equipment producer in the United States and also produces construction equipment. It has major reach overseas as well. I believe that Deere will benefit from increased farmer spending due to continued higher crop prices, but also due to the resurgence in home building that I talked about as a major theme back in my first article.
Deere has good growth prospects, but is not overvalued. The company sports a forward P/E of just 10.59 and a PEG ratio of 1.22. It is expected to grow earnings 10% per year for the next five years and sports a return on equity of 44.92%, which means that management is efficient at generating profits.
Rival CNH Global just beat estimates, and Deere has tractor sales up over 60% and combine sales up over 100% in the 1Q 2013. This bodes very well for the stock.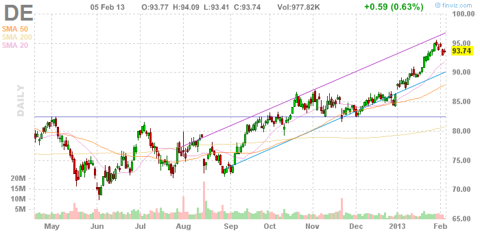 And last, but not least...
Theme: Return of the Crackberry
Blackberry inspires emotions in investors like a two-timing ex-lover. While the American consumer hasn't quite learned to loathe Blackberry (BBRY) the past couple of years, the investing public sure has. Before the iPhone was released back in 2007, Blackberry seemed to be the "it" smartphone stock, with a sky-high valuation to match. But once the public tasted the iPhone and its superior design, software, look, and apps, Blackberry started a headfirst plunge that sent the stock to wallow in single digits. New management knew a massive makeover was needed, which basically brings us to this past week and the release of Blackberry 10, two new phones, and a new corporate brand name -- Blackberry -- to replace Research in Motion.
Analysts are mixed about whether Blackberry can take market share from Apple and Samsung. Critics have said that the end is near, and others have said the delays only show that nothing has really changed in a backward company.
I am in the camp that thinks that the delays don't really matter, and only serve to help build anticipation. Remember those phones called iPhone 4, 4s, and 5? All delayed. I am also in the camp that believes Blackberry can take share. If Samsung can take share from the juggernaut iPhone the past few years, with arguably comparable technology, then Blackberry can take share from both with its Blackberry 10 advancements -- a top-of-the-line smart phone keyboard (according to multiple reviews); the "hub interface" feature and a well-developed OS with voice control (competing with Siri); a sleek, large-faced touch screen design on the Z10; and very responsive speed overall.
Nielson said a couple of years ago that 40% of iPhone users made $100,000 or more per year. I believe Blackberry are specifically going after the iPhone users that migrated away from them the past 5 years -- the working professionals, or "crackberry addicts." A crack dealer knows its best option is to go after people that were one-time users because relapse is high!
For months now, people have questioned the Apple stock price-slide. Could it be that some big funds did see Blackberry as a major threat to Apple's market? Maybe.
Additionally, smart phone users are almost always complaining about their phones or service. I believe there are enough unhappy customers in the other two brands and former "crackberry" addicts to provide a nice sales bump. There is also a lot of pent-up demand within current Blackberry users.
While Y/Y and Q/Q revenues have been sinking for a few years, I agree with Eric Jackson, IronFire Capital founder, that if Blackberry can get 15-20% of existing subscribers to upgrade to a new device, Blackberry will clobber earnings expectations. Below is one of the 2 unveiled phones (the Z10).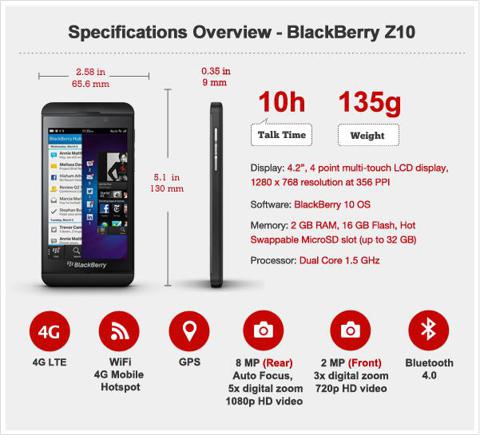 I've seen what seems like three dozen reviews of the Z10 and I believe that the software and hardware stack up well against iPhone and Androids in all categories. And I think they will get the remaining major apps, like Google Maps and Instagram, coded to be compatible with Blackberry 10. Developers go where the users are so they can sell their apps. If there is a decent sized shift back towards Blackberry, you can bet that developers will follow.
In the end, whether this gains major market share, or not, will come down to one almost intangible thing -- image. I don't mean visual image. I mean perception. That's what Steve Jobs did so well. He made the products work great, but he really differentiated Apple with good design and advertising. You perceived that you were joining an elite club. That's one reason why Microsoft keeps failing at their ventures, like Zune or Windows phones. Their image is perceived to be "uncool."
I would argue that a large portion of people that own cell phones make the choice based on image, similar to buying a car. And I know a lot of Android owners that chose a non-iPhone because they didn't want to be part of the "Apple fanboy" club or because they wanted to say they went with an open source platform, because it's anti-authoritarian. I suspect many iPhone users chose their phones with image in mind, and Blackberry users will too. Decisions about the products we use start out being about functionality, but when products are commoditized, the overriding factor comes down to how the consumer identifies with the product and the image that consumers think the product conveys about them. People don't buy exclusive name brand products just for quality reasons.
So I believe that Blackberry will get good sales of the Z10 and Q10 this year and early next, driving the stock price up, which is what this article is supposed to be about. But what ultimately will determine Blackberry's life expectancy will be what consumers, specifically 16 to 30 year-olds, think about the product and how it makes them look and feel. Blackberry needs a "Don Draper" working for them.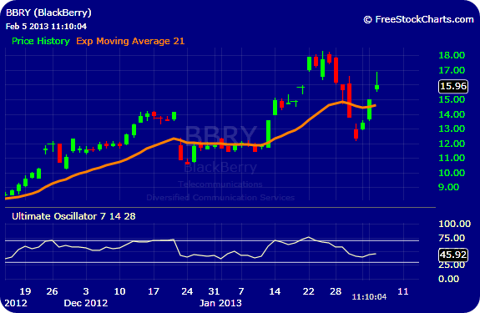 Disclosure: I have no positions in any stocks mentioned, and no plans to initiate any positions within the next 72 hours. I wrote this article myself, and it expresses my own opinions. I am not receiving compensation for it (other than from Seeking Alpha). I have no business relationship with any company whose stock is mentioned in this article.