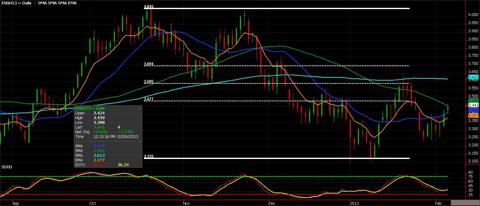 Natural gas prices have started to ramp up on what I think should be the beginning of the next up leg. In March futures, as seen in the chart above, prices have moved nearly 20 cents after setting an interim bottom 1 week ago. As of this post, prices are flirting with the 50 day MA -- identified by the green line -- and within a few pennies of the 38.2% Fibonacci level.
I have advised clients to scale into bullish trade looking out to May and June contracts. Those wanting a bit of a cushion could opt to sell out of the money call options 1:1. On a move higher, you should make more in your futures leg than you lose on your options leg. As for upside targets on the trade, use the Fibonacci levels to structure an objective.
I recognize inventories are extremely high, and we may continue to see injections, but the reality is the market knows this as well. My take is, much of this is priced in. On further cold weather, declines on supply or even smaller injections than previously factored in, we should get moderate appreciation. No, I'm not calling for a return to $5-7 but certainly, I think we have the potential to see a $4 trade, in my opinion.
Risk Disclaimer: The opinions contained herein are for general information only and not tailored to any specific investor's needs or investment goals. Any opinions expressed in this article are as of the date indicated. Trading futures, options, and Forex involves substantial risk of loss and is not suitable for all investors. Past performance is not necessarily indicative of future results.
Disclosure: I have no positions in any stocks mentioned, and no plans to initiate any positions within the next 72 hours. I wrote this article myself, and it expresses my own opinions. I am not receiving compensation for it. I have no business relationship with any company whose stock is mentioned in this article.