Recently, Supervalue (NYSE:SVU) announced the sale of its Albertson's (453 stores), Acme (117), Jewel-Osco (182), Shaw's and Star Market (169) stores to Cerberus, the private equity firm, for $3.3 billion. The company acquired 1,124 Albertson's stores in 2006 for $15.9 billion. It seems like for about 7 years, Supervalu has destroyed about $12.6 billion of enterprise value. At least, as I suggested it would likely do in May of last year, Supervalu common stock is outperforming other food retailers so far in 2013. Its common stock price is up nearly 60% for a little over a month (see graph). The article will look at the deal with Cerberus, the current state at Supevalu and examine the company going forward.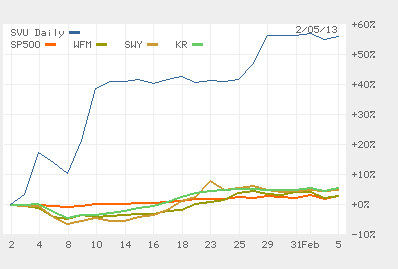 The Deal
An investment consortium led by Cerberus will acquire certain assets from Supervalu in exchange for $100 million in cash and the assumption of $3.2 billion in debt. In addition, it will make a tender offer to acquire up to 30% (but not less than 19.9%) of Supervalu outstanding shares at $4.00 per share (the 52-week range of the share price was $1.68 - $7.20 per share). Below is the area covered by the stores that Supervalue is selling:
Albertson's - key markets include Nevada, Northwestern U.S., and Southern California;

Acme - focused on markets in Maryland, Delaware, Pennsylvania, and New Jersey;

Jewel-Osco - Chicago grocer; and

Shaw/Star Market - covers Boston and New England areas.
In connection with the deal, Supervalu is receiving a new $900 million asset-based revolver from Wells Fargo and a $1.5 billion term loan backed by real estate and by an equity pledge from Moran Foods (Moran Foods operates over 1,100 Save-A-Lot grocery stores in 40 states). Supervalu will use the proceeds to replace an existing asset-based revolver and a $846 million term loan, potentially improving Supervalu's credit rating.
The New Supervalu
According to a Supervalu presentation filed with the SEC, the new Supervalu will be divided into three segments:
Independent Distributor - currently serving 1,950 stores and having 35 distribution centers in the U.S.;

Save-A-Lot - having about 1,280 stores primarily in the Midwest, the Eastern seaboard, and Texas; and

Retail Segment - encompassing the following brands: CUB (46 stores in Minneapolis/St. Paul), Farm Fresh (43 stores in areas of Virginia and North Carolina), Hornbacher's (6 stores in Fargo, ND and Moorhead, MN), Shop 'N Save (42 stores in St. Louis), and SHOPPERS (56 stores in the Baltimore and Washington D.C. Area) for a total of 193 stores.
Supevalu estimates the new company will generate $17.2 billion in sales per year and will have an earnings before interest, taxes, depreciation, and amortization (EBITDA) of $745 million or an EBITDA margin of 4.3%. For comparison, its competitors Safeway (NYSE:SWY), Kroger (NYSE:KR), and Whole Foods Market (WFM) have EBITDA margins of 5%, 3.4%, and 9%, respectively. Assuming Supervalu keeps its current number of outstanding shares (213.5 million), it will have a market capitalization of $854 million and an enterprise value [EV] of about $3.8 billion (debt of $2.95 billion net of cash) for an EV to EBITDA ratio of 5.1. This is comparable to the EV to EBITDA ratios for Safeway and Kroger of 4.8 and 5.5, respectively, and low compared to Whole Foods' one of 15.2.
In addition, the new Supervalu will not be paying a dividend, most likely for several years, as the company has to meet certain thresholds in order to resume paying dividends (including the earliest of achieving BB+ credit rating, $450 million in contribution to its pension plan, or five years). This is a negative for Supervalu as most grocers pay dividend. For example, Safeway, Kroger, and even the high-growth Whole Foods have annualized dividend yields of 3.6%, 2.2%, and 0.8%, respectively.
Forecast
As with any corporate restructuring there are risks. Some of the risks with Supervalu include declining sales as the actual sales of the new company in 2011 and 2012 were $17.5 billion and $17.3 billion, while the estimate for 2013 sales is $17.2 billion. According to the data provider Thomson, Safeway, Kroger, and Whole Foods have long-term annual growth rates of 11.6%, 9.8%, and 18.7%, respectively. Supervalu is further disadvantaged and by its inability to pay a dividend in the foreseeable future. Finally, current shareholders face dilution if less than 19.9% of shares are tendered under the current deal. In this case, Supervalu will have to issue additional shares at $4 per share to satisfy the 19.9% threshold.
Conclusion
The grocery industry is becoming increasingly competitive, as Whole Foods continues to gain share in the high-end spectrum and a number of retailers continue to expand in the remaining spectrum (Target, K-Mart, Wal-Mart, Sam's, BJ's, Costco, Trader Joe's, and, in certain areas, Amazon.com). Supervalu's recent sale of assets improves the company's balance sheet. However, there are a lot of operational and financial uncertainties stemming from the recent deal. Investors waiting to tender their shares at $4 per share could be better served if they sell their shares at a small discount prior to the expiration deadline of the tender offer on February 25, 2013 (subject to extensions).
Disclosure: I have no positions in any stocks mentioned, and no plans to initiate any positions within the next 72 hours. I wrote this article myself, and it expresses my own opinions. I am not receiving compensation for it (other than from Seeking Alpha). I have no business relationship with any company whose stock is mentioned in this article.