The following is excerpted from a recent Connexiti note to clients:
EVENT: AAPL BEATS, GUIDES LOWER
On Wednesday, Apple (NASDAQ:AAPL) reported record FQ1 revenues of $10.167B (+4.4% above Street estimate $9.742B). The Q/Q revenue growth of +28.8%, slightly below a wide 7-yr average of +31.5% (ó=26.16). Management guided FQ2 (March) revenues $7.6-8.0B ($7.8B midpoint -4.9% below Street $8.203B; implied Q/Q revenue decline -23.3% well below the 7-yr average of -4.1%, ó=42.11, but in line with last 3 years).
CAUSE: RELATIVE STRENGTH
AAPL is the best house in three different bad neighborhoods. iPods showed international strength; iPhones exceeded expectations for 2008; and Macs were down -3% Q/Q, which shows relative strength vs negative supply chain data.
AAPL's results are not a positive tech data point, and should not be interpreted as such; while the results are positive for AAPL's stocks, they are an anomaly (from a supply chain perspective, IBM's recent results were negative, not positive), as evidenced by the plethora of negative data points up, down, and around its supply chain.
IMPACT/ACTION: CONTINUE TO AVOID PC SUPPLY CHAIN NAMES.
If Macs were down just 3% Q/Q, then HPQ and DELL must do much worse in their January quarters, given the reported December Q Q/Q revenue declines thus far at PC supply chain names such as INTC (-19.5%), STX (-25.2%), AMD (-34.6%), and NVDA (-45%). Thus we believe that AAPL's "good" news is bad for others in the PC supply chain. Street estimates for DELL and HPQ are too high—the Street is modeling DELL's revenues down just -2.9% Q/Q for the January quarter, with HPQ down just -4.3% Q/Q. While HPQ may be sheltered somewhat due to its IT services biz, DELL does not share that "luxury."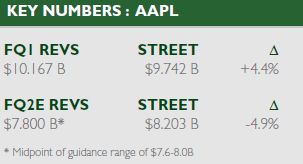 With the expected weakness in PCs, we continue to see CAJ as a negative beneficiary, given 1) very high correlation between printer and PC shipments and 2) CAJ's position as HPQ largest supplier (we estimate ~10.2 of HPQ's COGS, much larger than #2 supplier INTC at ~7.3% of COGS). The PC supply chain weakness also continues to bode poorly for distributors IM and TECD. As for AAPL itself, we keep our negative outlook based on still-deteriorating supply chain data.
SUPPLY CHAIN EVENT TRACKER
11.18.08 Competitor HPQ guides FQ4

revenues -5.9% below Street expectations

11.20.08 Competitor DELL reports FQ3

revenues -8.6% below Street expectations; no guidance

12.17.08 Supplier WDC guides FQ2

revenues -11.5% below Street expectations

12.18.08 Competitor RIMM guides FQ4

revenues +14.1% above Street expectations

12.23.08 Supplier MU reports FQ1

revenues +6.3% above Street expectations

1.5.09 Supplier MFLX guides Q4

revenues +10.7% above Street expectations

1.7.09 Customer INTC guides Q4

revenues -6.7% below Street expectations

1.13.09 Supplier NVDA guides FQ4

revenues -38.7% below Street expectations

1.15.09 Supplier INTC guides Q1

revenues -3.8% below Street expectations

1.21.09 Supplier STX reports Q4 revenues -7.7% below Street; guides Q1

revenues -17.7% below Street

1.22.09 Supplier MSFT reports FQ2

revenues -2.7% below Street expectations; declines guidance
image