"One thorn of experience is worth a whole wilderness of warning." - James Russell Lowell
With all the hoopla and excitement over Dow 14,000 (NYSEARCA:DIA), I find it remarkable how few are talking about a retest of Dow 13,000. Nouveaux Bulls are all around, arguing that stocks can not decline because of the "Bernanke Put." Somehow these people forget that the moment the Fed announced QE3 the S&P 500 (NYSEARCA:SPY) began a correction, but nevermind that. Intermarket trends suggest that we are either in a correction, or at the start of one as relative price behavior behaves in a deflation-expecting way in the here and now.
One of the reasons Nouveaux Bulls are excited about stocks is the hope for a global cyclical recovery. I actually sympathize with this view, which is one of the reasons I suspect stocks will close 2013 up nicely. The problem with the narrative now, however, is that it is not being confirmed by emerging markets. Take a look below at the price ratio of the iShares FTSE China 25 Index Fund (NYSEARCA:FXI) relative to the S&P 500 . As a reminder, a rising price ratio means the numerator/FXI is outperforming (up more/down less) the denominator/SPY.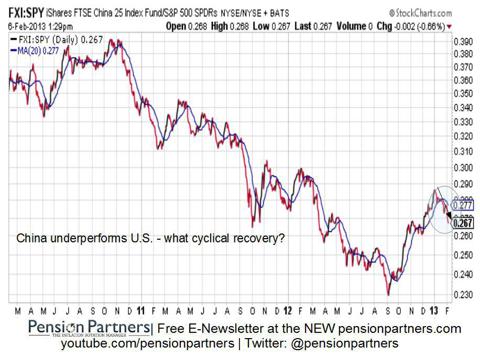 Note that emerging markets, with China being the most notable, have underperformed the S&P 500 since January. To some extent this is justified, given post Fiscal Cliff deal euphoria. However, the sharp weakness now is concerning. How can markets be rallying because of global growth expectations if the supplier of manufactured goods is weakening the way it is now? Just as the media proclaims the Shanghai Composite as being in a new bull market, it appears the footprints of a correction are appearing. Our ATAC models used for managing our mutual fund and separate accounts remain out of equities until enough improvement occurs. For now, China's pricing behavior only confirms the near term bear case more.
Disclosure: I have no positions in any stocks mentioned, and no plans to initiate any positions within the next 72 hours. I wrote this article myself, and it expresses my own opinions. I am not receiving compensation for it (other than from Seeking Alpha). I have no business relationship with any company whose stock is mentioned in this article.
Additional disclosure: This writing is for informational purposes only and does not constitute an offer to sell, a solicitation to buy, or a recommendation regarding any securities transaction, or as an offer to provide advisory or other services by Pension Partners, LLC in any jurisdiction in which such offer, solicitation, purchase or sale would be unlawful under the securities laws of such jurisdiction. The information contained in this writing should not be construed as financial or investment advice on any subject matter. Pension Partners, LLC expressly disclaims all liability in respect to actions taken based on any or all of the information on this writing.