Are builders again pricing themselves out of the market and putting themselves in harm's way?
Homebuilders have been excited to announce that prices of both new sales and inventory stocks have increased by double-digits over the last year.
Typically, an increase in prices along with stronger sales should be music to the ears of every investor, but we feel quite differently.
The increase in prices makes us extremely concerned that new homes will become uncompetitive against the existing home market. This could result in sluggish sales growth, at best, across the entire new home sector.
In our article: "No More Wishful Thinking: Evidence Solidly Confirms the End of the Housing Crash," we showed that the underlying fundamentals provided strong evidence that the housing market had hit a bottom and was poised for an accelerating recovery.
We anticipated that homebuilders - NVR Inc. (NYSE:NVR), D.R. Horton (NYSE:DHI), Toll Brothers (NYSE:TOL), Lennar (NYSE:LEN), PulteGroup (NYSE:PHM) M.D.C Holdings (NYSE:MDC), KB Home (NYSE:KBH), Ryland Group (NYSE:RYL), Standard Pacific (SPF), Hovnanian Enterprises (NYSE:HOV), and Beazer Homes (NYSE:BZH) - would be the primary beneficiaries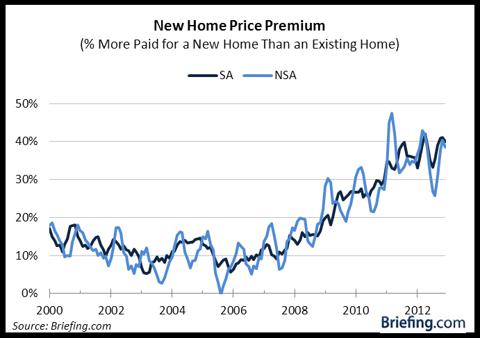 For the past several months, supplies of distressed properties have declined. That means more home buyers are choosing relatively more expensive non-distressed properties. As a result, existing home prices have increased substantially during this time.
We noted the increase in existing home prices would not influence new home prices and, instead, would lower the price premium of a new home. In effect, the decline in distressed property sales should have resulted in new homes being more competitively priced.
That did not happen.
New home prices have increased in tandem with existing home prices. The price premium has not declined and is still double what it was before the housing crash.
With home buyers extremely price conscious in their decision making, the fact that new home prices have not declined will result in a lower proportion of new home sales as a relation to total sales than we expected.
As builders ramp up production and restock from low inventories, they may be again building into an environment where demand is simply not there.
The recent acceleration in home construction may not have its intended effect in spurring economic growth and meeting newfound demand. Instead, the increase in construction levels may only result in larger and larger stockpiles of undesirable homes, which is what happened during the immediate aftermath of the housing crash.
Disclosure: I have no positions in any stocks mentioned, and no plans to initiate any positions within the next 72 hours. I wrote this article myself, and it expresses my own opinions. I am not receiving compensation for it. I have no business relationship with any company whose stock is mentioned in this article.