There are a lot of similarities between Dell Inc. (DELL) and Best Buy Inc. (BBY), including the fact that their fortunes are both tied to that of Microsoft (NASDAQ:MSFT). Both companies were founded by visionaries who simplified existing models and scaled them to dominant positions. They rose in prominence in the Wintel era and both misjudged the extent of the digital and mobile tech transition. The success of Dell with the winds of Microsoft under its wings contributed to the success of Best Buy, directly through product sales or indirectly by making the overall PC market more robust. Their founders amassed a lot of wealth, stayed close to their companies and ultimately tried to come back to save their companies. Michael Dell came back as CEO while Richard Schultz was the chairman of the board until he was ousted for covering for his protégé. I have the utmost admiration and respect for these entrepreneurs but I struggle to see any benefit of these going private. Theoretically, it will remove them from the scrutiny of the public eye and allow them to more aggressively try to redirect their companies. In reality, both individuals have been in positions to impact the direction of their companies and may be too emotionally attached to see the situation for what it is. After previously worrying about what Dell's LBO deal could mean for Microsoft I am going to worry in this article mostly about what it means for Dell.
(All data unless otherwise cited is from Dell's 10K)
The Company:
Dell should not have to apologize for its early success and darling status. It has faded badly in sales growth, market cap, and also in relevance as a tech company but managed to keep revenues at respectable levels. In the last 5 years its total revenue topped out at $62B in 2012 and bottomed out at $52.9B in 2010 with 3 of the other 5 years coming in at about $61B. Like Microsoft and Best Buy, Dell has struggled mightily with a fundamental change away from its core business and the erosion of its core competence in supply chain management. Its stock price tumbled as the company stagnated and as competitors found ways to grow revenue. In "Is Dell Dying", Daniel Gross defined Dell's problem thus: "To increase sales by 15 percent, Coca-Cola (NYSE:KO) has to sell 15 percent more cases. To increase its PC revenues by 15 percent, Dell probably has to increase unit sales by 25 percent". The chart below shows graphically how Dell's stock price has fluctuated with that of Best Buy and Microsoft. Note the returns after 2 years for Dell and Microsoft.
Brand Equity:
Dell averaged over 81% of its revenues from products in the last 3 years with the remaining 19% from services including software. It's product portfolio associated with laptops and desktops. This association paints it as a holdover from an era that is not currently en vogue in the technology world. Technology is like fashion in that it is cyclical as has been witnessed with Apple (AAPL) and to an extent IBM (IBM). In some cases they come back and in other cases they fade forever. Apple stuck with its strategy while IBM divested its core business and redefined itself. I use Apple and IBM intentionally because Dell seems to have decided that it is going to play both the IBM and the Apple models with services and hardware respectively. With a significantly diminished product presence and a nascent service/solutions division, Dell is not strong in either sector and its brand equity is floundering. If all publicity is good publicity, at least most of the time, going private is no publicity and I cannot see how obscurity helps Dell.
The LBO Rationale.
The rationale of going private is to have the flexibility to accelerate strategic initiatives without the scrutiny of the public. Dell has been in some sort of turnaround mode since 2007 with the reinstatement of Michael Dell as CEO, the acquisition of EqualLogic on 2008, Perot Systems in 2009, KACE Networks and Boomi in 2010. These and other initiatives were meant to speed the transition into software, services, and solutions to corporations. This is supposed to be more lucrative than PC's. If you look at the chart below you notice that these acquisitions have not significantly changed Dell's revenue profile. I interpret the consistent revenue profiles as evidence of resistive market forces and strong competition which going private will not solve.
Dell did not rise to prominence on R&D and innovation. Its core competency was supply chain efficiency, which competitors like Hewlett Packard HP have been able to catch up to. Even worse, some component manufacturers got into the PC business and now sell directly and at lower prices than Dell. If it were possible for Dell to undersell Lenovo and other direct competitors on price it would make sense for it to go private. Even if it could, I doubt that is a position it would like to occupy. It would make more sense if it tries to get into phones, tablets, smart TV's and other hybrid devices that are becoming more popular. I cannot imagine that a Dell Windows phone will capture market share even if it tried at this point. I am also sure Microsoft will make sure that all of Dell's strategic choices have a Microsoft insignia on them, eliminating the flexibility that Dell should get by going private. Let's assume this relationship will help Microsoft accelerate new products into the market, this does not ultimately help Dell if it is seeking to redefine itself and become a new company.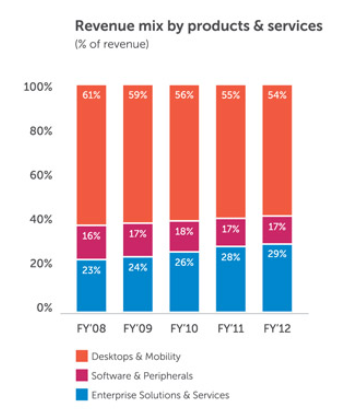 Source: dell.com
Competition
Let's look at Dell as two halves. One half being the products division and the other half being the solutions/services division. In the product half it competes with Lenovo, Acer (ACEIF.PK), HP, Assus (OTC:ASUUY) and unfortunately Samsung (OTC:SSNLF) and Apple. This half constitutes 54% of total revenue and at the lower end, where Dell competes, driven by price with a built in expectation of quality.
In solution/services/software segment which is a combined 46% of revenue Dell competes with IBM, Google (NASDAQ:GOOG), Amazon (NASDAQ:AMZN) and even Microsoft .
Dell has not shown an ability to keep up with competition and I cannot see that it will be able to keep up going forward without major changes. Its competitors are very capable and it will take very drastic measures for it to make up any ground on competition. One of the benefits of public scrutiny is that when you do well there are lots of analysts who are glad to extol your genius. Amazon gets plenty of this type of press and I am not sure why Dell decided it could not benefit from it. As corporations shift away from the centralized IT services and allow employees to increasingly buy their own hardware, Dell will see continued pressure on its product division.
Conclusion:
The essence of a leverage buyout is to have the freedom to tear up a company for its parts or to reassemble the parts for better synergies. DELL's LBO is some sort of an insider and atypical LBO because Michael Dell will seek to continue his attempt to re-imagine his company whose faith is tied to his legacy. Microsoft is very interested in Dell becoming more innovative in a sense but for it to stay the same in regards to selling Wintel products. Dell is down, Best Buy is next in line and Microsoft is watching both companies with keen interest. Microsoft knows very well that both companies are critical in Microsoft's ability to change its fortunes. These companies might never enjoy their past prominence but will remain relevant by revenue if all else fails. Dell will be laden with high debt levels and will lack low hanging opportunities for a quick turnaround. In my opinion, Dell and Microsoft should have stayed away from each other if they truly wanted to chart new paths for the future. Best Buy better be watching closely because if this transaction does not work for Dell it will not work for them.
Disclosure: I am long MSFT, AMZN. I wrote this article myself, and it expresses my own opinions. I am not receiving compensation for it (other than from Seeking Alpha). I have no business relationship with any company whose stock is mentioned in this article. In collaboration with Shamiso Nyamushanya