I/P Engine, a subsidiary of Vringo (VRNG), the mobile video ringtone company, sued Microsoft (NASDAQ:MSFT) for alleged infringement of two patents that it owns. The patents in question, U.S. Patent No. 6,314,420 and U.S. Patent No. 6,775,664, were originally developed and owned by Lycos and essentially relevant to ranking and placement of ads in search results.
This is not the first time for Vringo. The intellectual property firm sued Google (NASDAQ:GOOG) and AOL (NYSE:AOL) et al in September 2011 and was awarded $30 million in past damages plus future royalties. More recently, Vringo has also sued (details can be found in one of my earlier articles linked here) the Chinese communications giant, ZTE (OTCPK:ZTCOF). The Microsoft lawsuit alleges willful infringement. In patent cases, a party can win higher damages if infringement is found to be willful.
What we need to understand here is what Vringo can get if it wins the lawsuit, just as it did with Google et al, and the importance of establishing willful infringement.
The Award In The Google Suit
In the Google suit, Judge Jackson ruled that Vringo could not claim damages beyond the date of filing of the suit, although infringement was alleged since 2005. This was under the legal doctrine that a person who waits too long to bring a claim alleging a wrong shall not be permitted to seek an equitable remedy for the whole period of infringement (refer doctrine of laches).
Vringo sought 3.5% royalty rate on the 20% extra profit, which according to Vringo, came to $493 million, that Google earned by using Vringo's patents. The final verdict was $15 million for past damages, plus payment of future royalties at rates still to be determined. The post trial motions are still on, and the judge granted delays so that the stubborn parties may settle along. At the same time, the judge has still to rule on Vringo's post trial motion request for a Rule 59 trial.
The $30 million in past damages was divided among co-defendants as follows:
Google: $15.80 million
AOL: $7.943 million
IAC (IACI): $6.65 million
Target (NYSE:TGT): $98,833
Gannett (NYSE:GCI): $4,322
Things might change for the better for Vringo if the judge rules in favor of a Rule 59 trial and revisits the rejected laches and past damages already awarded. This is usually a one-day trial, and Vringo can then hope to get $493 million in past damages that it was seeking.
VRNG Vs MSFT : I/P Engine, Inc v. Microsoft Corp, U.S. District Court for the Southern District of New York, No. 12-688.
The allegations are the same: Microsoft's Bing search engine uses the patents referred to in the lawsuit in the technology involved for generating advertisements and associated links.
I/P Engine, the subsidiary through which Vringo filed the lawsuit, claims that the infringement was willful, as one of the patents was referenced by the U.S. Patent and Trade Office in 2003, when the agency rejected a similar Microsoft patent application. This implies that if willful infringement is established, Vringo may be awarded damages up to three times the figure otherwise arrived at on the basis of the "extra profit" made by Microsoft. Remember that a case for similar willful infringement on the part of Google was withdrawn by Vringo quite early in the proceedings.
However, there is another matter that must be considered before we start jumping to conclusions. There is a vast difference between Microsoft and Google in as far as this lawsuit is concerned.
Microsoft's Online Services Division's (OSD) offerings include Bing, MSN, adCenter and advertiser tools. Bing and MSN generate revenue through the sale of display advertising, which generally accounts for nearly all of OSD's annual revenue. Google and Yahoo are Microsoft OSD's main competitors.
Of late, there has been a lot of speculation about Bing's market share, and some writers have been suggesting that Bing will overtake Google. Facts, however, tell another story.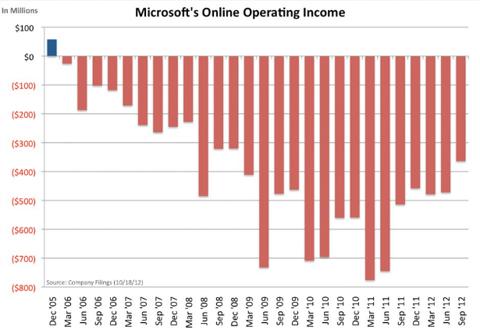 Source: http://www.businessinsider.com/microsoft-throwing-money-down-a-rat-hole-2012-10
Revenue and profit (or loss) of Microsoft's Online Services Division are as follows:
2011

2010

2009

Percentage Change 2011 Versus 2010

Percentage Change 2010 Versus 2009

Billions

Revenue

$2.53

$2.20

$2.12

15%

4%

Operating Loss

$2.56

$2.3447

$1.64

9%

42%
Source: MSFT 2011 Annual Report, page 23
Microsoft's online service is a losing business. In comparison, Google's annual revenues are as follows: (Figures in Billions)
| | | | |
| --- | --- | --- | --- |
| Period Ending | 30-Dec-12 | 30-Dec-11 | 30-Dec-10 |
| Total Revenue | $50.18 | $37.91 | $29.32 |
| Cost of revenue | $20.63 | $13.19 | $10.42 |
| Gross Profit | $29.54 | $24.72 | $18.90 |
| Operating Income | $12.76 | $11.74 | $10.38 |
| Net Income | $10.74 | $9.74 | $8.51 |
Source: http://finance.yahoo.com/q/is?s=GOOG+Income+Statement&annual
On an estimate, 90% of Google's revenues come from AdWords, the area where I/P Engine's patents have a role to play. Again, out of this, almost 65-75% comprises U.S. sales. (I must caution readers here, just as it has been flagged in the article I refer to, that these percentages are not exact, but they do not make any difference to what I am trying to arrive at.)
That brings us to the net present value (NPV) of the payments that might be awarded to Vringo in the I/P-Engine Vs Microsoft lawsuit.
Is It Revenue Or Profit?
One important question comes to my mind here.
What I am made to understand is that Vringo's claim is on the basis of 3.5% royalty rate on any extra profit that Microsoft allegedly earned using these patents. Now, as far as my understanding of accounts is concerned, revenue is not profit. Profit is revenue minus expenses.
If Microsoft's OSD is not making any profit, then what is the lawsuit all about? At the same time, it is also difficult to believe that Vringo did not do its homework before filing the lawsuit.
Is Vringo hoping that Microsoft will start making profit in its OSD? Is the lawsuit about future royalties only in this case? Or does this have to do only with willful infringement? I must mention here that before the ruling on the Google lawsuit came out, some writers suggested that Google's infringements too appear to be willful.
If with a $10.74 billion profit, most of which came from AdWords, Google was penalized $15.80 million, what would Microsoft be penalized for a net loss of $2.56 billion in its Online Services Division, which is where the patents have a role to play?
The only grey area that I see here is that the royalty percentage may not be applicable to extra profit, but to extra revenue. In that case, MSFT's OSD reported revenue of $2.53 billion in 2011. 20% of that is $500 million. If we consider a 20% growth in revenue, it comes to $600 million. At 3.5% (which is the subject matter of post trial motions and settlement discussions between parties), Microsoft would be asked to pay $21 million as future royalty in the coming years.
Vringo has a float of 80.33 million shares, and it does not require rocket science for anyone to arrive at the NPV per share.
Remember, on the basis of the doctrine of laches, Microsoft can be penalized for past damages only from the day the case was filed, December 31, 2012. The exact position on that depends upon the judge's ruling on Rule 59.
There will be more lawsuits because the same technology is used by Yahoo (YHOO), Facebook (NASDAQ:FB) and LinkedIn (LNKD) in their search engines and targeted ads placement. Even if Vringo goes ahead and sues these companies, still, it remains to be seen what great upside there might be in the company's stock price as a result of patent litigation on such grand scale.
Disclosure: I have no positions in any stocks mentioned, and no plans to initiate any positions within the next 72 hours. I wrote this article myself, and it expresses my own opinions. I am not receiving compensation for it (other than from Seeking Alpha). I have no business relationship with any company whose stock is mentioned in this article.