The average stock that has reported earnings this season (since Jan. 9) has averaged a gain of roughly 0.70% on its report day. (For companies that report after the close, we use the next day's change.) Below is a list of the 40 best and worst performing stocks on their earnings report days so far this season.
As shown, Netflix (NASDAQ:NFLX) takes the cake as the best performer in terms of earnings so far this season with a one-day gain of 42.22%. Meru Networks (NASDAQ:MERU) ranks a close second with a one-day gain of 41.67%. Swift Transportation (SWFT), Harte-Hanks (NYSE:HHS), and Travelzoo (NASDAQ:TZOO) round out the top five with gains of more than 24%. A few other notables on the list of big winners this season include Cree (NASDAQ:CREE), Oshkosh Truck (NYSE:OSK), JDS Uniphase (JDSU), PMC-Sierra (NASDAQ:PMCS), Valero (NYSE:VLO), and D.R. Horton (NYSE:DHI). All of the stocks on the list of big winners gained more than 11% on their report days.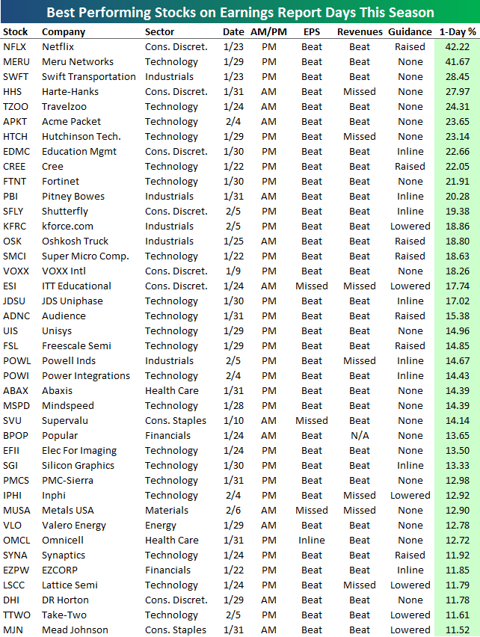 Brightcove (NASDAQ:BCOV) and DragonWave (NASDAQ:DRWI) have been the big losers this earnings season with drops of more than 27% on their report days. Three other stocks have fallen more than 20% -- Liquidity Services (NASDAQ:LQDT), Sanmina (NASDAQ:SANM), and VMware (NYSE:VMW). For those wondering about Apple (NASDAQ:AAPL), the stock has been the 19th worst performer in terms of earnings of the nearly 1,000 companies that have reported this season. Other stocks on the loser list include Coach (COH), Select Comfort (SCSS), Lexmark (NYSE:LXK), Time Warner Cable (TWC), Baidu.com (NASDAQ:BIDU), and Harman (NYSE:HAR).