The recent round of bank mergers spurred by the credit crisis has resulted in a major concentration of online banking activity, a survey from comScore shows.
In the third quarter of 2007, the top three online banks accounted for nearly 60 percent of all of the customers of the top 10 online banks. After accounting for the impact of these bank mergers, however, the top three banks increased their share to 80 percent.
The mergers of JPMorgan Chase (NYSE: JPM) with WaMu and Wells Fargo (NYSE: WFC) with Wachovia have significantly narrowed Bank of America's (NYSE: BAC) lead in online banking.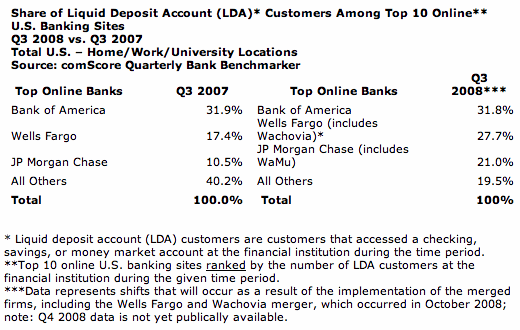 Comscore also found that engagement at many of the top banking sites declined in Q3 2008 versus a year ago. Four out of the top 5 online banking sites experienced declines in the average number of minutes spent per visitor in the third quarter of 2008 versus year ago, with Wachovia down 12 percent and JP Morgan Chase down 8 percent.