In the past few months Sears (NASDAQ:SHLD) has quietly replaced its CEO, spun-off one of its businesses, and started a number of new initiatives. My cautious article about Sears, published on September 5, 2012, proved to be timely as the stock price has declined by nearly 10% compared to a gain of about 5% for the S&P 500 (see graph). However, the company has started to improve its service offerings in automotive by launching its own line of tires. And in retail, similar to REI (Recreational Equipment Inc.), the company launched a more specialized outdoor line. These and other developments, including the placing of billionaire investor Edward Lampert as a company CEO, could be the catalysts for events that will drive the shares sharply higher for the remainder of 2013.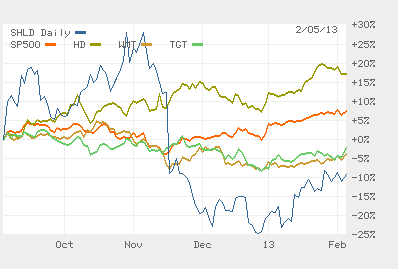 Valuation
It is difficult to value a company with a negative operating income, declining sales, and a negative cash flow. In this case, the best way is to look at the balance sheet. Sears has 106.4 million shares outstanding for a market capitalization of $5 billion. Its liabilities less assets are about $4 billion, or 80% of the company's market capitalization. For comparison, Target (NYSE:TGT), Wal-Mart (NYSE:WMT), and Home Depot (NYSE:HD) have assets less liabilities (or shareholder equity) of $16.4 billion, $73.9 billion, and $17.7 billion, respectively. Target, Wal-Mart, and Home Depot shareholder equity as a percentage of their market capitalization is 40.4%, 31.2%, and 17.8%. It appears that Sears stock will have to, at least, double to be near the 40% level.
However, due to its operational difficulties, it makes sense for Sears to trade near its book value. So let's look at some of the largest items on Sears' balance sheet and whether they warrant any adjustments.
Assets:
Merchandise inventories - This item stands at $9.6 billion or about 44% of Sears' total assets and is valued at the lower of cost or market value. For comparison, Target, Wal-Mart, and Home Depot inventory as a percentage of total assets was 19.2%, 23.1%, and 26.4%, respectively. Sears has one of the highest inventory levels in the retail industry but in an inflationary period (which many experts predict is pending) having real assets is better than cash at the bank. An upward adjustment could be justified.

Property & equipment - Sears owned 821 stores out of a total of 4,010 stores at the end of 2012. It also owns a 200-acre campus in Hoffman Estates, IL, a campus in Dodgeville, WI, and a 86,000 square-foot office building in Troy, MI. Sears' property & equipment is carried at $6.2 billion on the balance sheet and last year Sears sold 11 stores for $270 million. It is likely that real estate & property is conservatively valued. Further, the real estate on Sears' balance sheet has been the subject of many analyses and debates and it should clearly be adjusted upward.

Trade names & other intangible assets - The balance sheet value for these assets is $2.9 billion. The Sears name is one of the most highly recognized names and no adjustment to a slight adjustment upward could be warranted.
Liabilities:
Pension & Post Retirement Benefits - The liability stands at $2.3 billion and a number of factors could reduce this liability including a recent offer to retirees for lump sum payments and pending litigation in Canada.

Other Long-Term Liabilities - Carried on the balance sheet at $2.8 billion and consist of unearned revenue ($796 million), self-insurance ($724 million), and other ($617 million). Due to inflationary pressures eroding the values of monetary liabilities, a slight downward revision could be warranted.
It appears that Sears' assets are likely understated while its liabilities overstated. In addition, the company price-to-sales ratio is only at 0.13 compared to 0.57, 0.51, and 1.37 for Target, Wal-Mart, and Home Depot. Even the recently separated Sears Hometown & Outlet Stores (NASDAQ:SHOS) has a price-to-sales ratio of 0.39 or three times higher than that of former parent Sears. If Sears is able to continue spinning-off its units at higher valuations than its current valuation, this will benefit shareholders.
New Developments
When the CEO of a company leaves for family health reasons and is replaced by a well-known hedge fund manager, this means that value will be realized soon. Often a management change in this nature precedes a major reorganization. It will not be surprising if Sears sells another substantial part of itself in the near future. For example, it could spin its Land's End brand or its subsidiary in Canada, which already trades independently.
In addition to replacing its CEO, Sears implemented a number of operational initiatives, as mentioned earlier. Sears Automotive recently relaunched its tire brand Roadhandler. According to Rubbernews.com, the tires will be manufactured in South Korea by Hankook Tire and available in 25 sizes once the line is fully commercialized.
In the appliance area, Sears became the first retailer to offer General Electric's (NYSE:GE) innovative Brillion appliance and energy management products. And in outdoor apparel it began promoting its Outdoor Life brand by setting up a campsite on New York's Times Square.
Conclusion
While Sears is not performing well operationally, the company still holds significant value on its balance sheet. The recent executive change could speed up realization of this value. In addition, Sears is improving certain of its offerings such as services and specialized retailing. In fact, while for the 39 weeks ending October 27, 2012, Sears' sales declined by 5.2% to $27.6 billion compared with the same period in 2011, the company's revenue from services rose by 0.7% to $2.4 billion. Only Sears officers and directors know how the company will realize value in the future, but it seems likely that shareholders will witness some of this value realization process in 2013. This could lead to a sharp increase of Sears' common stock price in the next several months.
Disclosure: I have no positions in any stocks mentioned, and no plans to initiate any positions within the next 72 hours. I wrote this article myself, and it expresses my own opinions. I am not receiving compensation for it (other than from Seeking Alpha). I have no business relationship with any company whose stock is mentioned in this article.