Overview
Ulta Salon, Cosmetics & Fragrance, Inc. (NASDAQ:ULTA) is a specialty beauty products retailer that offers prestige, mass and salon products across the U.S. The company has grown by leaps and bounds for the past several years and shares have reflected this growth, rocketing to their current price of $99.52. This price gives Ulta a robust market capitalization of $6.35 billion. In addition, shares sport a nosebleed forward PE ratio of better than 29. Ulta has grown at a torrid pace in the past several years and shares have reflected this growth. With shares currently trading for almost 30 times forward earnings, are they priced to perfection, or is Ulta poised for even more profitable growth?
Metrics
First, we'll take a look at some operating metrics for Ulta. The company has doubled revenues since 2008, as shown in the chart below.
Please note all charts in this article were created by me for the sole purpose of writing this piece, and all data points for the charts were lifted from Ulta's Qs and Ks from the SEC website.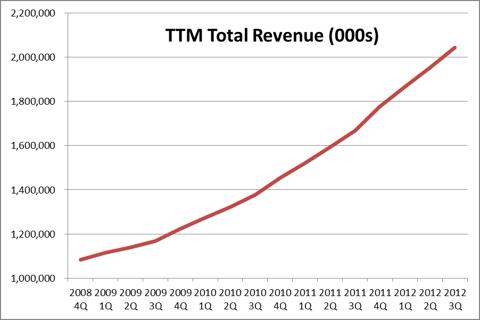 Revenue growth like this is a tremendous accomplishment, and as you can see, the slope of the line is getting steeper, which indicates Ulta is still increasing revenue growth. While revenue growth is great, companies are in business to make money and not just move merchandise (save Amazon, of course). Since Ulta is not Amazon and must actually make a profit, we must know whether this revenue growth was profitable or not.
We get our answer with this depiction of TTM consolidated net income.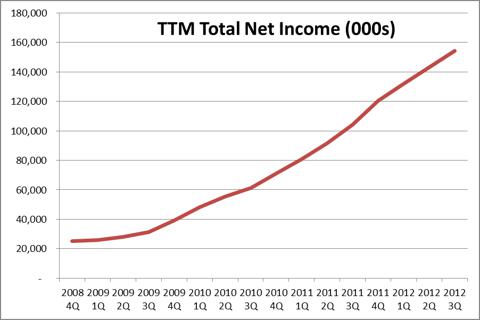 As you can see, net income growth has been far more impressive than revenue growth, exploding from just over $20 million in 2008 to almost $160 million in the most recent four quarters. This staggering, nearly 800% growth in net income is why Ulta shares have risen from $12 to $100 where they trade today.
Even though this growth is fantastic, should a company that makes $160 million per year be worth $6.4 billion on the open market? To answer that question, we need to put Ulta's meteoric rise into perspective, seeing where it has come from and where it may be going.
You might expect that a company that is growing as quickly as Ulta is to be spending shareholder capital to grow the business. As a result, you might also be forgiven for assuming that this growth is taking a toll on shareholders' equity. However, this is another area where Ulta is setting itself apart from other retailers.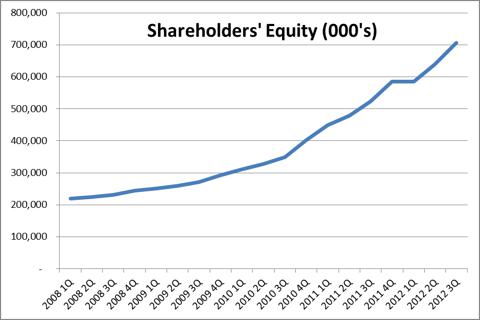 As we can see from this chart of shareholders' equity, Ulta's book value was just over $200 million in 2008, and that number has more than tripled to just over $700 million at the end of the third quarter of last year. Management has done a fantastic job of not only increasing revenue at Ulta, but also increasing profitability and the book value of the company.
To quickly illustrate the ludicrous growth in book value Ulta has attained, this chart represents the YoY rate of growth in Ulta's shareholders' equity.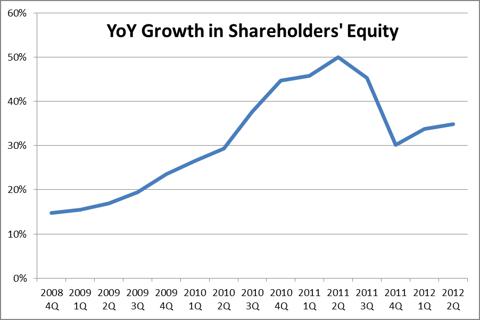 What we see is astounding, with Ulta growing book value in excess of 30%+ per year for the last three years. This is absolutely astonishing, and as the slope of the rate of growth has once again turned positive, we can expect more outsized gains in Ulta's book value going forward. This chart alone could very well be reason enough by itself to seriously consider a long position in Ulta shares.
Next, we'll take a look at one of the drivers of this scorching growth, new store openings. This graph depicts the number of stores open at the end of each quarter since 2008.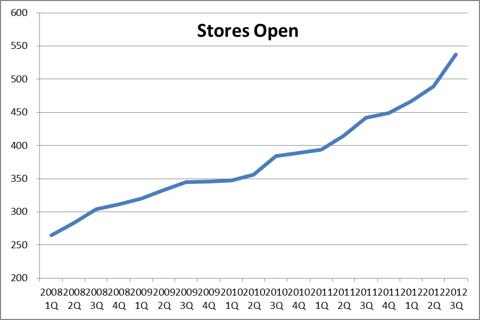 We can see that store count has more than doubled since the beginning of 2008, and that includes a period during 2009 when new store openings virtually stopped due to macroeconomic issues. The fact that management recognized difficult times were ahead and slowed new store growth at the right time speaks volumes about their ability to run this business for the benefit of shareholders.
So why would management slow store growth at all with such a profitable model? The answer can be found in examining YoY comparable store sales figures as reported in the Qs and Ks. Just for reference, Ulta labels a store as a "comp" store following 13 months of operation.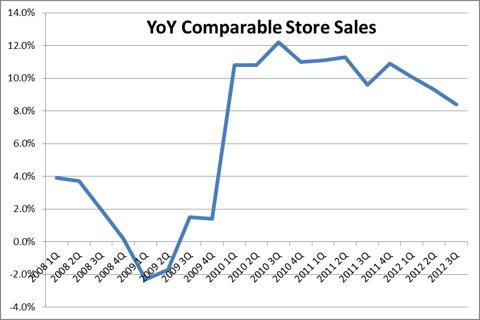 What we see here is that management decided to slow new store growth because comparable store sales figures were tanking, and even showed negative prints for two quarters. Going back to why I think management deserves a lot of credit for slowing store growth even though that was surely an unpopular decision with shareholders, if we combine the previous two graphs, we can see management's prescient decision making.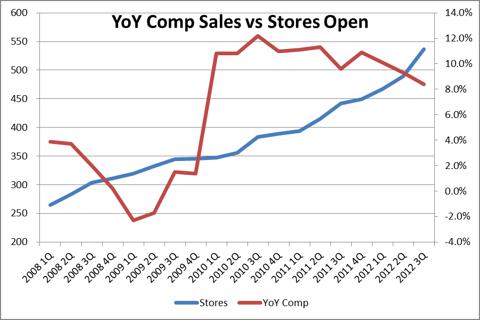 What we see is that just as comparable store sales numbers were declining, management decided to slow new store growth. As a result, when the macroeconomic malaise passed, Ulta's same store sales numbers skyrocketed to greater than 10%. This phenomenal growth proves that Ulta's business model is very solid and when macroeconomic headwinds subside, rapid comp store sales growth ensues. There is another interesting piece to this graph in that we can see that as comparable store sales numbers have come down slightly in recent quarters, new store openings have ramped. As a result, we can see that as new stores become comparable 13 months after opening, it is taking a toll on comparable store sales numbers. While this seems like a negative point, the upside is that given this information, we can infer that the strongest comparable sales numbers come from stores that are more mature than the 13+ month old stores. Otherwise, the slope of the comparable store sales line would be different than it is. This is overwhelmingly positive for shareholders, as it means that as stores get older, comparable store sales apparently increase. I would be willing to bet that if comparables didn't begin until 24 months, for instance, the numbers would be even more impressive.
As an aside, I fully understand that some of the outsized growth in comparables was due to the weak comps of 2008 and 2009, however, this alone cannot be assumed to be fully responsible for 4 years of solid comparables growth.
To follow on with this thesis, we should see that as more new stores are opened, per store revenue growth should decline. It just so happens that this is exactly what we see, as depicted below.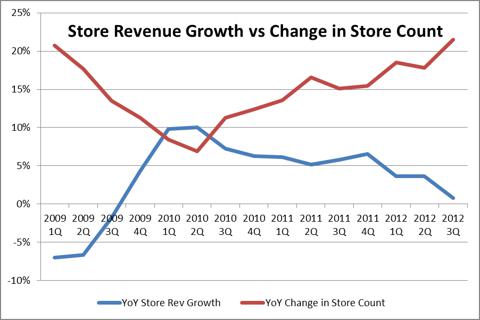 We can see that the YoY change in total store count and the YoY change in per store revenue growth are inversely correlated, and very much so at that. This aligns with my theory that Ulta's older stores are the growth driver, and not new stores. While this may sound intuitive, this isn't always the case. Some retailers have large increases in revenue from new stores, only to lose customers and watch subsequent revenues decline. What this implies is that Ulta's success is a result of repeat customers and not new customers. Ulta brings in new customers when stores are opened and wins them over, at which time they become loyal to the brand and continue to shop there, fueling large comparable sales numbers. This is the key to Ulta's success, and any weakness that comes from huge amounts of new store openings is transitory and will ultimately prove enormously accretive in the long term. Management obviously realizes this, and that is why new stores are being opened so aggressively at this point. The main point is that Ulta's model is clearly profitable, and any weakness from new stores becoming comparable in the near future should be ignored, as we can clearly see that older stores that have a large repeat customer base are the drivers of growth and profitability.
We can see a similar story when examining total YoY revenue growth in relation to that of per store YoY revenue growth.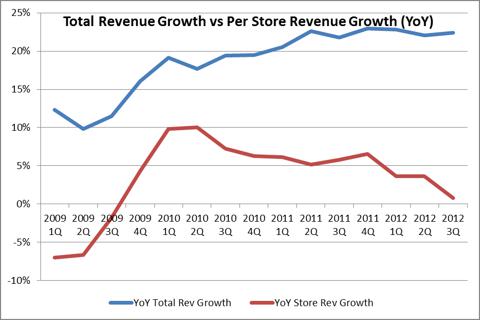 In late 2009 and early 2010, we see a clear divergence in the relationship between per store revenue growth and total consolidated revenue growth. This shows that, as we saw above, comparables suffered mightily at the hands of macroeconomic issues that plagued the entire country during that time. In addition, we see that after these headwinds subsided, management resumed new store openings, attempting to make up for lost time. As a result, when all of the new stores are factored in, per store revenue growth suffered to the point where it is near zero as of the most recent quarter. This could be troubling, except for the conclusion I have drawn from the rest of the data presented, indicating that this weakness in per store revenue growth is largely transitory as new stores are brought up to speed. When the flood of new stores that have been opened in the past year or two become as profitable as the legacy stores, I believe we will see per store revenue growth ramp once again, and the divergence of the two lines you see above will disappear and convergence will result. This convergence will be hugely positive for shareholders as per store revenue rises again.
Even more amazing is the fact that as per store revenue growth has declined substantially for the past four years, Ulta's stock has risen eightfold. Imagine what will happen if per store revenue growth increases back to the 8-10% range again.
Given what we've seen, what does Ulta's total quarterly revenue look like?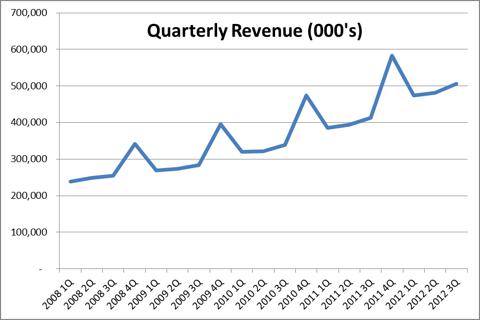 We can see from this depiction of quarterly revenue that Ulta experiences large spikes in revenue during the fourth quarter of the year, in response to holiday shopping. This is somewhat to be expected, except that for what I would consider a consumer staple retailer, a large amount of gift-giving suggests that the company's products are considered premium enough to be given as gifts. I would imagine Sally Beauty Supply (NYSE:SBH) doesn't experience the same spike in the fourth quarter, for instance.
The other thing to notice is the relentless upward trajectory of quarterly revenue. You can draw a nearly perfect straight trend line under the quarterly revenue growth graph. This indicates that Ulta is executing quarter in and quarter out, year in and year out without any hiccups along the way. As a side note, the fourth quarter spike is increasing in size each year; this should be quite encouraging for longs.
One note of caution is that although consolidated quarterly revenue is growing at a rapid pace, the per store quarterly revenue number isn't increasing with quite the same urgency.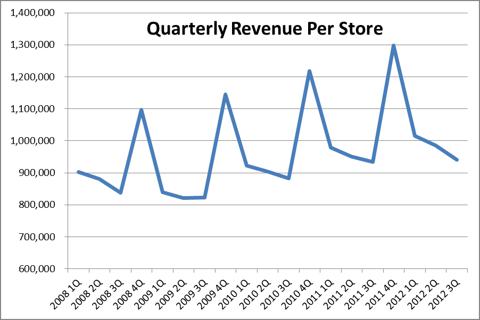 While the trend is still clearly sloping upward, we can see that the slope is much gentler than the consolidated number. This could appear to be concerning except that, as I stated above, I believe this is a transitory effect we see as a result of huge growth in new stores. Indeed, the fact that the line is sloping upwards at all with nearly 100 new stores being opened in just the past four quarters speaks volumes about Ulta's ability to grow revenue in "mature" stores to make up for the lower-revenue new stores. Again, this short-term negative is a long-term positive for shareholders, as the slope of this line will get much steeper as time goes on and less new stores are opened in the future.
If we smooth the per store revenue number by examining the TTM numbers, we can see a similar trend to the quarterly numbers.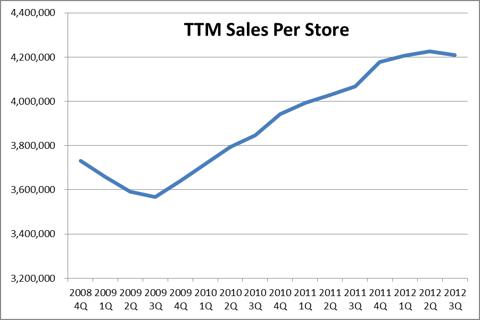 We can see that since the bottom in 2009, TTM revenue per store has risen over 18% to $4.2 million per store per year. We can see that the slope of the line has turned negative in the last two quarters recorded, but this will undoubtedly be swayed by the massive same store sales increase management reported for December 2012. I have no doubt we will see this line turn upwards again in 2013.
All of this is great, except that we need all of this revenue growth to result in net income and EPS. Is Ulta accomplishing this with its swift revenue growth?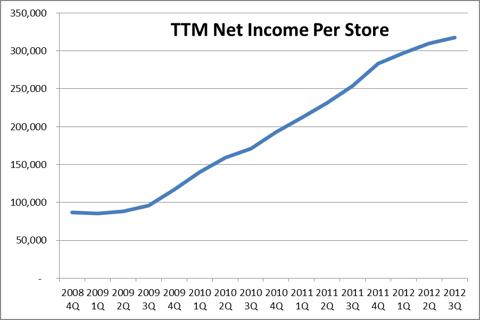 As we can see, the answer is obviously "yes." TTM net income per store has nearly quadrupled since 2008 from a low of roughly $87,000 to $317,000 in the most recent quarter. This number should impress even the most steadfast Ulta bear, and shows why the stock has risen 800% in recent years. In addition, this graph offers justification for management substantially increasing the new store count in recent quarters. Management knows how much money each store can make and is, therefore, expanding the store base rapidly to cash in on this profitability. The amazing thing is that even though we saw a lot of evidence that new stores are crimping comparable sales, net income per store is not seeing the same issue. This is absolutely incredible given the expansion in the store base we have seen in the past couple of years.
There is one huge reason why this has occurred: gross margin.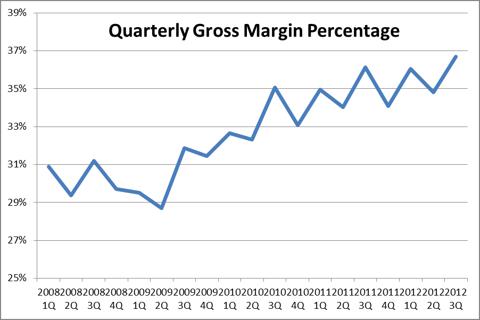 This graph shows quarterly gross margin for the consolidated company, and what you see is picture-perfect gross margin expansion, even in the face of rapid revenue growth and store count expansion. Management has been able to keep cost of goods sold under control and expand gross margins, even though you would intuitively think the opposite would be happening under such torrid growth. This is perhaps the most compelling reason to buy Ulta shares today; management has found the magic formula of retail: repeat customers, revenue growth and expanding margins. You cannot ask for better performance than this, and Ulta management deserves an enormous amount of credit for executing with such skill.
We do see dips in gross margin in the fourth quarter of each year, no doubt due to promotions, but the even more encouraging thing about this is that the slope of the line is still increasing and showing no signs of stagnating. No one knows where the top of gross margin is for Ulta (except management, ostensibly), but it certainly appears as though the top has not yet been reached. Again, this is overwhelmingly positive, as it means that for every dollar of revenue growth Ulta can grab, more of it will end up in shareholders' hands. Gross margin has increased more than 800 basis points from the bottom in 2009, and this has been a main driver of Ulta's ridiculous growth in net income over the same time period.
We've established that Ulta is terrific at growing its revenue and profit, but is management effective stewards of the company's real estate expenditures? To answer this, we can examine sales per square foot. In this first graph, we see consolidated quarterly sales per square foot.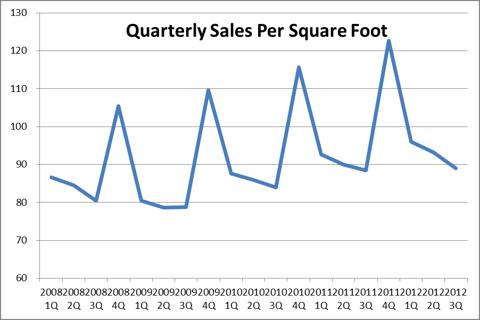 We once again see an unrelenting upward slope with large spikes in the fourth quarter. While this graph doesn't look too different from the quarterly revenue graph, this is a positive. It implies that Ulta isn't spending heavily on real estate leases in order to generate more sales. Basically, it means the company is earning more revenue without incurring additional real estate expenditures. While this graph is not necessarily new information on the revenue front, it does conclude that Ulta isn't overspending on real estate and masking a larger revenue issue. In other words, real estate productivity is increasing along with revenue growth instead of management having to spend more on less productive real estate assets.
Smoothing out the quarterly fluctuations into TTM numbers yields a similar story as TTM per store revenue.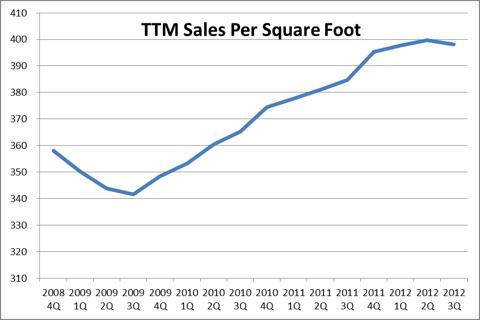 We can see that on average, Ulta stores were producing about $340 per square foot per year in revenue in 2009. By the middle of last year, that number had risen roughly 17% to peak over $400. Again, the number has moderated slightly into the fourth quarter of last year, but given the strong sales numbers Ulta reliably produces for the Christmas quarter, the number will no doubt resume its upward trajectory with the fourth quarter's data.
One area I have some serious concern with regarding Ulta management is in dilutive issuances of shares. As you can see, over the past five years, there has been a steady rise in the amount of shares outstanding for Ulta.
In the first quarter of 2008, there were just over 57 million shares outstanding. Now, there are nearly 64 million, an increase in shares outstanding of about 12%. This is extremely negative for shareholders, as some of the nominal net income gains we've seen in Ulta have been defrayed simply because of the net income being spread out over more and more shares. As a result, EPS hasn't grown as quickly as nominal net income.
In fact, given the data I've pulled from the Qs and Ks, we can actually ascertain the impact on EPS of the share issuances over the past five years. First, here is a depiction of the sequential percentage change in shares outstanding.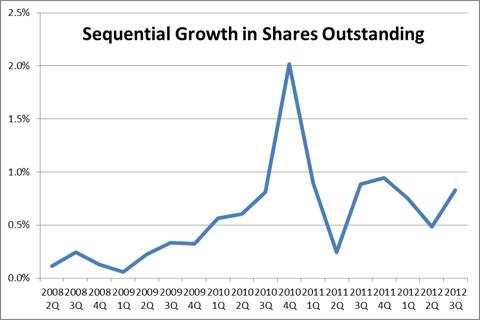 What this graph shows is that since 2008 began, there hasn't been a single quarter where Ulta didn't increase the share count. While the rate of growth was quite moderate in 2008, it has since picked up in a big way, including the fourth quarter of 2010, where the share count increased by 2% in a single quarter. This was most likely due to year-end bonuses, but share issuances are share issuances regardless of the cause, and it's unquestionably negative for shareholders. In addition, the rate of growth in share issuances is picking up again, amounting to nearly 1% of the total outstanding count issued in the most recent quarter. To make matters a bit worse, these share issuances are percentage gains on a larger nominal base as the share count climbs ever skyward. The result is that in the third quarter of 2012, Ulta issued over half a million shares alone. I would like to see these issuances slow down or stop, but it doesn't look like that is a realistic aspiration at the moment. Management has decided share issuances are a way to pay employees and as such, I doubt moderation in the growth of the outstanding share count will occur in the near future. Lastly, no buyback has been announced to soak up some of these excess shares, increasing further still the likelihood that builds will continue.
So now that we know the share count has been increasing, what does it mean for shareholders? Below, I have depicted actual quarterly EPS versus what EPS would have been had Ulta not issued any shares after the first quarter of 2008. At that time, Ulta had 57.46 million shares outstanding versus 63.77 million at the end of the third quarter of 2012. To clarify, the Actual EPS line depicts the EPS numbers reported by Ulta (the blue line) and the EPS w/o Issuances line is the amount of EPS that would have been reported if Ulta still had 57.46 million shares outstanding (the red line).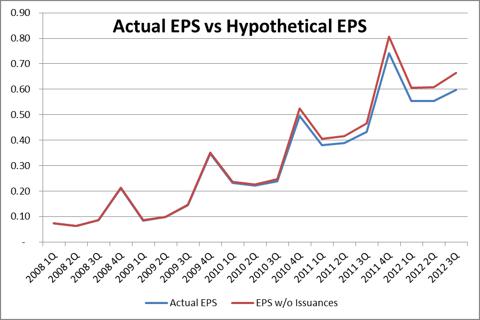 The difference is subtle-to-nonexistent during the period of 2008 to 2011 but after that, the amount of EPS lost as a result of share issuances is staggering. For instance, last quarter's EPS number of $0.60 would have been $0.66 if no share issuances had occurred. We are talking about a 9% loss in EPS just due to share issuances. Many companies would kill for an extra 9% in EPS, but this is just the amount Ulta has given away due to its share issuances.
In the past four quarters, Ulta has reported $2.45 in EPS. Without the share issuances, the hypothetical EPS number would have been $2.65. Given the forward multiple of roughly 30 Ulta currently sports, share issuances can be assumed to have cost shareholders roughly $7.20 off of the share price, all else being equal.
While the data I've presented show the staggering growth in earnings for Ulta, it also highlights that the numbers could have been even better, and by quite a wide margin.
Strategy
After being founded in 1990, Ulta has strived to become a "beauty superstore" with over 20,000 products on offer at any of its locations. In addition, the company has a salon in each store, taking up about 10% of the average 10,500 square feet of each store. This "one stop shop" approach to women's beauty products and services needs has set Ulta apart in the marketplace. In fact, Ulta doesn't have any real competition to speak of, as it has managed to carve out its own place among beauty product retailers.
As an anecdote, my wife shops for her makeup at Ulta and when I have gone into the store with her, I am impressed at how efficiently the store is designed and how the products are merchandised. "Consultants" are always available to help and offer free trials of the makeup in the store. The stores are also well-lit and contemporarily designed, offering a unique experience for shoppers. Ulta's stores stray from the "shoebox" design of other major retailers where the store is bland and square and employees are less-than-helpful. The company has brilliant merchandisers that push products and services without irritating customers while driving repeat business and expanding margins.
In addition, management has adopted the strategy of leasing properties that are in high traffic locations, such as malls, in order to make stores accessible to customers and foster walk-in traffic. While this real estate costs more, it has proven a brilliant decision, as the strategy is clearly working. Given that Ulta is positioning itself as a premium retailer, these types of locations are a must, and it is certainly working for Ulta.
Valuation
To attempt to find a current fair value for Ulta shares, I will use a DCF type analysis. Inherent in any DCF analysis are assumptions, and here are mine: 1) 2013 and 2014 EPS estimates, as well as five year growth rates are from Yahoo Finance analyst compilations, 2) Equity book value is from the 2012 3Q 10Q, 3) Discount rate is 10%, which is my number and represents equity risk premium only, as Ulta carries no debt, 4) Perpetual growth rate is 5%, which is also my number.
You may dispute the efficacy of some or all of my assumptions, but all forecasts are subject to conjecture.
| | | | | | | | |
| --- | --- | --- | --- | --- | --- | --- | --- |
| | 2013 | 2014 | 2015 | 2016 | 2017 | 2018 | 2019 |
| Earnings Forecast | | | | | | | |
| Reported earnings per share | $2.66 | | $3.40 | $4.23 | $5.25 | $6.53 | $8.12 |
| x(1+Forecasted earnings growth) | | 27.82% | 24.30% | 24.30% | 24.30% | 24.30% | 24.30% |
| =Forecasted earnings per share | | $3.40 | $4.23 | $5.25 | $6.53 | $8.12 | $10.09 |
| | | | | | | | |
| Equity Book Value Forecasts | | | | | | | |
| Equity book value at beginning of year | | $11.09 | $14.49 | $18.72 | $23.97 | $30.50 | $38.62 |
| Earnings per share | | $3.40 | $4.23 | $5.25 | $6.53 | $8.12 | $10.09 |
| -Dividends per share | $0.00 | $0.00 | $0.00 | $0.00 | $0.00 | $0.00 | $0.00 |
| =Equity book value at end of year | $11.09 | $14.49 | $18.72 | $23.97 | $30.50 | $38.62 | $48.70 |
| | | | | | | | |
| Abnormal earnings | | | | | | | |
| Equity book value at begin of year | | $11.09 | $14.49 | $18.72 | $23.97 | $30.50 | $38.62 |
| x Equity cost of capital | 10.00% | 10.00% | 10.00% | 10.00% | 10.00% | 10.00% | 10.00% |
| =Normal earnings | | $1.11 | $1.45 | $1.87 | $2.40 | $3.05 | $3.86 |
| | | | | | | | |
| Forecasted EPS | | $3.40 | $4.23 | $5.25 | $6.53 | $8.12 | $10.09 |
| -Normal earnings | | $1.11 | $1.45 | $1.87 | $2.40 | $3.05 | $3.86 |
| =Abnormal earnings | | $2.29 | $2.78 | $3.38 | $4.13 | $5.07 | $6.23 |
| | | | | | | | |
| Valuation | | | | | | | |
| Future abnormal earnings | | $2.29 | $2.78 | $3.38 | $4.13 | $5.07 | $6.23 |
| x discount factor (10%) | | 0.909 | 0.826 | 0.751 | 0.683 | 0.621 | 0.564 |
| =Abnormal earnings disc to present | | $2.08 | $2.30 | $2.54 | $2.82 | $3.15 | $3.52 |
| | | | | | | | |
| Abnormal earnings in year +6 | | | | | | | $6.23 |
| Assumed long-term growth rate | | | | | | | 5.00% |
| Value of terminal year | | | | | | | $124.54 |
| | | | | | | | |
| Estimated share price | | | | | | | |
| Sum of discounted AE over horizon | | $12.89 | | | | | |
| +PV of terminal year AE | | $70.30 | | | | | |
| =PV of all AE | | $83.19 | | | | | |
| +Current equity book value | | $11.09 | | | | | |
| =Estimated current share price | | $94.28 | | | | | |
As you can see, given my assumptions, the current fair value of Ulta shares today is about $94, or roughly 6% lower than today's price. Some investors probably feel that shares are priced for perfection, but there are some reasons why I feel the shares' risk is to the upside. First, Ulta has proven it can execute exceedingly well in opening new stores and integrating them into the system, resulting in massive profitability. The rapidly expanding store base will be a boon to earnings in the coming years, more so than the 24% growth rate analysts are expecting. Second, I believe gross margins will continue to expand, as they have for the past four years. As I said earlier, no one knows where the top is for GM%, but we haven't seen it yet since it keeps rising each year. Third, Ulta is continuously making its real estate investments more productive each year, resulting in higher sales and profitability. All of these factors, coupled with my subjective belief that Ulta has a management team that is above reproach, and I certainly believe the shares have significant upside for long-term holders.
The easy money has been made in Ulta during the run up from $12 to $100, but there is much more left in this company. Given that the shares trade near their all-time high currently, I would suggest waiting for a pullback in the $90 area before adding them to your portfolio, but this is a high growth company that has carved out a very profitable niche with loyal customers and expanding margins. This, coupled with exploding revenue growth, makes Ulta the best retailer to own today.
Disclosure: I have no positions in any stocks mentioned, but may initiate a long position in ULTA over the next 72 hours. I wrote this article myself, and it expresses my own opinions. I am not receiving compensation for it (other than from Seeking Alpha). I have no business relationship with any company whose stock is mentioned in this article.