GT Advanced Technologies (GTAT) is an American polysilicon and sapphire maker that has been absolutely destroyed in the past year, down 66%. There are many reasons for GTAT's decline, but the primary reason is overcapacity in the solar sector. GT's management has done a great job diversifying away from the solar business with its purchase of Crystal Systems, a sapphire maker. Not only has the sapphire business seen impressive growth, GT's "old" solar business has been written down and new investments in Cz technology are ready to add to the bottom line as early as late 2013.
So what does this have to do with the institutional investor?
Recently the Norwegians have been on a buying spree of GTAT shares. In a filing on 2/5/13, DNB Asset Management based in Oslo disclosed that it added 1.7M shares to an already large position bringing its total holding in GTAT to over 7M shares, or almost 6% of the company. Norges Bank Investment Management ($650B AUM) as of the latest filing on 9/26/2012 has 6.2M shares, a 5.22% stake. 11% of GTAT's shares are held by a large Norwegian financial institution and the largest pension fund in the world.
Why bring this up?
I think all of us can get lost in the day to day gyrations of the stock and the market as a whole. In all, 87% of GTAT's shares are being held by very large institutions who aren't going to divest their stake in the company at $3 per share. This leaves 15M or so shares being traded back and forth amongst day traders and smaller institutions. The funny thing is - there are 36M shares short. With only 15M shares around, any surprise in earnings next week is surely to provide a short squeeze.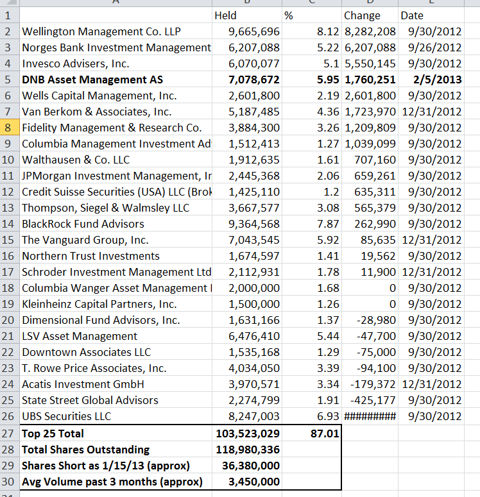 Disclosure: I am long GTAT. I wrote this article myself, and it expresses my own opinions. I am not receiving compensation for it (other than from Seeking Alpha). I have no business relationship with any company whose stock is mentioned in this article.