Amazon (NASDAQ:AMZN) has posted impressive revenue growth since its inception, escalating over the past ten years to over $60 billion in 2012. However, recent results are showing a slowdown in growth, caused by the company's large size.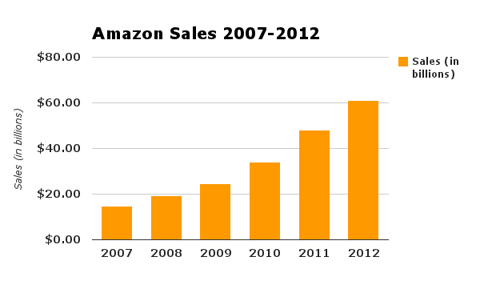 Over time, although Amazon's business was maturing it was still able to increase sales, which quantitatively is reflected in an annual increase of around $20 billion. The product that is largely responsible for this growth is undoubtedly the Kindle. However, over the medium to long-term, it may not be enough for Amazon to maintain its growth rate achieved over the last few years.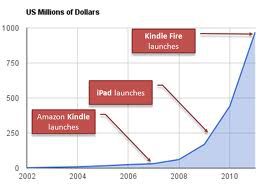 Specific Kindle sales numbers are not released by the company. However, as the "electronics and general merchandise" category, which represents around 62% of Amazon's sales, is seeing its weight on sales falling every quarter, as well as the media segment which was where Amazon got its start, Kindle sales should be Amazon's most recent growth engine.
In an interview with BBC, Jeff Bezos, the founder and chief executive officer of Amazon recently said:
We sell the hardware at our cost, so it is break-even on the hardware. We are not trying to make money on hardware; we want to make money when people use our devices, not when people buy our devices. After you buy Kindle Fire HD, you may use it to buy books, games, movies and so on. So that continuing relationship with the customer is what we hope to make money on over time.
Amazon is seeking to distinguish its lineup by offering a subscription package that includes access to the Kindle Owners' Lending Library. The service offers users the ability to borrow up to one book a month from a selection of titles including well known authors - such as JK Rowling - and writers who have published their works through Amazon's own publishing system.
Selling hardware at or even below its cost of manufacturing is not something new for the high-tech industry. Microsoft (NASDAQ:MSFT) and Sony (NYSE:SNE) usually sell their video game consoles at a loss early in the life-cycle and at break-even point for the bigger part of the life-cycle, in a bid to sell more devices to more people. Eventually, customers buy accessories and new games, compensating losses and generating profits for the companies. Going forward, the recent fall in Amazon's earnings can be considered transitory and the company should be able to recover its profitability levels over the next few years.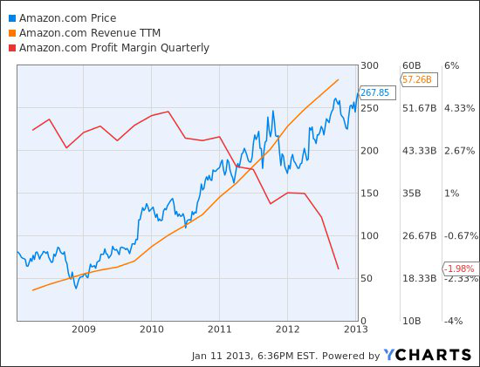 In a globalized world, where recreation and duplication are constants, not betting everything on a product that sells itself but the "consumables" on which it depends, can "push" Amazon for a successive cycle of ups and downs associated with releases of new products and consecutive interim periods.
Another issue is the competition factor, where Amazon faces the difficult task of not only keeping market-share, but also how to power increases on its growth rate. Additionally, it also has to work around competitors that have lower cost structures, such as Wal-Mart (NYSE:WMT) or Costco (NASDAQ:COST), which puts downward pressure on its operating margins.
In addition to lower prices, these retailers can now enter the e-commerce online game with same day delivery. This will cause competition to threaten Amazon's competitive advantage, diminishing the distinction between online shopping with deliveries at home, and a trip to the store to physically lift the order placed online. In short, Amazon could face a huge hurdle because, if it loses its fast-delivery advantage, it may have to build the physical presence that Wal-Mart, Best Buy (NYSE:BBY), Target (NYSE:TGT) and other retailers already have. This means it would become much more like a traditional retailer, with low growth and low margins ahead, also implying lower valuation multiples than observed nowadays.
Disclosure: I have no positions in any stocks mentioned, and no plans to initiate any positions within the next 72 hours. I wrote this article myself, and it expresses my own opinions. I am not receiving compensation for it (other than from Seeking Alpha). I have no business relationship with any company whose stock is mentioned in this article.