Mylan (NASDAQ:MYL) recently reported strong third quarter results and has raised its earnings guidance for 2012 for the second time. Mylan is now expecting EPS of $2.50 to $2.60. This made the stock recently climb to a new all time high of $29. But that's not all. The generic drug maker also confirmed its profit forecast for next year (EPS of $2.75) as well as its longer term target of $6.00 by 2018. The most important driver behind Mylan's growth last quarter has been its Specialty-Division (+34%), particularly its EpiPen (an injection against life-threatening and acute allergy attacks). This product is very promising as currently, only 7% of the population at risk for anaphylaxis is using it. A huge part of the market has yet to be served and this could lead to amazing growth figures in quarters yet to come.
Annual results of 2012 will be released in February and after this release I expect Mylan to raise its EPS expectations for fiscal year 2013. Mylan assumes 5.76% growth for 2013 and I believe this number is too low. I suspect a raise to $2.85, which assumes a more realistic growth of 10%.
Current valuation of the company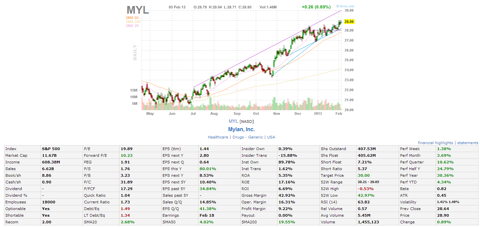 Please note that:
Mylan's debt/eq ratio is high (but bearable). I doubt this to become a major problem as Mylan's strong cash flows and cash position (of $0.90/share) give it enough liquidity to lower debt in time. S&P also feels this way:
Mylan Inc. reduced leverage within the last couple of years almost a full turn, and recently the generic drug maker adopted a more public commitment to a financial risk profile consistent with an investment-grade rating. We are raising our corporate credit rating on Mylan to 'BBB-' from 'BB+.'

-- We are also raising the rating on the unsecured debt to 'BBB-' from 'BB' and lowering the rating on the debt that is losing collateral backing to 'BBB-' from 'BBB.

-- The stable outlook incorporates our expectation that share repurchases and acquisitions will be conducted with the intention that the capital structure will not stray far or long from a 3x leverage target.
Mylan does not pay dividends to holders of its common stock.
Mylan could reach $20B in sales by 2018
I have a lot of confidence that Mylan will be able to reach its ambitious goals. Mylan can take advantage of some long-term demographic trends. EvaluatePharma estimated that there are $290 billion of sales at risk from patent expirations between this year and 2018 and 70% ($203 billion) of that will be lost to generic companies like Mylan, Novartis (NYSE:NVS) and Teva. Currently Mylan has a 7% share of the whole generic market. This would mean an increase in sales for Mylan of $14B exclusively by patent loss. Quick reminder: Mylan currently has a total revenue of $6.62B .
Future possible valuation:
Let us assume that these figures are right and that Mylan will have a total revenue of $20 billion but an EPS of $5 instead of $6 (in case growth slows down). If Mylan would then quote at its current valuation ratios (P/S of 1.78 and P/E of 10), it would quote above $60 a share.
This would give the stock an upwards potential of 100%.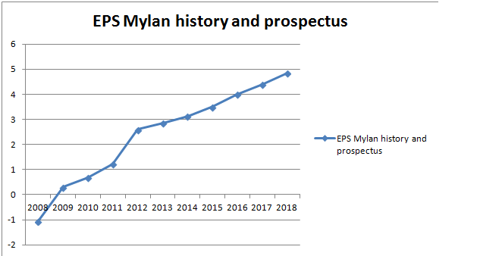 Deeper look into Mylan's geographic spread
During Mylan's last quarter, sales in the EMEA (Europe, Middle East and Africa) were collectively down 7.2% or $25.3 million compared to the same period last year. There were two main factors for this decline. The strengthening of the dollar versus the euro (this problem should be solved for next quarter as the euro has been up 6% in 3 months) and unfavorable pricing in a number of European markets in which Mylan operates as a result of imposed pricing reductions and competitive market conditions. Side note: Mylan's strong market presence in countries (such as Switzerland) with currently relatively low generic utilization, makes the company well-positioned to benefit from increased use of generic drugs in the future. Every ten percentage point increase in generic utilization in these markets would result in approximately $300 million of incremental revenue to Mylan.
Asia Pacific did a lot better with an increase of 9.2% or $28.6 million compared to the same period last year. Mylan's strategic collaboration with Pfizer to drive sustainable growth of generics in Japan higher has clearly been successful and if the dollar wouldn't have been so strong versus the Indian rupee, there would have been an increase of $64 million (or 21%) instead of $28.6 million and 9.2%. I think its positive that Mylan is a well spread company and it boosts confident that Mylan is able to successfully integrate into new markets.
Summary
Even after its 20% rally in the past 4 months, Mylan still isn't overvalued compared to its industry and sector. People who have Mylan shares should hold on to the company as it has great growth prospects and almost no significant risks. Revenue growth and margins in Europe (< 20% of total revenue) could slow down and erode because of continuing competitive market conditions and budgetary problems, but will be compensated by the company's growth in the emerging markets, the launch of new brand products with higher profit margins (generated by Mylan Speciality), further integration in countries such as Japan and India by collaborating with big companies like Pfizer who have a lot of know-how and a strong brand name in these regions.
Mylan's debt position of $5.38B shall not become a risk as the company has a war chest of almost $400M (current ratio = 1.71) and an ability to generate high, consistent cash flows that can be used to lower its debts as it is not paying any dividends to the shareholders.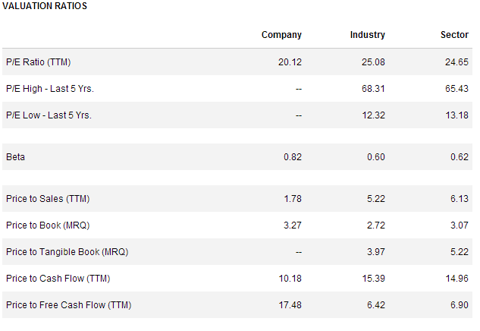 Additional information for people who want to initiate a first position
Mylan has recently broken through its $28 resistance line and is ready to go higher. The MACD indicates a BUY signal and the RSI tell us that Mylan isn't overbought yet.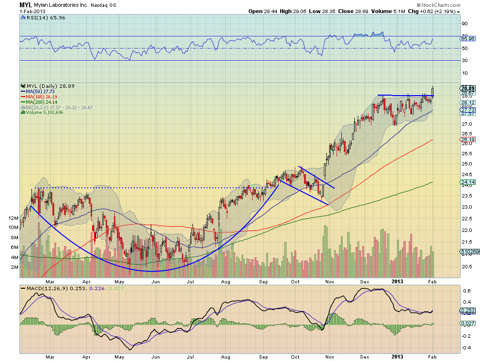 Disclosure: I have no positions in any stocks mentioned, and no plans to initiate any positions within the next 72 hours. I wrote this article myself, and it expresses my own opinions. I am not receiving compensation for it (other than from Seeking Alpha). I have no business relationship with any company whose stock is mentioned in this article.