The $1,650.00 price level has proven to be a significant one for gold over the past year. In the summer months of 2012, while below this price level, the precious metal found strong resistance at this level, failing to break above it until late August, 2012.
But since climbing above $1,650.00 last August gold has, once again, used this level as strong support. The precious metal has flirted with this support level a few times in the past two months and, each time, has withstood falling below it. As of this writing, gold continues to move further above this $1,650.00 support level.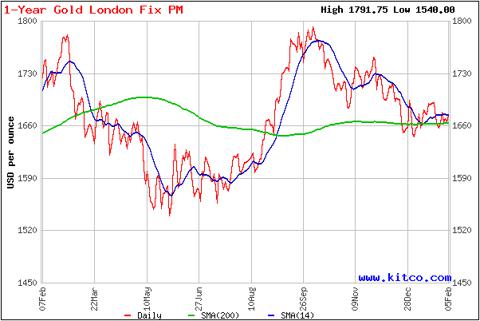 Gold futures, naturally, show similar support and resistance levels, illustrated by the graph below.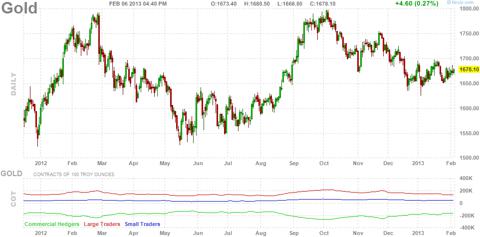 Along with apparent support, it also looks as though commercial hedgers are becoming more interested in the precious metal as well. (Commercial hedger activity is more fully explained in my article, "Gold And Silver: What Support, Resistance, And Corporate Hedging Tells Us".)
It appears that, as the precious metal used the $1,550.00 price level as strong support last summer, gold looks to now be using the $1,650.00 level as support in a similar fashion. This, in conjunction with increased commercial hedger interest leads me to believe that gold could be ready to move back toward the $1,750.00 price level.
Assuming support holds and gold does continue its uptrend, many related equities appear to be offering opportunistic entry points and promising upside. Below is a list of these equities:
1. SPDR Gold Shares (NYSEARCA:GLD), an exchange traded fund that tracks gold bullion, is trading just above relative support at $160.00. This ETF, as is tracks gold, generally moves in tandem with the price of the metal.
Other, similar gold-tracking ETFs worth mentioning include PowerShares DB Gold Double Long ETN (NYSEARCA:DGP), which trades at 2X leverage and VelocityShares 3x Long Gold ETN (NASDAQ:UGLD), which trades at 3X leverage.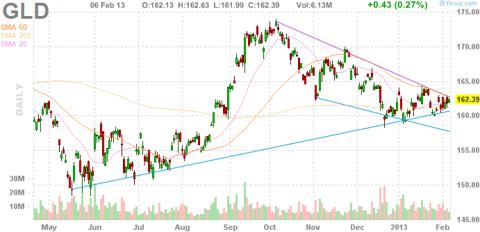 2. Richmont Mines Inc. (NYSEMKT:RIC), a gold mining company based in Canada is trading near strong, relative support at $3.00. This stock has not traded below this support for more than a week since Q4, 2009. Though it is a highly volatile stock, Richmont Mines Inc. could offer significant returns as gold climbs.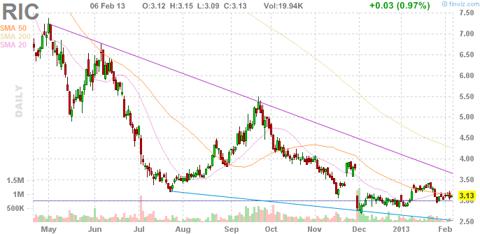 3. Direxion Daily Gold Miners Bull 3X Shrs (NYSEARCA:NUGT), a gold miner ETF that trades at 3X leverage is trading just above strong support at $8.00. Like Richmont Mines Inc., Direxion Daily Gold Miners Bull 3X Shrs is a very volatile stock but could yield significant gains to those willing to take the risk.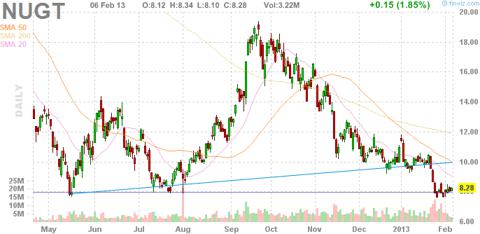 4. Newmont Mining Corp. (NYSE:NEM), a gold mining company based in the United States is trading just above strong support at the $43.00 price level. The stock has not traded below this level since Q3, 2009.
We have already seen a significant jump in this company's stock price over the past few days and may see Newmont Mining Corp. continue to trend sharply upward in the coming weeks.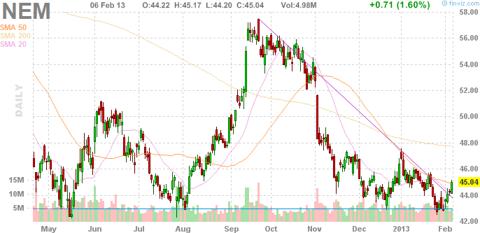 Other mining and gold-related equities trading near support and worth researching include:
Disclosure: I am long UGLD, NUGT. I wrote this article myself, and it expresses my own opinions. I am not receiving compensation for it (other than from Seeking Alpha). I have no business relationship with any company whose stock is mentioned in this article.
Disclaimer: This list of equities is offered as speculation. Please perform thorough fundamental and technical research before investing.