IEC Electronics Corp (NYSEMKT:IEC) is a small capitalization company that has been a major service provider of electronic manufacturing for nearly four decades. The majority of IEC's work is custom and carried out on a contractual basis between IEC and its customers. The combination of its current fundamentals and several upcoming catalysts make IEC a feasible investment for a short-term gain. This article provides a brief overview to IEC's business model and concludes with six reasons why IEC is a buy at its current valuation.
In its manufacturing segment, IEC's production covers a wide range of items. The most common products consist of circuit cards, system-level assemblies, cable assemblies, wire harness assemblies, and precision sheet metal components. The ability to cater its operations towards customizing products for specific customers has had a substantial impact on its earnings over the past five years. In the market for custom products, IEC manufacturers a variety of assemblies that are incorporated into products designed for the military systems, aerospace systems, medical devices, industrial equipment, and transportation products. IEC's manufacturing business utilizing principles of six sigma and lean manufacturing in its operations across multiple divisions.
IEC is current trading right below $6 at $5.75 per share. With approximately 9.94 million shares outstanding, its market capitalization is nearly $57.35 million. Using most recent financial market data, I computed a trailing profit margin of roughly 5%. This figure takes into account sales and net income of $144.96 million and $7.76, respectively.
Figure 1: IEC's Price Graph from FinViz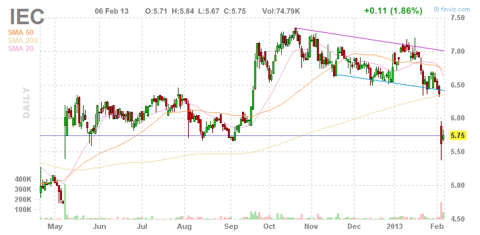 Six reasons to buy IEC at right under $6 per share:
For the second year in a row, IEC has been on the Forbes' list of Top 100 Best Small Companies. This year the company received sixth place. One factor that can be attributed to this is strong management as well as IEC placement as a firm. IEC has tremendous room to increase profit margins from a well-diversified customer base that continues to grow in numbers each year.

IEC has displayed high earnings per share growth over the past five years. Earnings per share have increased by 51.24% over the past five years, which equates to a per year average of roughly 10%. IEC's earnings per share in FY 2011 were $0.68 and increased to $0.78 in FY 2012. Earnings per share estimates are favorable for FY 2013. Based on IEC's progressive increase in operating income, analysts are anticipating IEC's earnings per share for FY 2013 will be approximately $0.88.

IEC holding period returns present investors with relatively low risk return. Through modeling IEC's holding period returns in a log-normal distribution, I computed a firm-specific beta value of only 1.27. Given the nature of IEC's business, this value is especially low. For those who are unfamiliar with the subject, the market has a beta of 1 and companies operating in the technology industry typically reveal a market risk premium of greater than 0.27.

Liquidity does not seem to be an issue for IEC. Its current ratio is roughly 1.81 and its quick ratio is 1.06. Its deviation between the two is expected given the nature of its operations and the amount of inventory IEC us forced to have on hand.

IEC is not highly leveraged, and engages in a relatively low level of debt financing. IEC continues to improve its balance sheet. The most recent improvement was revealed last FY with a $10.2 million reduction in its debt outstanding.

From a technical standpoint, IEC's 30 day relative strength indication is approximately 25.59. This is favorable from the standpoint of a buyer, because a relative strength indication between 20 to 30 is often a strong indication the stock has been oversold. Any time the relative strength indication approaches this level, the probability of an upward trend in a security's market price per share increases. In addition, the median price target of six different analysts of $8.50 per share supports this potential upward trend.
In conclusion, IEC offers an excellent opportunity to investors seeking a relatively low risk investment in a small, yet well managed technology company. Initiating a position in IEC at its current market is a safe bet, given IEC is trading at a discount to its fair valuation.
Disclosure: I am long IEC. I wrote this article myself, and it expresses my own opinions. I am not receiving compensation for it (other than from Seeking Alpha). I have no business relationship with any company whose stock is mentioned in this article.