Advanced Micro Devices (NASDAQ:AMD) is trying to turn itself around. For years, AMD competed against Intel (NASDAQ:INTC) on the PC front, only to concede its role in the premium market. AMD then performed more favorably on the budget PC market, carving a niche in home computing entertainment, low-end desktops, and inexpensive laptops. Yet consumer interest in tablets is rising, and AMD is once again looking for ways to reset its business.
This is not to imply that AMD will reduce its focus on computers. AMD's GPU (graphics processor unit) business offers technology that is on par and rightly-priced when compared to graphics chips made by NVIDIA (NASDAQ:NVDA). AMD is another turnaround story whose timeline will be several quarters. At a market capitalization of $1.85 billion and a share price of around $2.60, AMD is worth examining in greater detail.
There are four potential catalysts that could drive AMD shares higher.
1) Cost Reductions
AMD needs to reduce its operating costs further. The company already reduced staffing levels and capital expenditures. By returning profits to the business, AMD would be positioned to launch powerful products that do not lose money. During AMD's fourth quarter, the company met its cash level targets while generating revenue of $1.55 billion. This is still down from 32% (year over year).
2) Growth from Cloud
AMD generated revenue growth by winning cloud data centre deals through its SeaMicro dense server sales. This market segment will continue to play an important role for AMD.
3) Broader Demand for Graphics Chips
The low- to mid-range sale price for AMD GPUs could be a saving grace for the company. Viewed as a strategic supplier for lowering the cost of consoles, Nintendo (OTCPK:NTDOY) uses AMD graphics solutions for the Wii U. Sony (NYSE:SNE) could also be using AMD GPUs when it announces the PS4 as early as this year.
4) Growth in Mobile Computing
The terminal decline in the growth of PC sales does not mean demand for processors in mobile computers will decline. AMD started to ship GPUs to Lenovo, Samsung, and Asus.
Balance Sheet Analysis
AMD generated $5.4 billion in revenue, which is a decline of 17% from the previous year, but on gross margins of 41%. The company ended the year with $1.2 billion in cash, well-above the $700 million needed to operate. 27% of net revenue represented R&D expenses, while SG&A expenses were 17% of net revenue.
Inventory declined by 25% to $562 million in the last quarter, helped by an amendment in the wafer supply agreement with global foundries.
2013 Outlook
AMD plans to reduce operational costs by $190 million in the current quarter (Q1, 2013). This will be achieved by reducing headcount by 14%. AMD plans to have operating expenses at $450 million by the third quarter of 2013.
Comparable Companies
AMD performed far worse than graphics chip maker Nvidia and CPU maker Intel :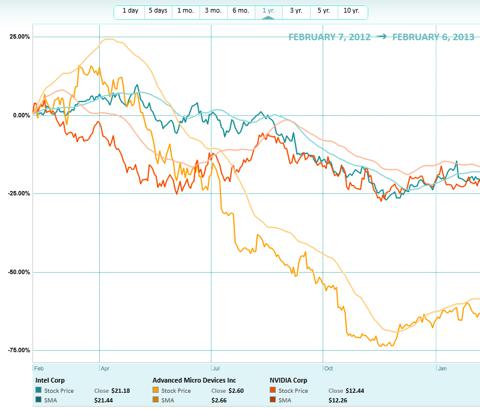 Chart Source: Kapitall.com
Intel dwarfs AMD in quarterly sales, but AMD has sales that are comparable to that of Nvidia:
Nvidia is increasing its focus on the tablet and smartphone space, which could distract the company from performing effectively in the PC space. This could lessen the competitive threat for AMD limited in the PC and console gaming sector, as Nvidia increases its focus on Tegra 3 in mobile devices. Last year, Nvidia hired 3 managers who left AMD. AMD sued Nvidia, accusing the ex-managers of taking confidential information as they left.
When Intel reported earnings in mid-January, investors were disappointed that the chip giant was reducing its CapEx forecast. Gross margins could also be hurt if Intel reduces shipments and increases its annual depreciation.
Bottom Line
AMD undoubtedly has many challenges in the year ahead, and represents a multi-quarter rebound play for speculative investors. There is no expectation from investors that AMD sales will be helped by the release of Microsoft's Windows 8. Windows 8 capable tablets are only beginning to enter the market, and AMD will be a player in this operating system refresh. As cash flows improve, and SeaMicro contributes to earnings, AMD will be a more nimble and a more relevant player in the computing space.
Disclosure: I have no positions in any stocks mentioned, and no plans to initiate any positions within the next 72 hours. I wrote this article myself, and it expresses my own opinions. I am not receiving compensation for it (other than from Seeking Alpha). I have no business relationship with any company whose stock is mentioned in this article.